The wildfires raging across California are the latest example of a grim reality: Wildfires are getting more dangerous, and they're costing us more, too.
U.S. taxpayers are paying about $3 billion a year to fight wildfires — triple what it cost in the 1990s — and big fires can lead to billions of dollars in property losses.
The bad news: It's going to get worse.
Researchers say a potent combination of climate change and homebuilding near wildfire-prone areas is already translating into bigger, longer, more dangerous fires, and none of those trends show signs of letting up.
"Fire is a big issue," said Ray Rasker, executive director of Headwaters Economics, a nonpartisan research group focused on land management. "When you live in the West, you live with fire."
This summer could end up being especially bad. The government is predicting higher-than-normal potential for fires in California and elsewhere in the West because of serious droughts that have left many areas bone dry.
"When you live in the West, you live with fire."
Many states are sadly familiar with such tragedy. In recent years, wildfires have burned hundreds of homes in places like Colorado Springs and Boulder, Colorado, wreaked havoc in California's Yosemite National Park and sent blankets of hazardous smoke across cities including Denver and Reno, Nevada.
In Arizona last year, 19 elite firefighters lost their lives battling a blaze.
Rasker said his research has shown that the average fire in the 2000s was double the size and burned twice as long as the average fire in the 1990s.
He said one reason for that is climate change — higher temperatures and less or later snowfall leave Western states more vulnerable to bigger, longer-lasting fires.
Another reason is more fuel: Experts say the practice of aggressively preventing fires in past years has had the perverse effect of creating much more fuel for future fires.
"Essentially we've put more property in harm's way, where these fires typically occur."
Wildfires also are causing more damage because more homes are being built on picturesque California hillsides, Colorado mountains and other areas prone to wildfire.
"Essentially we've put more property in harm's way, where these fires typically occur," said Mark Bove, Senior Research Meteorologist, Munich Reinsurance America.
That's a problem some expect will grow now that the housing market is showing signs of picking up, and Americans continue to have an appetite for suburban subdivisions and second homes in beautiful locales.
"People keep building in places where they want the national forest as their backyard," Rasker said.
It's all leading to higher costs. Headwaters found that federal funding to fight wildfires, which comes from the Forest Service and the Department of the Interior, averaged $3 billion a year in the 2000s, compared with an average of about $1 billion in the 1990s.
Their research shows that about 30 percent of those costs go to protecting homes.
Bove, of Munich Reinsurance, said the cost for homes or other structures lost in wildfires varies widely from year to year, but can run as high as $2 billion to $3 billion for major events.
That's far less than the cost of other natural disasters. Hurricane Katrina cost more than $40 billion in 2005 dollars, for example.
Still, Bove said wildfires are a growing concern for the insurance industry. Where they used to think of wildfires as a problem primarily limited to California, Bove said they are now seeing higher risks across the West and Southwest, including in Colorado, Texas, Arizona and New Mexico.
Experts say there are growing efforts to educate homeowners and prevent property losses.
The Insurance Institute for Business and Home Safety has been looking at what causes homes to burn, and what can be done to prevent those things from occurring.
In addition, the government has sponsored voluntary efforts to educate homeowners on how they can protect their homes.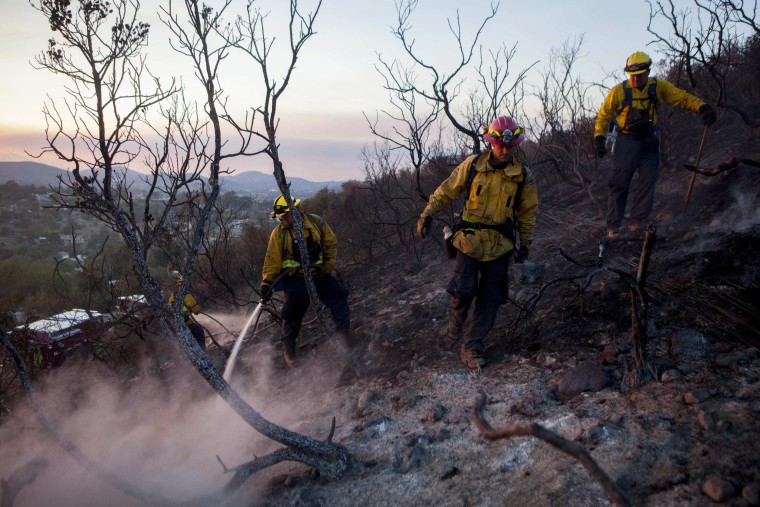 Some argue that more needs to be done, particularly when it comes to preventing more homes from being built in harm's way.
Rasker said he would like to see local governments get more help in understanding fire risk when they are doing land use planning. He'd also like to see potential homeowners get access to information about fire risk before they build or purchase a home.
"I just think that given the magnitude of the problem and given how much worse it's going to get, I think that what's being tried so far is wholly inadequate," Rasker said.