As Congress debates immigration reform to allow more highly-skilled workers to come to the U.S., the irony is that it is chasing away a generation of young American scientists by starving them of billions of dollars in funding for important medical research.
Stephanie Zerwas, a University of North Carolina researcher hoping to find the genes that place young girls at risk for developing devastating eating disorders, is one of them.
Last year, she sent a grant proposal to the National Institutes of Health for her first independent investigation, a career milestone for young scientists. She was thrilled to learn in January that her project had been green-lighted by a rigorous peer review process that approves roughly one in ten proposals.
"They said, 'Great. This is good science. This is going to have a big impact on the field and on patients'," Zerwas said. "I don't think people realize just how difficult the grant writing process is. It's almost like winning the lottery when you get a grant marked for funding. "
But that lottery ticket may never pay off. Thanks to this year's doomsday budget deal between Congress and the White House known as the sequester, Zerwas is one of about 700 NIH research applicants whose projects have been frozen.
Unless a new budget deal is struck, many of them will likely never see their projects get off the ground.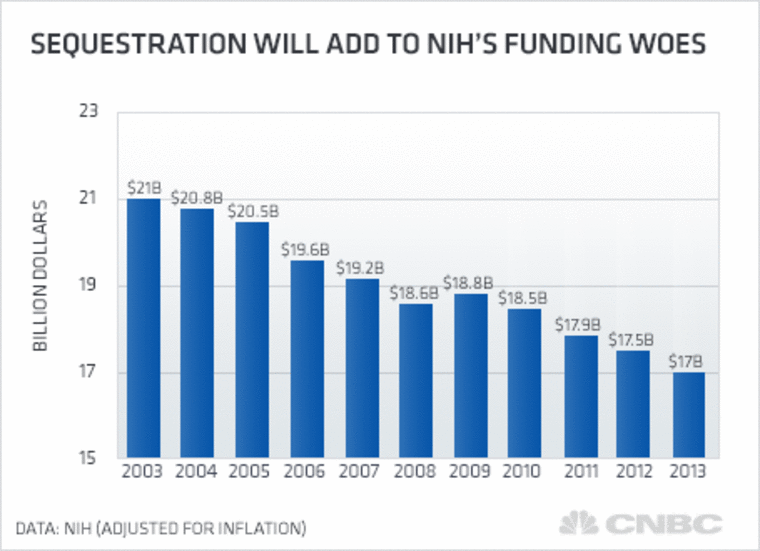 Sequester cuts in medical research funding could end up widening the federal deficit the cuts were designed to contain in the first place. As an aging population raises the cost of treating diseases like diabetes, heart disease and Alzheimer's, slowing the pace of research will delay the discovery of cures and treatments that might slow the rise in health care costs.
Longer-term, ongoing projects are also threatened as they've been forced to scale back.
"Which of those (frozen research) grants might have been the next breakthrough in cancer research?" said NIH Director Francis Collins. "Which of those grants was going to support the career of a young scientist who will now basically give up and say I'd better do something else or move to another country? We'll never know. They're gone."
Like Zerwas, 37, many of those battling for a shrinking pool of research funding are young scientists trying to grab the first rung of a lifelong career. But a decade of federal research funding cuts is now sidelining the careers of the many of America's next generation of most highly skilled workers.
Those who succeed in launching their careers have to wait longer. The average age of a researcher winning their first independent NIH grant last year was 44, up from 36 in 1980.
The funding drought has forced many to reconsider their career choice. Some are looking for—and finding—better opportunities outside the U.S.
Michael Hendricks, 40, is a neuroscientist studying the basic functioning of the nervous system in roundworms. He's hoping his work will provide a research foundation for advances in treat of human diseases like Alzheimer's and Parkinson's.
With funding drying up in the U.S., he's leaving a job at Harvard University to set up his own lab at a large research university in Canada.
"There's a diminishing sense that the U.S. is the place to be," he said. "There are more opportunities in China or in Singapore or increasingly in the Middle East where there are these brand new research institutions where funding is not an issue and where they have facilities that are on par with the best in the U.S."
(Read More:Stories of Struggle And Creativity As Sequestration Cuts Hit Home)
You don't have to have a Ph.D. to see why young American scientists are leaving the country.
Even before this year's budget sequester, the odds of winning the research grant lottery have been getting longer.
NIH funding had already been cut by 17 percent over the past decade. Adjusted for inflation, that puts overall funding at levels not seen since 1999. Those cuts have reduced the odds of getting funded from one in three to as low as one in ten.
As the U.S. has been cutting back, China and India are boosting funding by 20 percent a year, Brazil, South Korea and Japan by 10 percent, Germany by 8 percent, Collins said.
"It seems what we, alone, have adopted a strategy of cutting just at the time where everyone else has looked at our success story – and the way in which this kind of research stimulates the economy," he said. "We seem to have forgotten that."
Ironically, the immigration barriers that prevent foreign students from pursuing research careers in the U.S. doesn't prevent them from studying at federally-funded research universities and building their technical skills here. If they're denied permission to stay in the U.S., the economic return on the U.S. government's investment in their training leaves with them.
"People like me going to Canada is small scale stuff," said Hendricks. "But the many tens of thousands of foreign Ph.D. students and post docs—who were trained with U.S. taxpayer money and many of whom would probably prefer to stay in the U.S.—will leave to pursue better career opportunities in Asia and Europe."
For American scientists who find funding abroad, it's not always easy to come back.
Allison Stelling, 31, a chemist with post-doctoral training in bio-medical optics, is working on a device that would allow brain surgeons to excise cancerous tumors with more precision by helping them better identify healthy and diseased tissue.
She first encountered the funding squeeze after completing her doctorate in 2008.
"I got a few offers, but the only solid one was from a lab in Eastern Germany, " she said. "It was a year contract to develop optical techniques" to diagnose a range of tumors.
Now, after "missing my homeland," Stelling is back in the U.S. trying to find funding to set up a lab to build on her research. But she said she's running into a Catch-22.
"The word on the street is you don't get money unless you have already gotten U.S. funding before," she said. "So since I did a German post doc, they're kind of saying that it doesn't count."
The decline in funding for researchers like Stelling comes as the demand for trained researchers continues to expand. The Bureau of Labor Statistics estimates the U.S. will need another half million scientists by 2020.
Even as federal funding retreats, the return on that shrinking investment has exploded. The $3.8 billion investment in the human genome project, for example, has generated some $798 billion in economic activity and created 310,000 jobs, according to a May, 2011 report.
The impact of a relatively small cut in a research project—even five percent—can have an outsized impact on a scientific investigation, researchers say. It's a little like trying to play football on a 95-yard field.
Laying off a single researcher with specialized knowledge undercuts the work of the entire project team. Spending 5 percent less on gene sequencing means you might miss the gene you're looking for.
"You can't just get there 5 percent slower," said Zerwas. "If you have a five percent cut to the number of (research subjects) you're looking at, you are not going to be able to achieve the statistical power you need to determine whether something is significant. You might be more likely to see false positive. Or not catch something that's really there."
More broadly, the revival of the moribund American economy will be hampered by the continued erosion of advances and innovation produced by scientific discoveries, according to D. Craig Brater, dean of the Indiana University School of Medicine, which last year received some $260 million in research grants, about half from the NIH.
"If you want to have a high-end economy that supports the kind of wages that people want to have in the U.S., that means you've got to say on the forefront," Brater said. "This is a country that wants to have a lifestyle that's associated with being part of the innovative end of the world. The only way you do that is by investing in research."
As public funding has shrunk, private investment hasn't taken up the slack. If anything, investors have shown a dwindling appetite for life science research, Brater said.
"They're waiting for people like us to take it farther along the development pathway before they're willing to think about coming in and offering support or partnership," he said.
Beyond the economic impact, funding cuts for promising research "could mean life or death" for patients waiting for cures and treatments, he said.
"With all the tools we have at our disposable -- from the human genome project and the work on personalized medicine - the opportunity has never been greater," said Brater. "But the ability to execute has never been worse."
But it may get worse.
Unless Congress acts, this year's 5-percent sequester cuts are set to continue for a decade. That will wipe out $19 billion in NIH funding alone, said Collins, along with the careers of a generation of researchers whose grant proposals are rejected.
"I guarantee that at that point we would lose a significant fraction of our most important resource which are the young scientists who are trying to figure out whether they have a career path or not," he said. "It's heartbreaking. You can't imagine a rational society would have allowed this to happen."
The longer-term impact, said Brater, may be difficult to reverse as prolonged funding cuts discourage students from pursuing research careers.
"You're talking about an effect that could last for a generation of young people," he said. "Even if there was a renewed will to invest in research, you wouldn't find anyone who was willing to do it. It's a long pipeline."
For now, young researchers like Zerwas are trying to hang on. She has work lined up in another lab for a few months, and generates extra income seeing patients. But unless her project is funded soon, she said she'll have to find another way to pay the bills.
"I have about four months before things get serious, she said.