Forget colorful holiday lights. In the last few weeks of 2013, plain-Jane incandescent light bulbs were a hot product, thanks to a ban on making or importing conventional 40- and 60-watt incandescent light bulbs that went into effect Wednesday that's driving some consumers to hoard the old bulbs.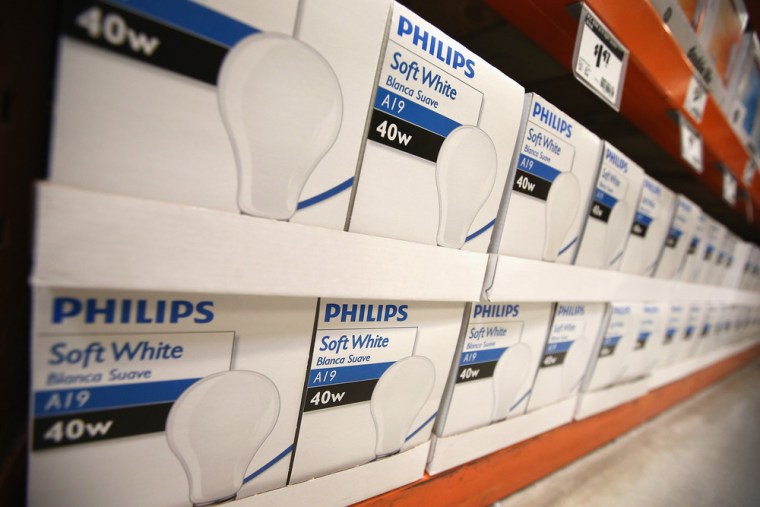 While plenty of Americans have already switched over to LED, CFL or lower-wattage incandescent bulbs, a significant minority aren't giving up so easily. They're buying and stockpiling traditional incandescent bulbs, despite assertions from the Department of Energy and industry professionals that newer technologies deliver better performance and save energy.
In a recent Osram Sylvania survey, 30 percent of respondents said they plan to stockpile, more than double the number who said they planned to squirrel away incandescent bulbs just a couple of years ago, said company spokeswoman Anne Guertin.
Charlie Dickinson, who works at a library in Portland, Ore., stockpiled around 80 of the old 100-watt bulbs before they went off the market, and he scooped up around 16 60-watt bulbs in November.
"I thought at the time, I got them I have to get all of these I can," he said of his 100-watt bulb stash. "They might just go up in value."
Kim Pedersen, CEO of online retailer 1000Bulbs.com, said his sales of incandescent bulbs were up nearly 500 percent over the past three weeks, and the percentage of total orders for incandescent bulbs jumped from 10 percent or less up to 25 percent.
"I think everybody was caught by surprise and they were in panic mode," he said. "It's crazy." Pedersen estimates in the next 30 days, he'll probably sell out of most of the incandescents no longer made or imported.
So far, Dickinson said, his stockpile has lasted longer than he expected. "I've gone a year and I really haven't put much of a dent in them. I think they're going to last me 10 years." He even gave away two bulbs to a co-worker who found out he was stockpiling them.

The 68-year-old, who described himself as "really frugal," said he tried CFLs but was disappointed when they burned out in a matter of months. His wife, an artist, was unhappy with the color of the new energy-efficient bulb types, Dickinson said.
"Most people are more concerned with looks than with saving energy," Andrew Medway, online sales manager for lighting manufacturer Lanternland, said via email. "It seems most consumers are happy as long as they get the look they want."
Aside from aesthetics, the up-front cost of the bulbs is a big issue. "The initial price of energy-efficient bulbs is typically higher than traditional incandescents," the Department of Energy says on its website. Although the agency says energy-efficient bulbs use up to 80 percent less energy and can last for years, some consumers aren't convinced the savings are worth the trade-off, and detractors claim the new, pricey bulbs don't last as long as promised, which wipes out any potential savings.
Marc Maldoff, merchandising director for hardware chain Lowe's, said CFLs and LEDs can fail for a few reasons. "Common issues that can shorten bulb life include putting non-dimmable bulbs on a dimmer switch and placing bulbs in fully enclosed fixtures if they are not rated for such applications," he said via email.
Maldoff said Lowe's was also seeing customers buying up incandescent bulbs ahead of the Jan. 1 cutoff. (Retailers can still sell what they have in stock.) "It appears some customers have opted to stockpile incandescent light bulbs including certain types, like three-way bulbs, that are exempt from the legislation," he said.
"The behavior is similar to when legislation impacted the 100- and 75-watt bulbs in previous years," Maldoff said. The 2007 energy bill behind these new rules implemented similar restrictions on 100- and 75-watt incandescent bulbs in 2012 and 2013, respectively.
Perhaps inevitably, some of the resistance is just a fear of change. "We had the same light bulb for the past 100 years," Guertin said. "People hear 'phasing out' ... and they tend to panic," she said. "I think people would be a little less scared if they understood [the new bulbs] more."