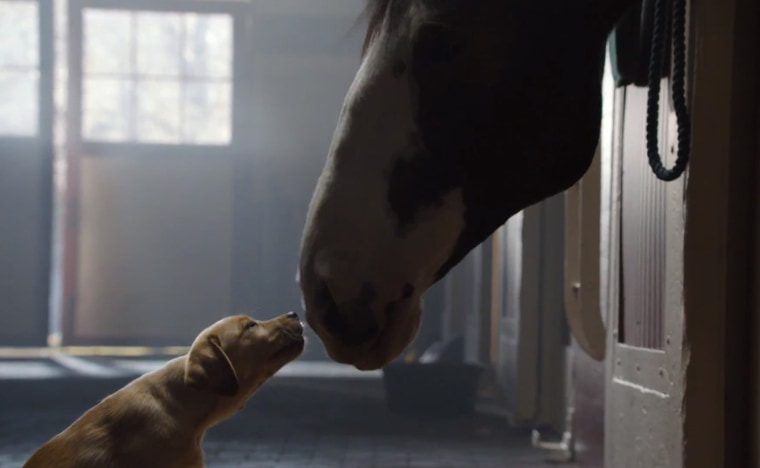 For more than three grueling hours Sunday, a global audience squirmed through a tedious spree of early fumbles and muffed pitches -- although many teared up during one thrilling return. 
Then there was the football game.
The advertising world's annual big night was, largely, a big yawn, according to several leading marketing experts. 
"Death by boredom," said Marian Salzman, chief executive officer of Havas PR, who also took to Twitter to tell Butterfinger "you bombed" and Audi "you lost me."
"Hasn't made me want to buy a darn thing," Salzman added in an email. 

Sure, Budweiser's ever-present Clydesdales showed up, this time sporting a new pal -- a little doggie with a crazy case of puppy love for furry-footed horses. 
And Bud welcomed home a real U.S. soldier from Afghanistan with an actual surprise party, helping the beer maker win the night among the brands.   
But like the Denver Broncos, most of the evening's ads were a blur of confusion that too often fell flat. 
"There used to be a time at a Super Bowl party when everyone would get quiet as soon as the commercials started ... which would be followed by a slew of laughter," said Peter Cote, a principal at the creative agency Grandeur. "My experience this year has been, lean in close or you won't be able to hear the joke -- most likely because the joke isn't always there."
Internet killed the Super Bowl ads
The main problem: some 30 Super Bowl ads were released or teased days earlier on the Internet. For anyone with a laptop, tablet or smart phone, chances are high they glimpsed a few or many of these sneak peeks, stealing the spontaneity of the live commercials. 

"YouTube has changed the way we watch Super Bowl commercials today," Cote said. "It's less and less about the game-viewing experience and more about the hyped conversations leading up to the game and the few days following.  
"I started to notice that creativity took at hit during the dot-com era of Super Bowl commercials, and it has yet to make a full recovery. There are always great commercials, but rarely game changing," he said. 
"The ads have been overexposed in anticipation of the big moment," added Salzman. "2014 is 1984, in all the bad ways. What I didn't discover, I had tweeted at me, pushed to me via Facebook, or even texted to me on a link, so I could savor it as I endured my Metro North commute. Anticipation used to be such a sensual feeling … The commentary is also getting decidedly used up, way ahead of the crescendo."
Then again, some of those online spots garnered millions of YouTube views in the days before the game, boosting the value of the brands' TV-slot purchases on FOX, which charged $4 million for 30 seconds of air time. 

And among viewers who perhaps aren't as plugged into social media (or who, perhaps, aren't as professionally jaded about Super Bowl ads), a few spots with grand or edgy messages seemed to score, some experts maintained. 

Comedian Stephen Colbert's commercials for pistachios were frequently lauded by marketing gurus for their spot-on timing by utilizing nearly back-to-back slots. 
Coke, meanwhile, broke Super Bowl advertising ground by portraying a gay family and Cheerios reprised its 2013 Super Bowl spot with a mixed-race family. 
"Every year, people say the advertising is disappointing -- especially the ad critics. I actually think we (saw) some very well-crafted spots, reflecting deep insight into how the country is feeling. Clearly, the U.S. is feeling both pensive and hopeful," said Timothy Calkins, a clinical professor of marketing at Northwestern University's Kellogg School of Management.
"Coke and Cheerios both celebrated diversity ... Bud Light and Jeep focused on the idea of pursuing opportunities," Calkins said "This was a year of inspirational advertising. Many of the big brands embraced important, emotional themes."
Of course, as the game steadily slipped away from the Broncos, millions of TV viewers likely faded away and into their evenings to enjoy downloaded movies, the fare on other channels or, possibly, even a good book. 
That audience decline theoretically cost brands like Toyota (Muppets) and Time Warner Cable (P. Diddy) which ran spots late in the game -- at a cost $133,000 per second.