ZURICH - Switzerland is mulling legislation to ban companies from deducting bribes paid to individuals from their taxes, another move to tighten what have been historically liberal laws on graft in a country long renowned for financial secrecy.
The Swiss Federal Council has initiated public comment on the proposed bill that will run until April. Parliament may debate the change before the end of 2016, after consultation with Swiss cantons, cities and political parties.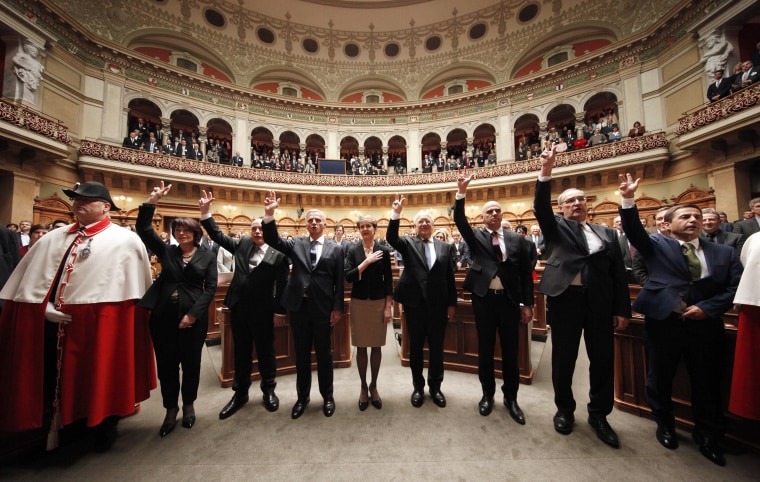 In addition to banning deductions of bribes made to private individuals, the council's draft legislation would also explicitly ban companies from counting financial penalties levied against them to reduce their tax bills.
Such deductions are now the subject of legal dispute, and the Swiss government said the bill would expressly forbid it.
"Fines and bribes paid to private individuals should not be tax-deductible," a Federal Council statement said. "In the future, punitive financial sanctions and associated procedural costs are to be expressly non-deductible for tax purposes."
Americans Told to Be Vigilant After Terror Alert in Switzerland
The wealthy Alpine republic has slowly lowered the legal boom on bribery, including a move to criminalize bribes to foreign public officials starting in the early 2000s.
In 2001, Switzerland banned the deduction of bribes paid by companies to public officials from their taxes.
Three months ago, Swiss lawmakers finally banned bribery of private individuals, something previously punishable only in instances where it distorted competition.
The legislation announced on Friday aims to harmonize that prohibition with corresponding tax law, by mandating that "bribery payments to private individuals should no longer be allowed as expenses that are justified for business purposes."
Tax evasion itself, however, is not a crime in Switzerland, unlike many countries, but rather an infringement punishable by a fine.
But Switzerland has been forced by the United States and European Union neighbors to gradually surrender its vaunted banking secrecy laws for foreign citizens who have stored their money here, so as to catch tax cheats and money launderers.