A California toy company is fighting for its right to parody a popular Beastie Boys song.
Oakland-based GoldieBlox filed a lawsuit in federal court in San Francisco seeking permission to continue using a spoof of the rap song "Girls."
The song was on the trio's first album, "Licensed to Ill," released in 1986. It sings of the desire for girls to "do the dishes ... to do the laundry ... to clean up my room."
The company's marketing video spoofing the song depicts young girls singing about building spaceships and coding software. The lyrics are changed to: "Girls — to build the spaceship/ Girls — to code the new app/ Girls — to grow up knowing/ That they can engineer that/ Girls. That's all we really need is girls.
The video has gone viral in recent weeks, and some 8 million people have viewed it on YouTube. The spoof is attempting to sell the company's GoldieBlox engineering toys aimed at girls.

The company said it filed the lawsuit last week after the Beastie Boys threatened their own legal action for copyright infringement.
"GoldieBlox created its parody video specifically to comment on the Beastie Boys song, and to further the company's goal to break down gender stereotypes and to encourage young girls to engage in activities that challenge their intellect, particularly in the fields of science, technology, engineering and math," the company's lawsuit stated.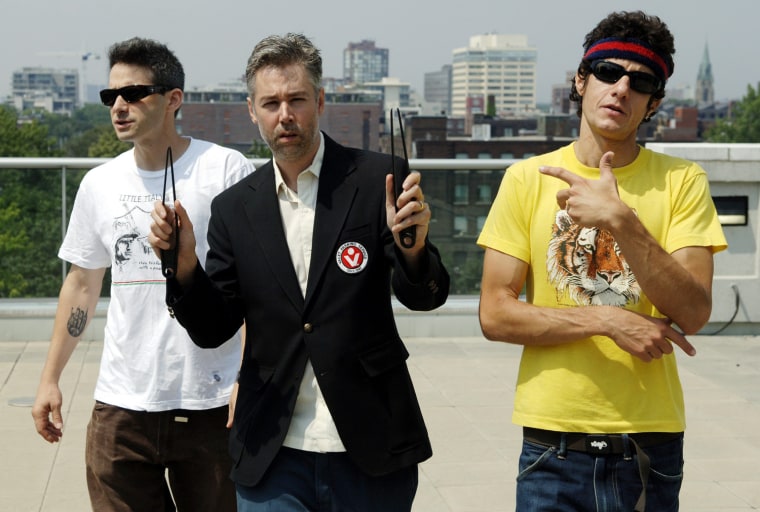 On Monday, the two surviving band members — Adam Horovitz and Michael Diamond — said in an open letter posted on their publicist's website that they support the toy company's message of empowering girls. But they have a blanket ban on using their songs in advertisements.
"As creative as it is, make no mistake, your video is an advertisement that is designed to sell a product, and long ago, we made a conscious decision not to permit our music and/or name to be used in product ads," the band members said through their publicist. "When we tried to simply ask how and why our song 'Girls' had been used in your ad without our permission, YOU sued US."
GoldieBlox is one of four companies named as finalists in a competition held by software maker Intuit to pay millions for a Super Bowl advertisement for the winner. The company's "Girls" video is not part of the competition.