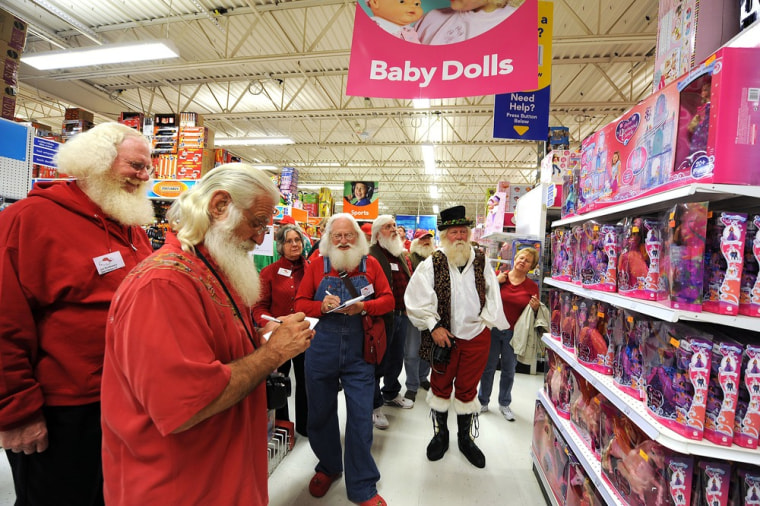 It's the kind of heartwarming story folks like to hear during the holidays: a generous soul shows up at a store, and offers to secretly pay off the balance on a stranger's layaway order, just in time for Christmas.
Last year, it was a tale that was told several times by retailers across the country, including Kmart , Wal-Mart and Toys 'R Us.
No one knows who these so-called layaway Santas are, but Toys 'R Us has drawn inspiration from their actions. The toy retailer has promised to donate $200 worth of toys, which it said is the average value of a layaway order at its stores, whenever a "Layaway Santa" visits one of its stores and pays off a layaway order for someone in their community. The donations, which will be made to the Marine Toys for Tots Foundation, will continue until $1 million worth of toys are donated, the company said.
Toys 'R Us unveiled the program in conjunction with another announcement: it will continue to offer free layaway to customers through Dec. 16.
Typically, retailers charge a small fee when customers put products aside on layaway. Then, the shoppers pay off the value of the products bit by bit over a set period of time. But this year, several retailers dangled free layaway programs in front of shoppers in an effort to get them to start their holiday shopping earlier.
Toys 'R Us' layaway program, which was announced in September, was originally set to end on Oct. 31.
"Since we introduced our new free layaway program in early September, we've seen a fantastic response from parents and gift-givers who value the opportunity of paying for their holiday purchases over time, without having to incur an upfront fee," said Troy Rice, executive vice president of Stores and Services at Toys 'R Us, U.S., in a press release announcing the programs. (Read More: Walmart Stores See Strong Layaway Sales)
Layaway programs, which were originally created by retailers during the Great Depression, were reinstated by some companies during the recession. At that time, many consumers were having trouble getting access to credit, and the programs helped shoppers to spread out the cost of their holiday gifts, without using credit.
Since then, the programs continue to be used by some shoppers, who are still leery of running up credit card balances. They also are appealing to lower-income consumers at a time when unemployment remains high and household incomes are stagnating. (Read More: Tablets, Electronic Toys High on Layaway Lists)
With the growth of holiday spending set to slow from last year's pace, retailers are in a fierce contest to gain market share, and they have been using tactics such as free layaway and price-matching guarantees to lure in shoppers.
Now that Toys 'R Us has extended its program, it would not be surprising to see other retailers with limited-time free layaway doing the same.
More from CNBC