Expense account or not, it's always nice to sit down to a great meal when you're out on the road. And, after a long day of travel and meetings, it's a bonus if the hotel you're staying at has a restaurant serving something beyond the stereotypical "hotel restaurant" food.

"A good restaurant – located in a hotel lobby or not – is certain to attract serious diners from the neighborhood, as well as travelers from around the world," notes The Daily Meal, a website devoted to "All Things Food and Drink."

For the second year, The Daily Meal editors created an anonymous survey and enlisted the help of experienced bloggers, restaurant critics and other food and lifestyle writers from around the world to create the list of 101 Best Hotel Restaurants Around the World. To narrow down the list, the editors limited the contenders to hotels with at least 15 rooms and to restaurants that were on-site, not just nearby a hotel or under the same ownership.
The Daily Meal's 2013 list of 101 Best Hotel Restaurants has many places frequent business travelers may already be familiar with from conventions or other business functions, said Colman Andrews, editorial director of The Daily Meal. "Both business and leisure travelers appreciate the convenience and prestige – with business contacts – of having world-class dining right in their hotels," he said. "This is especially true of business travelers on tight schedules."
Here are the top 10:
1. é by José Andrés at The Cosmopolitan of Las Vegas
The top spot on the list went to é by José Andrés, an exclusive dining space in chef Andrés' Jaleo restaurant in The Cosmopolitan of Las Vegas. There, guests are presented with a "secret" multicourse tasting menu that, according to The Daily Meal, might include Spanish-influenced signature dishes such as secreto of Ibérico pork with squid and torta pascualete, described as "a type of Spanish cheese – with cotton candy."

"I always wanted é by José Andrés to be a hidden surprise of Las Vegas," said Andrés. "To be be able to create this unique experience every night in an intimate room inside Jaleo at The Cosmopolitan of Las Vegas in the middle of strip is what makes this restaurant very special."
2. El Motel Restaurant at Hotel Emporda (Figueres, Spain)
"Hotel Emporda, a bare-bones hotel on the National Road between France and Barcelona, has always had a large clientele of merchants and business people from both sides of the border," said Andrews. The hotel's restaurant, El Motel, has been serving contemporary Catalan cuisine since 1961. In addition to a tasting menu and a market menu, the restaurants offer à la carte options and many "simple seasonal specialties like small squid sautéed with garlic and parsley."

3. Restaurant Guy Savoy at Caesars Palace (Las Vegas)
The menu at the two-Michelin star Restaurant Guy Savoy at Caesars Palace mirrors that of its three-Michelin starred sister Restaurant Guy Savoy in Paris. So there's no need to fly to France (or learn French) to dine on classic Savoy dishes such as "artichoke and black truffle soup garnished with toasted mushroom brioche and truffle butter." As a bonus, the restaurant offers great views of the Las Vegas Strip.

4. Felix at The Peninsula Hotel Hong Kong (Hong Kong)

Renowned French designer Philippe Starck designed the Felix, which sits on the hotel's rooftop and offers both a grand view of the city's skyline and a menu (displayed on iPads) of modern European cuisine. The Daily Meal reviewers suggest you scroll through list to find signature dishes such as marinated Tasmanian salmon with guacamole.

5. Emiliano Restaurant at Emiliano (São Paolo, Brazil)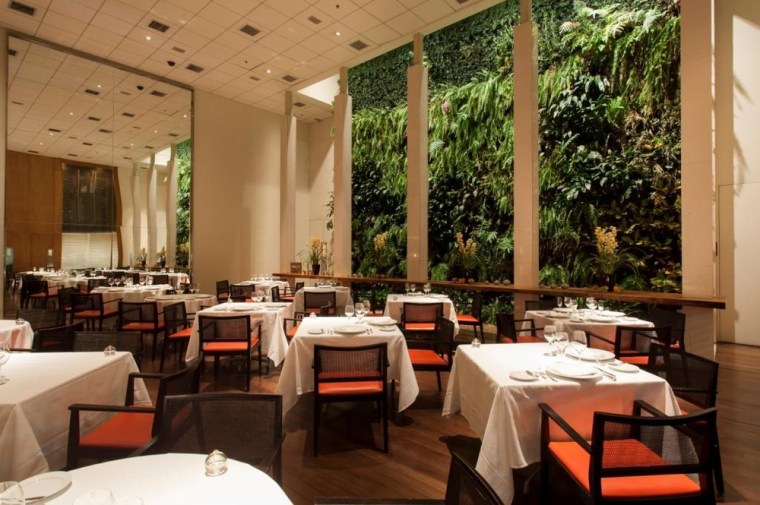 This boutique hotel is popular with business travelers and welcomes guests with a complimentary 15-minute massage in the spa. Service at Emiliano Restaurant is equally attentive, with locally sourced, seasonal cuisine that has "a touch of modern Italian cooking style." Among the highlights noted by The Daily Meal is a five-course tasting menu with dishes such as codfish confit with tomato preserves and shallots and a rack of goat with pistachio crust and eggplant Parmesan. 

6. Aubergine at L'Auberge Carmel (Carmel, Calif.)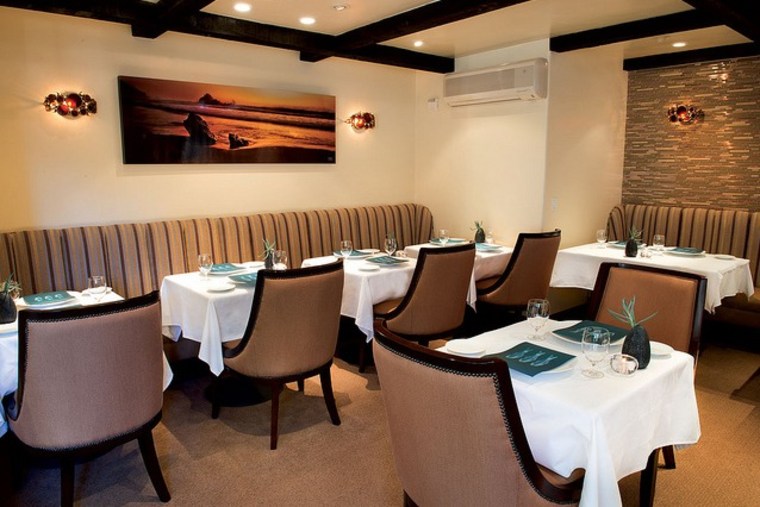 Award-winning executive chef Justin Cogley forages in Monterey Bay for sea lettuces, sea beans, and seaweed to include in the dishes on the seasonal menu at this restaurant just five blocks from the ocean. Many of the signature dishes are made with abalone grown locally for the restaurant. "When I came here just a few years ago the goal was for the restaurant to become a destination," said Cogley, "So I'm so proud that we're on this list with so many other illustrious properties."

7. Livingstone Room at Victoria Falls Hotel (Victoria Falls, Zimbabwe)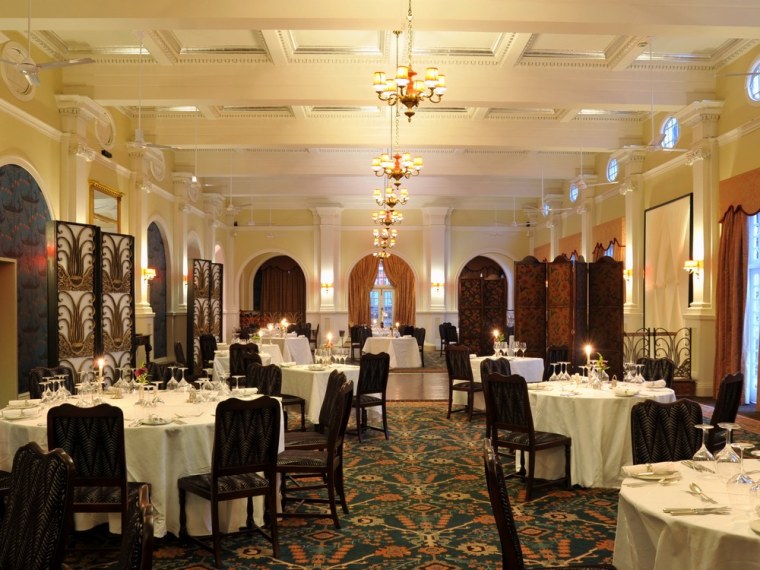 While a jacket and tie are no longer required, the dress code at this still rather formal Colonial-style restaurant with terrace views of Victoria Fall remains "smart," which means no jeans, sandals, shorts, sneakers or safari gear. In addition to formal British afternoon tea and an à la carte menu, The Daily Meal notes that the restaurant offers a seven-course tasting menu with dishes such as Loch Fyne seared scallops with pea purée, herb salad, beet jelly, and rocket pesto and a selection of Mozambican and South African cheeses served with raisins, chutney, celery, and fruit bread. 

8. Joël Robuchon Restaurant at MGM Grand (Las Vegas)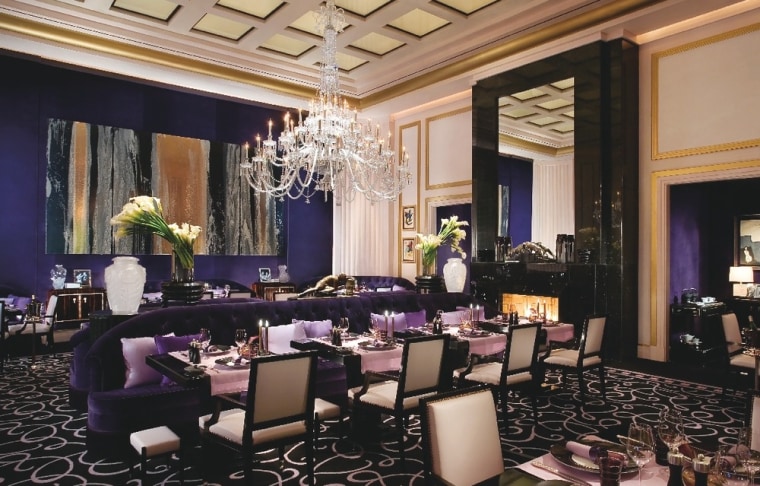 Considered by some critics as the best French restaurant in the states, chef Joël Robuchon's 60-seat dining room at the MGM Grand has what The Daily Meal calls "knockout (and pricey) tasting menus, including a 16-course Dégustation for $435." They did say pricey.

9. Epicure at Le Bristol (Paris)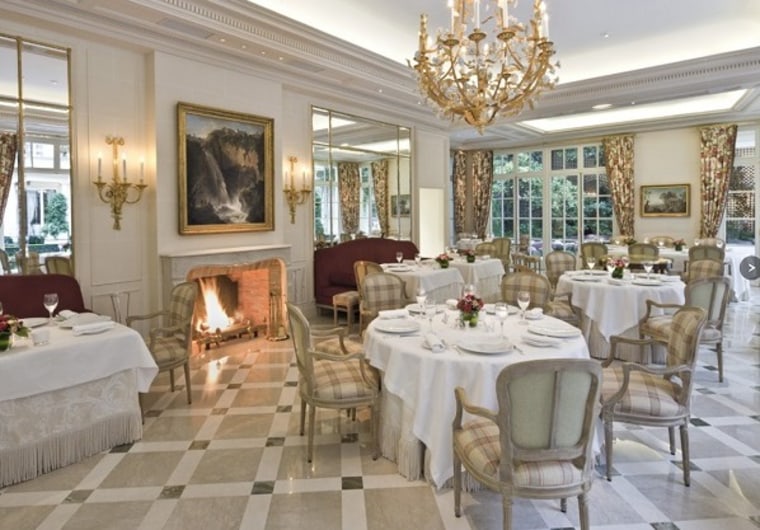 "Le Bristol is one of the more popular hotels for very high-end business travelers – CEOs, etc.," said Andrews, and the clientele often dines at the hotel's three-Michelin star restaurant, overseen by chef Eric Frechon and located next to the elegant French-style garden.

10. Man Wah at the Mandarin Oriental (Hong Kong)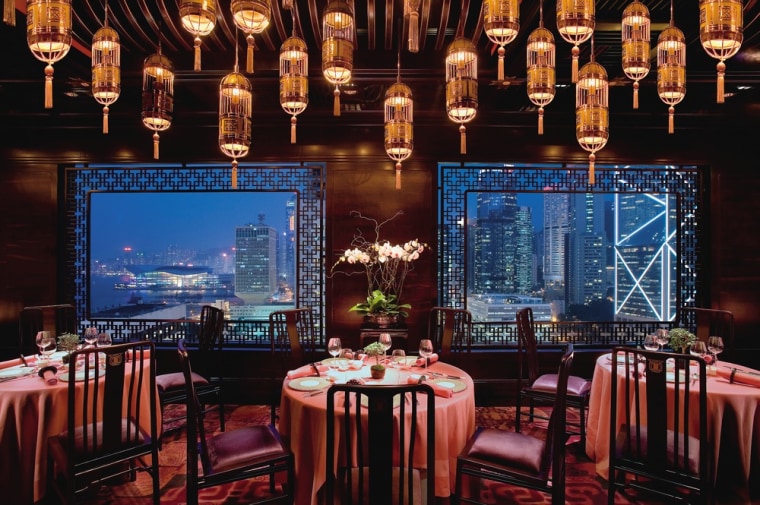 Located on the 25th floor of the glamorous Mandarin Oriental, Man Wah offers panoramic views of Victoria Harbor and the Hong Kong skyline and a menu of gourmet Cantonese fare designed by Chef Man-Sing Lee. In addition to the dim sum menus, diners can choose a tasting menu or order specialty dishes such as steamed fillet of spotted grouper with crispy ginger, crabmeat, and egg white sauce.

Harriet Baskas is the author of seven books, including "Hidden Treasures: What Museums Can't or Won't Show You," and the Stuck at the Airport blog. Follow her on Twitter at @hbaskas.