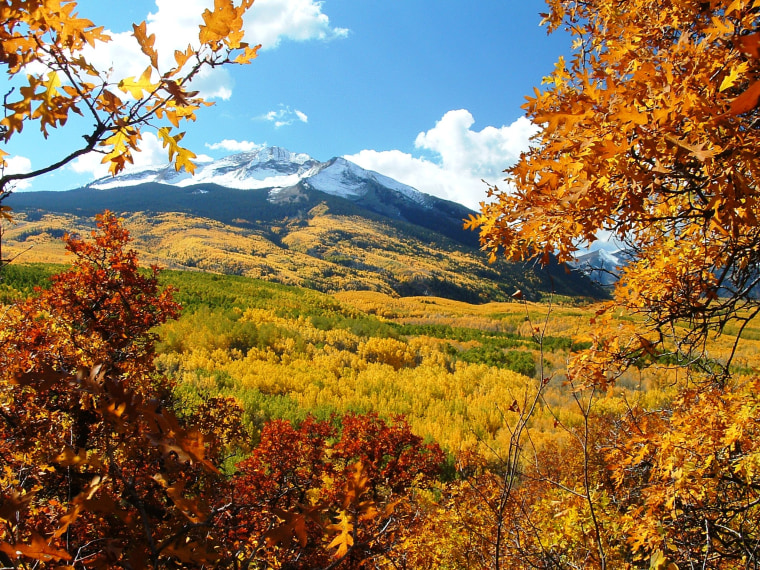 It's that time of year again. We're deep in the heart of leaf-peeping season and the leaves, they are a-changin'. Whether you're a fall foliage fanatic or just in the mood for a scenic drive — or train ride — through the fabulous fall scenery, you won't want to miss these great seasonal spots.
It's the most colorful time of the year! Here in the Northeast, we're surrounded by beautiful shades of orange, red, and yellow as leaf-peeping season kicks into full swing — but you don't have to be in just one region to appreciate all the fall foliage. We've got 10 great seasonal spots around the country — and one in Canada — where you can see the leaves in all their colorful splendor, whether by car, train, boat, or by going for a nice, long walk in the crisp fall air. If all else fails, you can always choose to live vicariously through our Fall Into Foliage board on Pinterest. 
Vermont
It goes without saying that Vermont is one of the most well-known places in the U.S. when it comes to fall foliage — especially in the central and southern parts of the state, the Lake Champlain Islands, areas near Burlington, and in the beautiful Green Mountains. As of right now, most of the state is already experiencing peak colors, with late, more subtle changes in color still slated to happen over the last three weekends of October. Up for a scenic fall foliage drive? Vermont's Tourism website offers a printable list of more than 20 drives around the state ranging anywhere from 30 to 210 miles long, as well as regional and historical points of interest, apple orchards, and popular local attractions you shouldn't miss along the way. Try taking a breather at one of these 16 participating apple orchards, where you could end up with a brand new Apple iPad, iPod Nano, or iPod Touch if you find the hidden wooden apple thanks to a new seasonal program, Apples to iPods.
New York
Whether you're planning to venture upstate in search of fall fun or opt to stay in the big city, New York gives you plenty of options — visit this website for a detailed list of all the great spots within the state to view fall foliage as peak levels tend to change depending on where you are. Baseball fans will want to visit Cooperstown, home to the National Baseball Hall of Fame, while other outdoorsy leaf-peeping activities include renting kayaks on Lake Otsego or hiking among the gorgeous fall colors at Glimmerglass State Park. (The nearby Otesaga Resort Hotel is currently offering fall getaway deals from $199, including a package from $239 a night that includes daily breakfast and tickets to either the National Baseball Hall of Fame, the Fenimore Art Museum, or the Farmer's Museum). For an exciting day trip, bring the family to Barton Orchards, located about a 90-minute drive north of the City in Poughquag, N.Y., and home to hayrides, train rides, a corn maze, haunted house, and the chance to pick perfect farm-fresh apples, pumpkins, corn and other seasonal vegetables to take home as delicious fall souvenirs. Don't miss the Farm Bakery & Market where you can pick up maple syrup, seasonal mixes and spices, baked pies and desserts, fudge, and best of all, cider donuts. (Activity wristbands are available for $12.50 and include a $3 general admission fee. Prices for fresh-picked apples, pumpkins, and veggies vary by quantity. Please note that no outside food or beverages are allowed on the farm, but feel free to bring your own wagon). Or if you'd rather stay in the heart of the Big Apple, go for a stroll around Central Park in the fall for vibrant color changes during the last few weeks of October into November — pick any spot in the park for a fall picnic, just don't forget to bring your camera!
Canada
While there are definitely enough places in Canada to warrant its own fall foliage report, we'd like to point out one of our favorite spots in Québec for the purposes of this story: Mont Tremblant, an exquisite ski town roughly two hours outside of Montréal that always has something fun going on no matter what season we're in, and fall is no exception. Hop a quick flight on Porter Airlines from Newark, Washington D.C., Burlington, Chicago, Myrtle Beach, or from any of 12 connecting Canadian cities to reach this beautiful ski town nestled in the heart of Canada's Laurentians (they even serve wine onboard—for free!). In Tremblant, there are plenty of outdoor activities to keep you busy while you're admiring the fall colors showcased on the mountains around you: play a round of golf on one of the area's two championship golf courses, treat youself to a 60-minute cruise on the 7.5-mile long Lake Tremblant ($20 for adults; $16 for seniors ages 60 and up; $6 for children ages 2-12), rent a bike for the afternoon (prices vary), explore the mountain on one of 12 hiking trails, or take a ride to the summit on the panoramic gondola (Adults pay $16.99 per ride; children ages 6-12 pay $13.59; children ages 3-5 pay $3.39; Gondola tickets must be purchased online at least two days in advance). After a long day outside, try your luck at the Casino de Mont-Tremblant (a free shuttle is available every 30 minutes between the casino and the pedestrian village), relax your tired muscles at the nearby Scandinave Spa Mont-Tremblant (access to the Scandinavian Baths for $48 per person; 60-minute Swedish Massages from $128 per person), or check out one of the special fall sales happening at Tremblant's many boutique shops. The best part: You can save 20 percent on stays of two nights or more at area hotels now through Oct. 31 with prices starting at $119 per night.

Colorado
We've been keeping a close eye on Colorado's usual leaf-peeping hot spots, especially after the damage caused by devastating floods in September and unfortunately, the National Park closures due to the government shutdown, but there is good news to report: One of the state's best places to view fall foliage, Estes Park, is open for business. Estes Park is the perfect place to view not only fall foliage, but also elk and other area wildlife this time of year. Nature lovers can go fishing, hiking, mountain biking, and horseback riding in nearby Estes Valley, or even participate in flood recovery efforts. For a spookier fall experience, try one of the Ghost & History Tours at the Historic Stanley Hotel, also known for having paranormal investigators and psychics onsite. Autumn is the best time of year to take a drive on the Peak to Peak Scenic Byway, currently one of the only ways to enter and exit the Estes Park area — check this website for more updates on flood recovery efforts and route changes. Special lodging packages are also available to keep tourism going strong in Estes Park during one of their busiest times of the year. Other scenic leaf-peaping hot spots in Colorado include Kebler Pass near Gunnison-Crested Butte, the 236-mile loop of San Juan Skyway, The Grand Mesa Scenic and Historic Byway, and in better times, Trail Ridge Road and Rocky Mountain National Park, among 25 scenic and historic byways that typically showcase the state's world-famous golden Aspens. A ride on the Georgetown Loop Railroad is also a memorable way to see the fall colors and learn a little about the area's mining history. (Tickets are from $25.95 for adults; from $18.95 for children ages 3-15).
West Virginia
Grant County is home to some of the most beautiful fall foliage in the country, and the best way to see it is by train. For one night only, Oct. 19, the Autumn Splendor Dinner Train will travel through Petersburg, W.Va., just in time for the red and gold leaves to make their debut. You'll start by sampling local delicacies during a food and wine tasting at the South Side Depot in Petersburg while you wait for your train, and enjoy a West Virginia-made dinner of beef brisket, shrimp, potatoes, green beans, and your choice of homemade chocolate fudge turtle cake or pumpin cheesecake for dessert, all while admiring the view. (Tickets are $60 per person for adults only; reservations required).

Tennessee
In Tennessee's southeastern corner about two hours from Nashville lies Chattanooga, the state's fourth-largest city nestled alongside the Tennessee River, and a prime spot for viewing fall foliage. The best part: Not only is Chattanooga known for having a terrific network of hiking, biking, and nature trails, but you also have the unique opportunity to view fall foliage by boat. Enter the Southern Belle Riverboat, sailing several times a day from Pier 2, with dinner cruises, lunch cruises, sunset cruises or 90-minute sightseeing cruises up and down the gorgeous Tennessee River. Prices for their three-hour Fall Leaf Cruise — available Fridays, Saturdays, and Sundays thru Nov. 17 — start at $39.95 for adults and $17.95 for children ages 3-12.
Missouri
If you're looking for the ultimate scenic fall drive, Branson and the Ozarks are home to three of the area's best fall foliage driving tours (and one walking/jogging tour) aimed to please any leaf-peeping enthusiast. Stop by the Welcome Center located at Highway 65 and State Highway 248 for free maps and tips about local attractions, then set off on your fall road trip adventure. The first driving tour takes you on a 90-minute loop around Table Rock Lake and Kimberling City, while the second takes you on a 70-minute loop from Downtown Branson around Forsyth and Rockaway Beach. The third, more in-depth fall foliage drive is a four-hour long journey through Bull Shoals, Peel Ferry, and Mark Twain National Forest, while the walking/jogging tour just takes you on a 1.5-mile tour of Branson Landing and Downtown Branson along Lake Taneycomo, home to Main Street Lake Cruises, another fun way to get a unique look at the region's fall colors. (Tickets are from $25 for adults; children ages 17 and under ride free with a paying adult. Check the website for more details on pricing and scheduling. Must reserve at least 72 hours ahead).

Wisconsin
One of our favorite places to write about is Door County, a bucolic peninsula between Lake Michigan and Green Bay not only known for its lakes, art, and cherries, but also as a fall foliage viewing destination. Be sure to check the Fall Color Report for the latest leaf-peeping updates. Embrace changing seasons with any number of available outdoor activities ranging from cruises on the lake, horse-drawn wagon rides around town, to even a scenic airplane ride over the area, or stick to golfing, sailing, fishing, horseback riding, sightseeing, and hunting for that perfect antique souvenir to bring back home. The best part about visiting Door County this time of year: all the roadside stands and farmers' markets selling fresh, hot apple cider among other farm fresh produce and wines from local vineyards.

Texas
Located about an hour and 45 minutes outside of San Antonio near the town of Vanderpool is Lost Maples State Natural Area, one of best spots for fall foliage in all of the Lone Star State. Spend some time admiring the colors of nature during a fall hike, camping trip, bird watching adventure or treat yourself to a fall picnic in the park. In this part of the country, the leaves tend to change color closer to early-to-mid-November, so there's still plenty of time to get in on the action — check the Fall Foliage Report, updated weekly from October thru November, just in case. Keep an eye out for vibrant red, orange, and golden colored leaves near Daingerfield, Martin Creek, Lake Bob Sandlin, and Martin Dies Jr. State Park in East Texas, known for its oaks, elms, and sweetgums. You'll also find golden and bright yellow cottonwoods throughout Palo Duro Canyon and Caprock Canyon State Park, as well as rusty-colored leaves that contrast with a swampy, Spanish moss-covered Caddo Lake State Park.
Oregon
In the greater Portland and Columbia River area, fall foliage is served up with a side of waterfalls, majestic gardens, dramatic river gorges, and no shortage of local wineries. Take a drive down the scenic Columbia River Highway for views of 900-foot tall cliffs and steep flowing waterfalls overlooking the vast valley. Fall colors can be seen throughout the vineyards of Willamette Valley, where grape vines light up in a variety of reds and yellows. Visit the Portland Japanese Garden, located in Portland's west hills above the Rose Garden in Washington Park, for the ultimate color contrast between deep green colors and fall foliage highlights. Hiking enthusiasts can also mak the 1.2-mile, 600-foot ascent to Multnomah Falls for stunning views of the valley below.

California
This has been an interesting year for Yosemite; its fires finally put out only to be shut down on its 123rd birthday because of the current situation in D.C. Normally, this would be a wonderful place to celebrate fall within the popular National Park, an ideal time of year to visit without having to worry too much about crowds and high hotel prices. Luckily, for California visitors, there are other ways to catch a glimpse of those gorgeous fall colors: Mono County, in California's Eastern Sierra region, is known for its colorful mix of evergreens, big-leaf maples, Pacific dogwoods, black oaks, and other trees that usually reach their peak colors in mid-to-late October.

See More From Budget Travel