Don't feel left out if you're not traveling this Labor Day holiday weekend along with the 35.5 million other Americans that AAA Travel predicts will be on the move.
If you've saved some vacation days – and some cash – for a fall trip, you'll find some great deals on airfares to some desirable destinations.
In general, airfares usually drop in the "shoulder season" between summer and the Thanksgiving/Christmas holidays. But according to airfare prediction app, Hopper.com, current airfare prices are more than 9 percent cheaper than this time last year.
Finding Airline Deals With Fewer Choices
For the overall fall-holiday period – September through December – Hopper says prices will average about $237, or 7.2 percent less than in 2014 and 11.2 cheaper than in 2013.
In its monthly Consumer Airfare Index to be published next week, Hopper looks at domestic round-trip prices by weekend from Labor Day (Monday, Sept. 7) to just past Thanksgiving (Thursday, Nov. 27).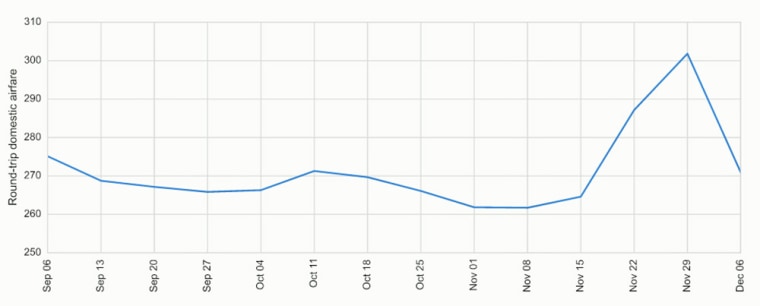 It predicts fliers will find the best prices in early November, when the average domestic round-trip fares dip to as low as $262. Prices on the weekend immediately before and after Thanksgiving are the most expensive, climbing to over $300 on average. Fares for the Columbus Day weekend also show an upward bump.
The number crunchers over at Hipmunk.com are also finding deals for the shoulder season.
"Based on our analysis of airfares to popular destinations, we've found the average traveler is saving $106 by booking flights in September instead of August," said Chris Slowe, Hipmunk's chief data scientist.
Top U.S. Cities to Visit, Chosen By Leisure & Travel Readers
In a report scheduled to be published next week, Hipmunk found that island destinations such as Fiji, Tahiti and the Bahamas are seeing some of the biggest price drops from August to September, ranging from 13 percent to 29 percent.
"You can also save quite a bit of money traveling to Europe in September instead of August," said Slowe, "Visiting cities like Rome, Milan, Paris and Barcelona is 11 (percent) to 26 percent cheaper."