Dubai-based Emirates airline announced Wednesday it will reduce its service to the United States in response to a drop in demand. The airline attributes this to actions taken by the U.S. government, such as restrictions on electronic devices in cabins and a travel ban for some majority-Muslim countries.
The airline said it will be reducing flights to five of the 12 U.S. cities it currently serves.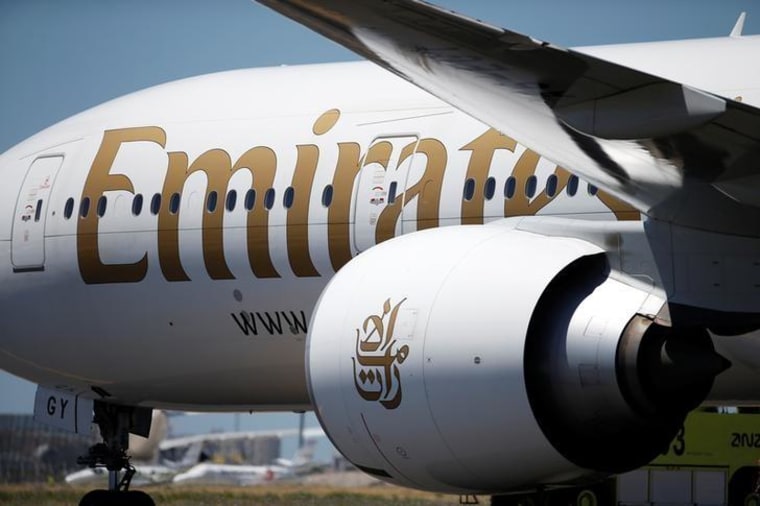 "This is a commercial decision in response to weakened travel demand to the U.S.," Emirates said in a statement provided to NBC News. "The recent actions taken by the U.S. government relating to the issuance of entry visas, heightened security vetting, and restrictions on electronic devices in aircraft cabins, have had a direct impact on consumer interest and demand for air travel into the U.S."
Emirates added that until the start of 2017, its operations in the United States had been experiencing healthy growth and performance.
"However, over the past 3 months, we have seen a significant deterioration in the booking profiles on all our U.S. routes, across all travel segments. Emirates has therefore responded as any profit-oriented enterprise would, and we will redeploy capacity to serve demand on other routes on our global network."
U.S. travel agents were among the first to receive the notice.
"It's clear from our member feedback that some of the recent actions taken by the U.S. government have injected a great deal of uncertainty into the travel industry, from disruption to travelers to fear about how Americans will be received abroad to aborted business and leisure trips," said Erika Richter of the American Society of Travel Agents.
Related: Trump Slump in Travel — Fact or Fiction?
"There is no other way to put it except to say that yes, this will have a financial toll on our industry," she told NBC News.
Emirates said it will continue to monitor the situation "with the view to reinstate and grow our US flight operations as soon as viable."
Starting May 1 and 23, respectively, flights to Fort Lauderdale and Orlando will drop from daily service to five time a week. On June 1 and 2, respectively, service to Seattle and Boston will drop from twice-daily services to a daily service. And, starting July 1, flights to Los Angeles will also drop from twice-daily service to a daily service.