Flying hasn't been this satisfying since 1996, according to a new report. Unfortunately for the airlines, that's still only slightly higher than the two lowest ranked industries, cable and internet service providers.
"Travel is a big industry," said Claes Fornell, founder and chairman of the American Customer Satisfaction Index (ACSI), which released its annual report on U.S. airlines, hotels and restaurant chains on Tuesday. "If people aren't satisfied, they spend less and it impacts the whole economy."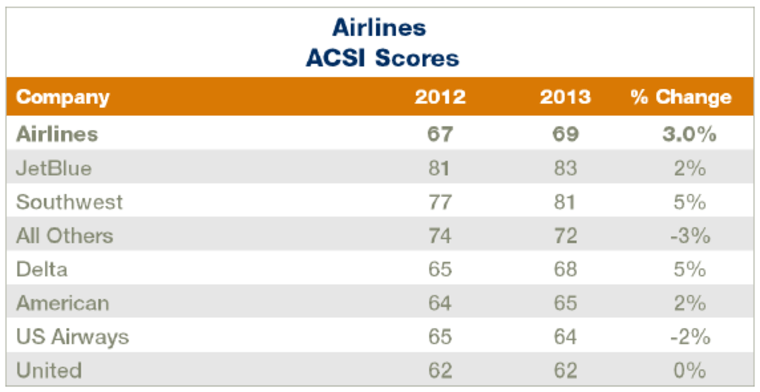 Overall, the industry improved 3 percent to a score of 69 out of 100 over last year. Yet airlines remain mired at the bottom of the list of the 43 industries the ACSI covers, barely beating out perennial cellar dwellers, subscription TV service (68) and Internet service providers (65).
For the second year in a row, Jet Blue beat Southwest, which until 2012 had held the first place spot for 17 years. Their scores were 83 and 81 respectively.
The study also looked at the various elements that make up the entire air travel experience and found that respondents were most satisfied with the ease of the reservation and check-in processes (82) and least satisfied with the inflight experience, including food and beverage (68) and seat comfort (63).
The latter is likely to get worse before it gets better, especially for passengers on American, which recently announced it was planning to squeeze in even more seats to the coach sections of its fleet of 737s and MD-80s.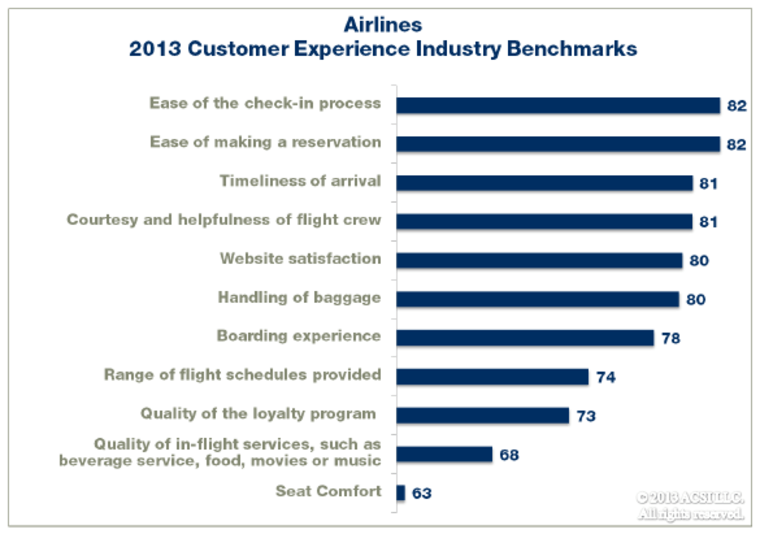 According to Fornell, much of fliers' frustrations can be traced to the ongoing consolidation in the industry, which has led to service cutbacks, higher prices and fewer options for travelers.
"Instead of becoming more competitive, we have something like an oligopoly," Fornell told NBC News. "[Customer satisfaction] doesn't matter as much because consumers can't really punish an airline" by choosing another carrier.
As evidence, Fornell points to the fact that United remains at the bottom of the heap (62) more than a year after its merger with Continental. He also predicts bumpy times ahead for passengers on American (65) and US Airways (64) as the two carriers work through their own merger.
"In a real competitive industry you couldn't get away with scores in the low 60s," said Fornell. "Nobody would pick them."
Rob Lovitt is a longtime travel writer who still believes the journey is as important as the destination. Follow him on Twitter.