With the summer vacation season just starting to take off, so is the usual grousing about the drudgery of flying.
The latest example was seen in the results of the CNBC All-America Economic Survey, which shows just how much people don't care for traveling by air.
When asked which is worse, a busy airport or the dreaded Department of Motor Vehicles office, the response was basically a tie.
Forty-two percent rated the DMV as worse than a busy airport, while 40 percent said being in a packed airport is worse than standing in line to get a new driver's license.
Sign up for top Business news direct to your inbox.
Twelve percent of the 815 people surveyed said the two choices are equally bad.
The survey's results come at a time when customer satisfaction with airline service has been trending higher. Earlier this year, J.D. Power's annual North America Airline Satisfaction Study found a growing percentage of people were happy with their airline experience.
"No doubt the airline industry is doing a better job of pleasing passengers, but there still is a lot of room for improvement," said J.D. Power's Rick Garlick. "Satisfaction is improving, but it's a stretch to say passengers are truly happy."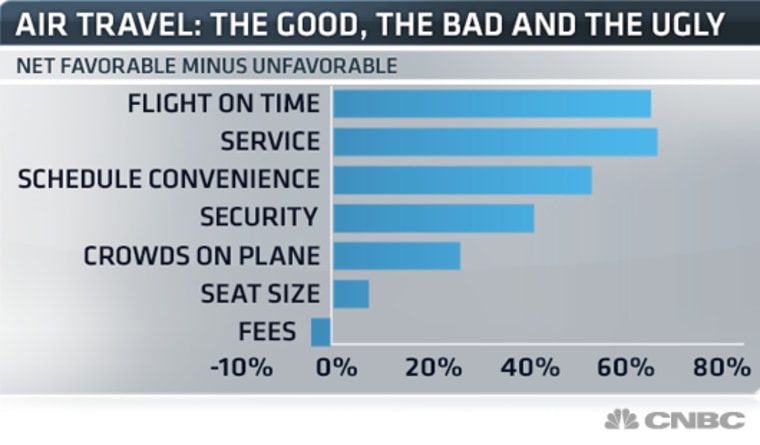 In CNBC's survey, only 1 in 4 people called air travel enjoyable. Meanwhile, about 40 percent characterized it as bearable. Twenty-seven percent said air travel was unenjoyable or awful.
Despite a large chunk of Americans who view traveling as a bad experience, the major players in the airline industry are flying high.
Profits are up and pricing is strong because the carriers have been disciplined, and have not added too many seats on existing or new routes.
Airline stocks from Delta to United have been moving higher much of the year, despite a healthy selloff on Thursday as oil prices jumped.
When asked about the specific parts of air travel that are enjoyable, fees and seat size were not surprisingly at the bottom of the list for many travelers. Fewer than 10 percent of those questioned had a favorable opinion of the size of the seats on their flights.
"Satisfaction is improving, but it's a stretch to say passengers are truly happy."
That's likely a reflection of many fliers feeling cramped as carriers move rows closer together so they have room to squeeze in another row or two of seats. Like it or not, that's not changing.
Nor is the fact that planes are more crowded, and will likely continue to be. Three out of every 4 people surveyed said packed planes make flying less than a favorable experience.
In a bright spot for the industry, about two-thirds of those surveyed had a favorable opinion of the service they've received from the airline and its staff.
The CNBC All-America Survey was conducted from June 2 to 5 and has a margin of error of plus or minus 3.4 percent.