April offers plenty of free and low-cost deals and adventures to help you take your mind off politics and any impending tax bills and start enjoying spring.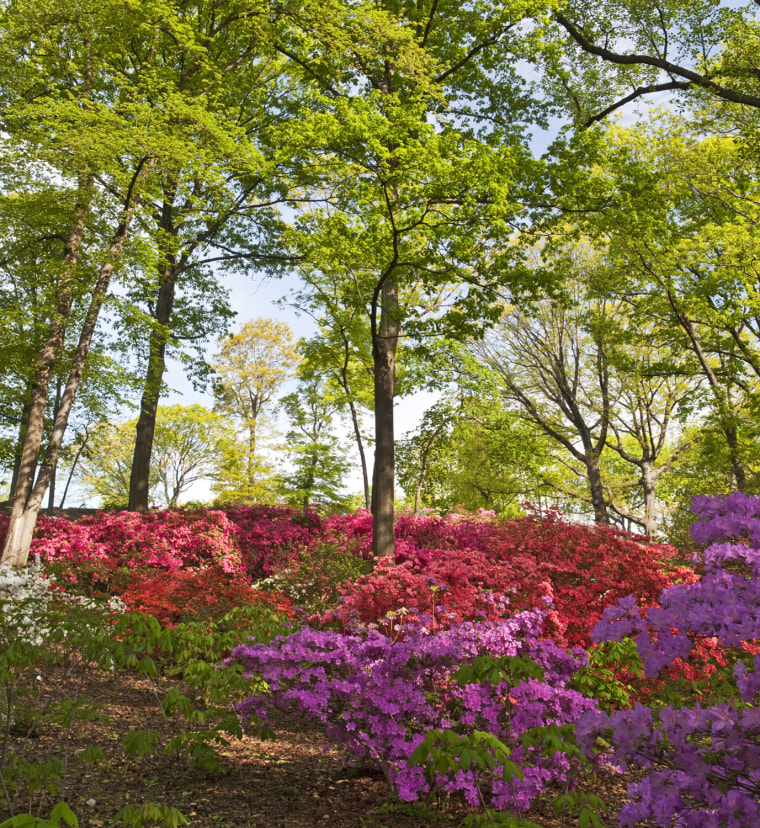 Celebrate Spring with Free Admission at Museums, Zoos and Gardens
More than 175 cultural institutions across the country will be offering free admission this weekend (April 1 and 2) to Bank of America, Merrill Lynch, and U.S. Trust credit and debit cardholders through the Museums on Us program.
On the free entry list are many destinations where you can celebrate spring, such as the Denver Botanic Gardens; Dixon Gallery & Gardens in Memphis, Tennessee; The Living Desert Zoo and Gardens in Palm Springs, California; and the New York Botanical Gardens in Bronx, New York.
See the Light in Light City
Light City Baltimore, a free light, art and music festival, is underway through April 8, transforming Baltimore's Inner Harbor and many neighborhoods with large-scale, original light art installations, dozens of concerts, and performances that include fire, illuminated puppets, dancers, stilt walkers, and more.
Motorcycles on Milwaukee Day
Friday 14 April is Milwaukee Day, when city residents celebrate their civic pride — and the city's 414 area code — with a wide variety of events. In honor of the day the Harley-Davidson Museum will offer free admission to anyone wearing a piece of clothing with the word "Milwaukee" on it. In honor of the day, the museum's MOTOR-Bar & Restaurant will also be serving its signature MOTOR burger for $4.14.
Free Entry at National Parks
To mark National Park Week, which runs from April 15 through April 23, the 120 National Park Service sites that normally charge entrance fees will offer free weekend admission on April 15 and 16 and April 22 and 23.
Many parks and historic sites will also be hosting special programs and events throughout the week and offering extra family-friendly activities on National Junior Ranger Day, April 15.
For example, Denali National Park and Preserve in Alaska is offering 3- and 10-mile ranger-led bike rides on April 15 and April 22 and Steamtown National Historic Site in Scranton, Pennsylvania, will have a special geocaching program throughout the week.
Tax Day Deals
There will be some freebie rewards to ease the pain of tax day on Tuesday 18 April.
Kona Ice, for example, will have trucks parked at post offices, tax preparers, and businesses nationwide handing out free cups of tropical shaved ice and Hawaiian leis to weary tax filers. Find a truck on April 18 by tweeting your zip code to @KonaIce.
Record Store Day
Saturday, April 22 is Record Store Day, celebrating the unique culture and hipness of independently owned record stores in the United States and around the world. In additional to special vinyl and CD releases and various promotional items that are created just for this day, many record stores offer free concerts, artist visits, giveaways and other in-store activities. It's a great way to plug into the local scene in a city you may be visiting.
NFL Draft Festival in Philadelphia
From Thursday April 27 through Saturday, April 29, Philadelphia will be hosting the 82nd NFL Draft with a three-day outdoor fan fest along the Benjamin Franklin Parkway and an open-air theater on the steps of the Philadelphia Museum of Art, so fans can view the NFL Draft activities.
The NFL Draft Experience will offer football fans a wide variety of games and virtual reality experiences, as well as music performances, films, an NFL Museum, free play autograph sessions, and a chance to take photos with the Vince Lombardi Trophy. Some activities require a Fan Mobile Pass, which is free, but requires advance registration.
Hit the Road for Wright
Get a head start on the celebrations getting underway to mark the 150th anniversary of the June 8 birth of noted architect and designer Frank Lloyd Wright with a free, self-guided driving tour along the newly created Frank Lloyd Wright Trail in Wisconsin, where Wright was born.
The route covers nine stops in southern Wisconsin where travelers can see Wrights' architectural creations, including the SC Johnson Administration Building and the SC Johnson Research Tower in Racine (one of the world's tallest cantilevered buildings), and the 800-acre Taliesin and Frank Lloyd Wright Visitor Center in Spring Green.