With the mercury rising, millions of Americans are looking forward to traveling to destinations where they can relax and lounge around hotel pools, beaches and spas.
But maybe you don't have to go far from home to experience the leisurely resort lifestyle. Some hotels are opening their pools and other amenities to non-guests, who can enjoy a mini-vacation without booking a trip, hopping a flight — or even paying for a room.
Sign up for top Travel news direct to your inbox.
The trend, dubbed "daycationing," is a win-win situation, says Mike Stitt, vice president and general manager at travel-deal website Travelzoo, which offers a variety of such deals: "The hotel gets an incremental guest, and the guest gets a great day at a luxurious pool."
At the Revere Hotel Boston Common, for example, day visitors can join hotel guests at the 7th-floor pool and adjacent Rooftop @ Revere lounge for $30 a day or splurge on a cabana starting at $300.
"It's a little bit South Beach, a little bit Vegas," said Bryan Barbieri, public relations director. "We want to become a destination for people from all over but also for the people who live here because they become your best brand ambassadors."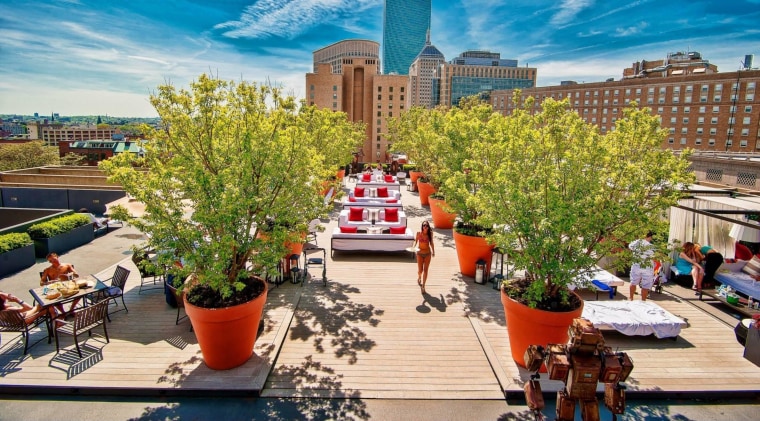 Of course, booking a room has rarely been a prerequisite for enjoying the amenities at most hotels. A credit card generally is as good as a room number when it comes to ordering food, drinks or spa treatments.
These days, though, more hotels are jumping on the "aquatic daycation" bandwagon. Earlier this month, The Embassy Row Hotel in Washington, D.C., opened The Rooftop terrace and pool, offering day passes for $25. In June, the Hotel del Coronado launched Del Beach, which gives non-guests access to beachfront daybeds, luxury lounge chairs and cabanettes for $20 to $200.
Others offer pool access as part of plusher — and pricier — spa packages. In New York, two Gansevoort hotels offer "Get Away For A Day" packages ($300) that provide pool access to non-guests — along with a facial, massage, fitness class, complimentary gift bag and even a poolside cocktail.
"There's very little marginal cost for the hotel to invite 10 or 15 people to the pool, and there's actually pretty considerable upside."
Along similar lines, the Four Seasons Hotel Austin gives resident Texans and other visitors a shot at the good life with its "Daycation" package (starting at $165), which combines pool access with a 50-minute spa treatment, lunch in the hotel restaurant and use of the steam rooms and fitness facilities.
"It's one of our most popular packages for locals and visitors who aren't staying at the hotel but want that resort-like experience," said spokesperson Kerri Sholly.
Specific offers aside, it doesn't take an expert in revenue management to understand why hotels are willing to open their aquatic havens to the hoi polloi.
"There's very little marginal cost for the hotel to invite 10 or 15 people to the pool, and there's actually pretty considerable upside," said Stitt. "People who spend the day will probably buy lunch, order drinks or maybe even splurge on a cabana."
People, for instance, like Suzanne Garber, a Philadelphia-based travel executive who spent just such a day during a girls' weekend in Miami a few years ago. Although they stayed in a condo, they decided to spend a day at the nearby Mandarin Oriental, where their experience proved both soothing and serendipitous.
"A friend and I had a massage, lunched by the pool and even sunbathed next to Roger Federer and family," she said. "It was a relaxing, enjoyable day, and we didn't have to spend several hundred dollars for a room."