Looking to find safe roads, minimal traffic and relatively cheap gas on your summer road trip? You may want to consider a trip to Las Vegas, San Antonio or Nashville.
The nation's capital? Not so much. According to a recent report, Washington, D.C., not only takes the top spot for car crashes and congestion but is also No. 4 when it comes to pain at the pump.
"People are starting to think about their summer vacation," said Cody Cook, vice president and product manager for Erie Insurance, which compiled the report. "A lot of them think about their itinerary — what they're going to do, where they're going to stay — but they don't think about the driving conditions and the unforeseen circumstances they might face."
To compile its list, the company analyzed data from the Highway Loss Data Institute, the Texas A&M Transportation Institute and GasBuddy.com.
Comparing 10 popular U.S. cities, they found that Las Vegas had the fewest car crashes (4.05 per 100,000, 24% below the 10-city average); San Antonio had the lowest congestion (38 hours of delay, 22% below the average), and Nashville had the cheapest gas ($3.27 per gallon, 10% below the average).
By comparison, Washington, D.C., had the most crashes (7.77 per 100,000, 46% above the 10-city average), the most congestion (67 hours of delay, 37% above the average) and the fourth-highest gas prices ($3.73).
The latter, of course, could've been worse, which, in fact, it was in New York ($3.80), Seattle ($4.03) and Chicago ($4.30).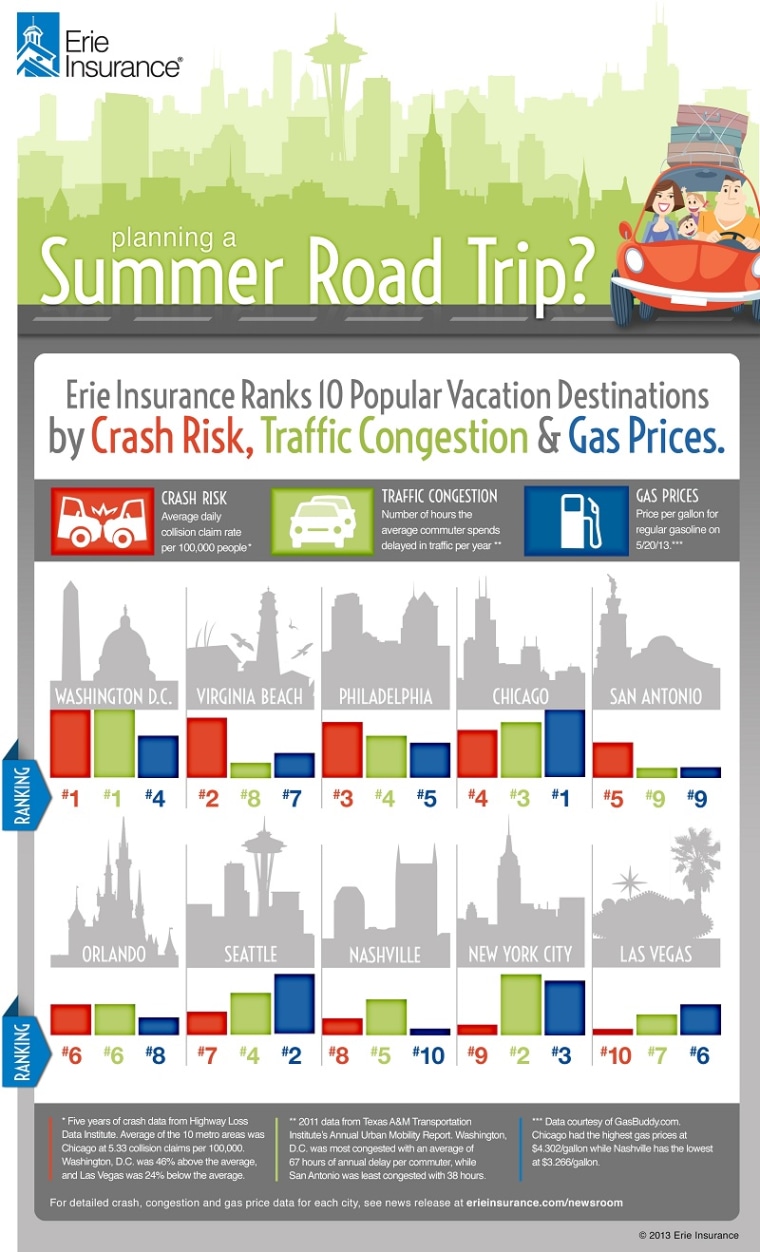 What to make of such data depends who's doing the making.
"I think travelers do consider ease of getting to and around a destination as part of their overall decision-making process," said Casandra Matej, executive director of the San Antonio Convention & Visitors Bureau, who cites her city's small, walkable downtown and the water taxis that ply its namesake river for its lack of traffic jams.
"Certainly, we haven't seen a lot of congestion on our relaxing river barges that float along the River Walk," she said.
In Washington, D.C., on the other hand, the key may be to avoid the congestion by leaving the roads to the locals, opting instead for the city's extensive Metro system and bikesharing program, which features almost 1,900 bikes at more than 200 locations.
"There's plenty you can do and get to on foot," said Robin McClain, vice president of marketing and communications for Destination DC, the city's tourism agency. "If someone is coming to Washington, D.C., to experience the city, they're probably not going to experience a lot of traffic and congestion."
Others suggest taking both the good and the bad with a grain of salt.
"When was the last time you sat down with your wife with the crash statistics for various cities and used them to determine where you're going to take your next vacation? I'd guess never," said Bill Baker, president of Total Destination Marketing, which helps towns and cities with their branding.
According to Baker, if a city highlights what differentiates itself from others, most visitors won't pay much attention to the hassles of hitting the local roads.
"I've been caught in terrible Friday night traffic in the rain getting from the airport into Washington — you can't sugarcoat that stuff," he said. "But that's true for any major city and it's not going to inhibit the way people experience those cities."
Cook would probably agree, maintaining that, statistics notwithstanding, all of the cities in the report are great destinations and provide opportunities to create wonderful vacation memories.
But, he cautions, "You want those memories to be of amazing sights you saw, meals you ate or things you did, not of looking for a body shop to fix your car or missing out on an excursion because you were stuck in traffic."
Rob Lovitt is a longtime travel writer who still believes the journey is as important as the destination. Follow him on Twitter.