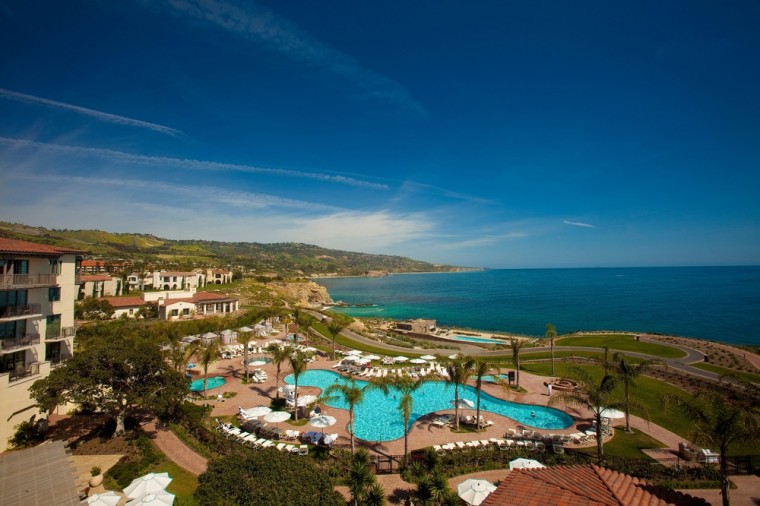 Attention bargain-loving travelers: The most important trip you could take this week is to your computer as hotels and resorts take part in the Black Friday price-slashing extravaganza.

We're giving you a head start with a round-up of some of the deals offered on the day after Thanksgiving that will let you take a tropical getaway, explore your favorite city, or enjoy luxurious digs for less.
More sales are coming on Cyber Monday, Nov. 26, but why wait until after Thanksgiving? Some travel websites are starting on "White Wednesday" or even earlier.
Orbitz launched its sale mid-November with a deal that consists of 15 percent off hotel stays booked by Cyber Monday.
"Once you hit Black Friday, there is just so much noise out there," said Jeanenne Tornatore, senior editor at Orbitz. "Travel takes a little bit more consideration."
Hoteliers may love that you're in a shopping mood, but keep in mind that good deals aren't limited to this time of the year.
"Airlines and hotels are taking a page from, say, Macy's," said Janice Hough, a travel agent who writes for ConsumerTraveler.com. 
"It's the One-Day sale, the Three-Day sale. There's often a sale. Sometimes they're really great deals and sometimes they're not great deals. But everybody's in that sort of shopping fervor."
Some airlines take part in Black Friday promotions, too -- it's a great way to get free publicity, attract Facebook fans and Twitter followers, said George Hobica, founder of Airfarewatchdog.com.
When evaluating the sales, examine when you are required to take a trip and be aware that the time between Thanksgiving and Christmas generally tends to be very inexpensive for travel anyway, Hough said.
Remember to check the fine print and any special rules that apply to these specials.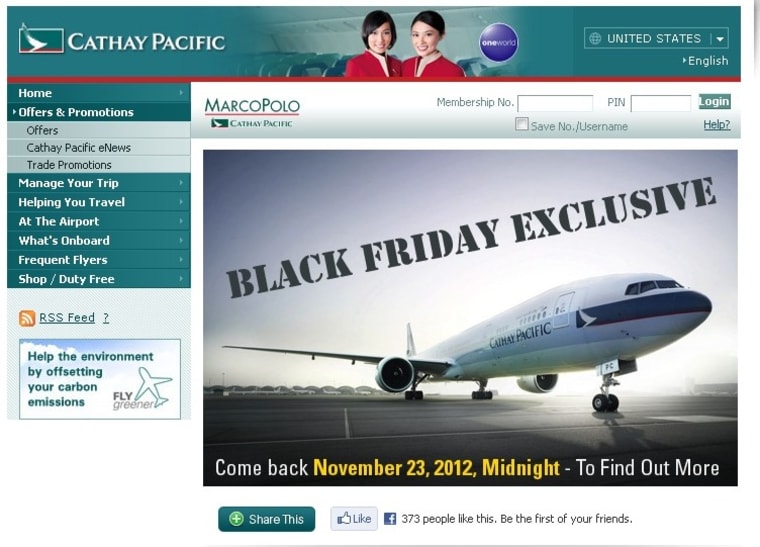 Flights
Always wanted to visit Asia? Cathay Pacific Airways is holding its first-ever Black Friday sale, offering savings up to 15 percent on flights taken in February, or "just in time for Chinese New Year festivities," the carrier says. Follow this link starting at midnight on Black Friday for the details. The sale lasts through Cyber Monday.

Warm weather getaways
Stay at the Bolongo Bay Beach Resort on St. Thomas in the U.S. Virgin Islands for50 percent off when you travel through Dec. 22. Frommer's included the resort on its list of the "World's 10 Best Beachfront Hotels." The sale starts on Black Friday and ends on Cyber Monday. When booking online, enter promo code 50/50.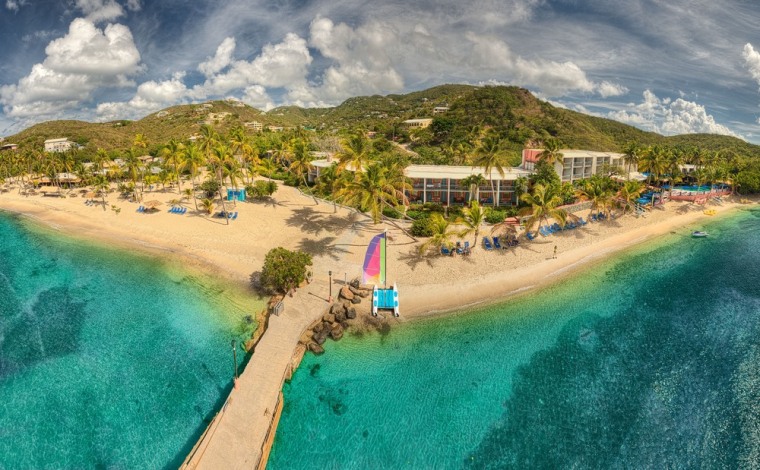 Grand Lucayan in the Bahamas is offering 60 percent offstays for travel through Sept. 30, 2013. Located along a 7.5-acre beach on Grand Bahama Island, the resort is boasts eight restaurants, three swimming pools and a casino. The sale starts on Black Friday and continues through Cyber Monday. Book online with the promo code BLKFRI. 
Hacienda San Angel, a boutique luxury hotel in Puerto Vallarta, Mexico, is promising a 40 percent discount when booking on Black Friday or Cyber Monday. Visit this link for more details.
Resorts
Shell Vacations Hospitality -- a collection of 21 resorts in the U.S. and Canada -- isn't even waiting until Black Friday to kick off its sale, choosing instead to start offering deals on "White Wednesday." The company promises savings of up to 50 percent in locations including Hawaii, Las Vegas, Napa Valley and San Francisco. To get the deal, visit this link starting Nov. 21.

Terranea Resort, which offers oceanfront views on California's Palos Verdes Peninsula, is giving 35 percent off to guests who book between Black Friday and Cyber Monday for travel through February 28, 2013. Reserve with the promotional code BLACKFRIDAY or CYBERMONDAY. 
The Reefs in Southampton, Bermuda, is holding a week-long Cyber Monday sale. Get up to 30 percent off for trips taken in the spring. Visit this link for details.
Big city stays
The New Orleans Hotel Collection -- comprised of seven hotels in the Big Easy – is offering a 24-hour sale on Cyber Monday, promising savings of more than 40 percent on most dates. To book, visit this link on Nov. 26. The Collection includes the Bourbon Orleans, Dauphine Orleans, Hotel Mazarin, Wyndham Riverfront, Audubon Cottages, Crowne Plaza New Orleans Airport and Hotel Le Marais.

Yearning for a bit more room during your vacation? The Trump Hotel Collection – with properties in New York, Las Vegas, Chicago, Toronto and other destinations – is promising 30 percent off all suite reservations made on November 23 and November 26. Check here for details.
Boutique Affinia Hotels in the Big Apple is offering 10 percent off the best available rates plus $50 activity credit if you book on Cyber Monday. Affinia has five properties in New York City with perks such as a pillow menu, a "Happy Tails" pet program and complimentary "Experience Kits" for yoga and wine aficionados. Click here to book.
Howard Johnson is promising 50 percent off stays at 50 of its properties in the U.S. and Canada when you book on "Orange Wednesday," Nov. 28. To get the rate, you have to be one of the first three callers to contact your hotel of your choice directly and mention the special. Get the details here.