A massive fire ripped through a terminal at an airport in Kenya's capital early Wednesday, forcing the indefinite closure of one of Africa's biggest travel and trade gateways.

Firefighters struggled to contain the blaze, which raged for hours at Jomo Kenyatta International Airport in Nairobi.
The fire began at 5 a.m. local time (midnight ET) in the immigration section of the departure lounge and spread to the international arrivals area, officials said.
The blaze created a dense, black column of smoke that was visible for miles but there were no reports of injuries.
Incoming international flights were diverted or canceled and the airport is closed until further notice, Michael Kamau, the cabinet secretary for transport and infrastructure, told The Associated Press.
The airport is the busiest in East Africa, and its closure is likely to affect flights throughout the region. It is also the home hub of Kenya Airways, one of Africa's largest international carriers and a member of the Delta-led SkyTeam airline group. Shares in Kenya Airways fell two percent after news of the blaze, Reuters reported.
Passengers and witnesses reported a slow response by the under-resourced fire service, and that surrounding roads were gridlocked.
"I would have expected more fire engines to respond faster," British passenger Martyn Collbeck said. "When I arrived there were one or two fire engines parked outside the international arrivals."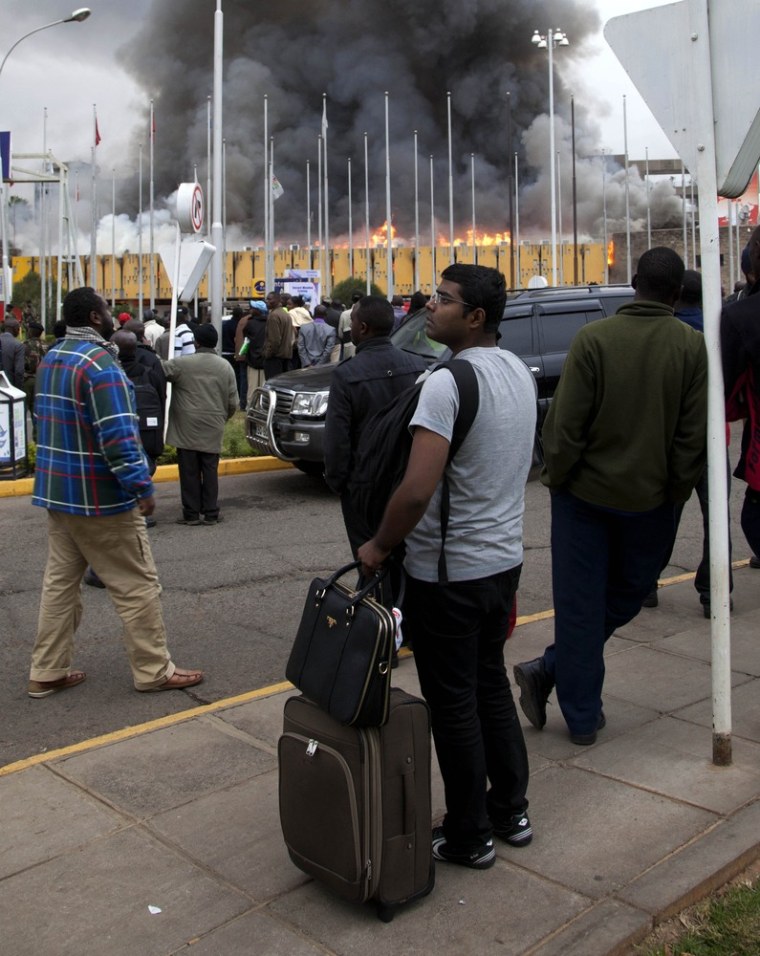 Barry Fisher, who had hoped to fly to Ethiopia on Wednesday morning, said: "There was no one stopping any traffic going to the road to the airport. A number of fire trucks and ambulances were trying to negotiate their way through the lane. ... They were trying to weave their way through a solid two lanes of cars."
The BBC reported government sources saying fire engines had run low on water and that tankers were being used to ferry water to the scene.
Pictures posted on social media showed the extent of the damage to the immigration hall.
Although the fire came on the 15th anniversary of the U.S. Embassy bombings in Nairobi and neighboring Dar es Salaam, Tanzania, there were no immediate signs of terrorism, the BBC reported.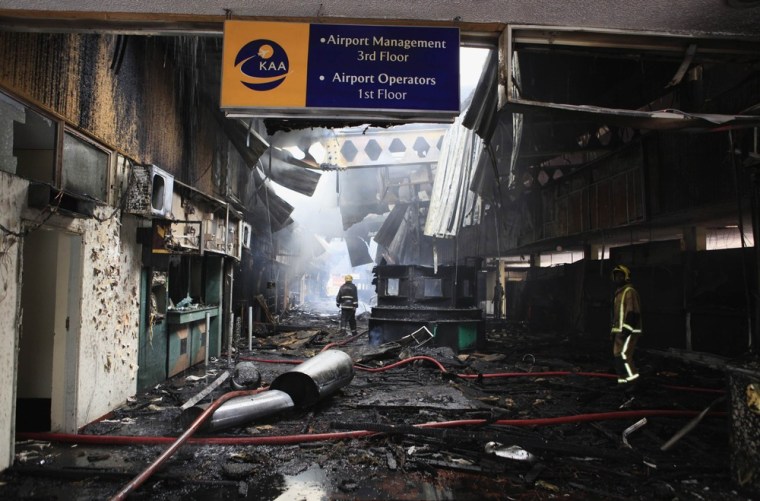 Kenya's anti-terror police boss, Boniface Mwaniki, told The Associated Press that he was waiting for the fire to be put out so that he could inspect the scene before ruling out terrorism.
Kenya's Daily Nation newspaper quoted Stephen Gichui, managing director of the Kenya Airports Authority, saying a committee had been formed, chaired by transportation minister Kamau, to evaluate when the airport could resume operations.
Reuters and The Associated Press contributed to this report.