Tens of thousands of British Airways passengers experienced long lines and hours-long delays at airports around the world overnight after a computer failure affected check-in systems.
Airline employees had to manually process passengers at airports including San Francisco, Seattle and Phoenix, delaying the departures of dozens of London-bound transatlantic flights.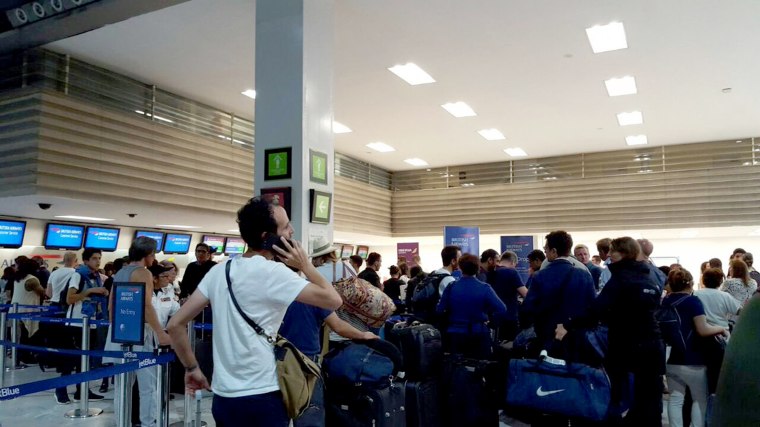 There were still some delays at London's Heathrow Airport early Tuesday, although the airline said the problem had been fixed and it was checking in passengers as normal.
The airline described the outage as an "IT glitch" without elaborating, but a letter given to a customer in San Francisco said it had been using a "manual fallback process" for check-in.
"We have been in contact with the relevant departments who are doing all they can to rectify the problem as soon as possible," the letter said. "However we are unable to ascertain a time when we might expect the systems to be functional again."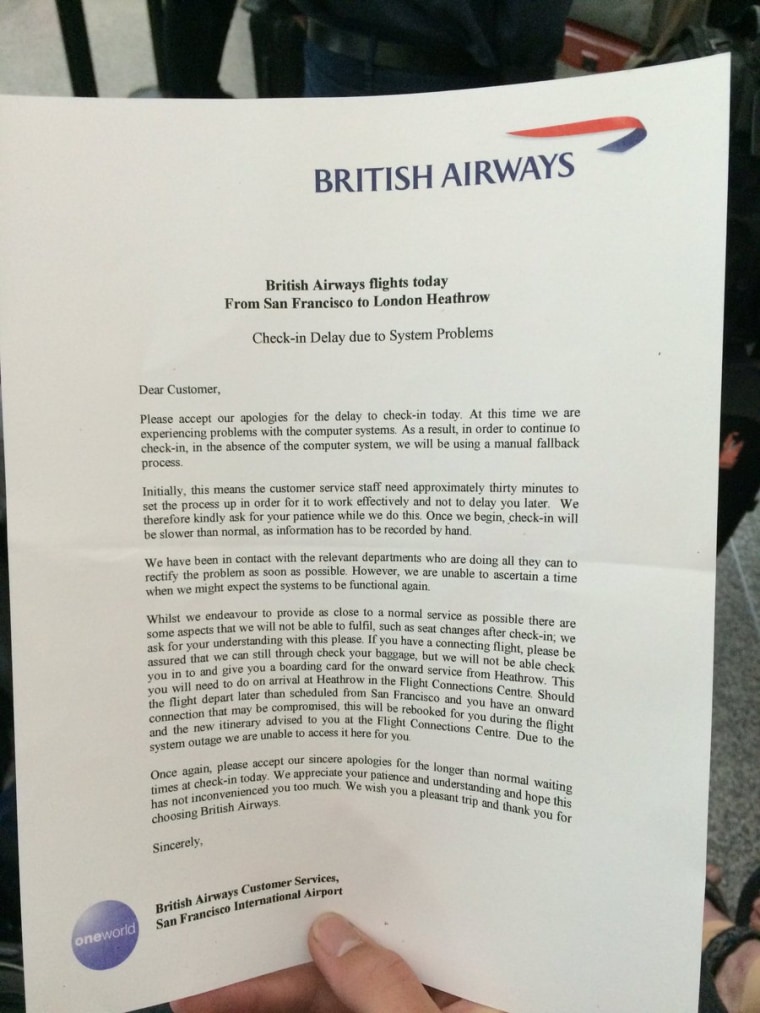 A BA spokeswoman told NBC News on Tuesday that the problem only affected U.S. airports and that there had been no cancellations, only delays.
However, passengers in Mexico City posted pictures of long delays at check-in and the Metro Washington [D.C.] Airport Authority described the problem in a statement as a "worldwide system outage."
In Zurich, Switzerland, delayed British Airways passengers were given handwritten slips of paper in place of the usual boarding passes early Tuesday.
Passengers in England's city of Newcastle were delayed for three hours and had to identify their own checked bags on the tarmac before boarding their plane.
Trevor Todd, 32, from Newcastle, said the captain of his delayed flight made an announcement blaming the airline's recently-introduced "Fly" software used for check-in and bags at airports.
"It's chaos on the tarmac with unclaimed bags," he told NBC News, adding that he had "never seen anything like this in 20 years of flying."
In a Twitter post, one passenger in Seattle grumbled: "Been waiting 2 hours over your downs systems and NOW they decide to go manual."
In San Francisco, a passenger said he had been waiting as long just to check in.