Business travelers plan to pack their suitcases more frequently next year, according to several industry forecasts, which also project slightly higher hotel rates and steady-to-declining airfares.
A study by the Global Business Travel Association predicts a 7.2 percent rise in business travel spending next year, to $288.8 billion. The projection assumes an improving economy, steady profits and hikes in business investment.
(Read more: Millennials traveling for business? Room service, please)
The study, sponsored by Visa, was based on surveys of more than 250 business travel professionals. It say the expected spending increase is due both to price increases and to real growth.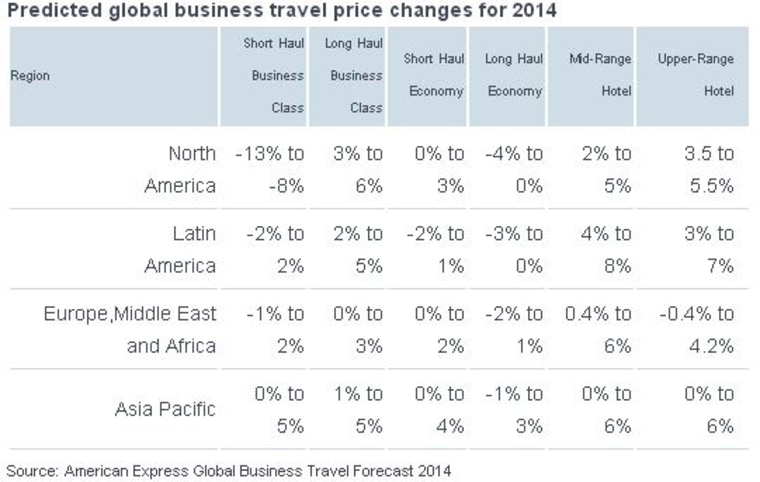 Business trip volume, which fell this year, should grow 1.6 percent in 2014, to 459.2 million, according to the GBTA.
Another forecast released in October, the Best Western Small Business Travel survey, found that 89 percentof 400 U.S. small-business owners with travel needs planned as many or more trips this fall than last year.
The survey also found that 53 percent of the owners plan to mix business and pleasure by paying to bring a friend or family member; 46 percent said they are likely to pay out of pocket to extend a business trip to get in some leisure activity.
Pricing a factor
"North American airfares are expected to decline in 2014 as a result of heightened competition from low-cost carriers, challenging unemployment levels and corporate travel policies becoming more stringent in regard to business-class travel," said the American Express Global Business Travel Forecast 2014 released Wednesday. "However, pending consolidation among major U.S. airlines may offset these expected declines."
Competition also will pressure airline pricing in the Europe, Middle East and Africa region, according to the AmEx report. "In response to more competition from a strengthening rail industry, which is expected to improve its business-class options, larger airlines are expected to follow the model of low-cost carriers," it said.
(Read more: Add $5 each day you wait to buy Thanksgiving airfare)
While the report noted that hotel prices are expected to rise, in sees sharp differences in some markets, such as Las Vegas, where midrange prices for business travelers may drop by as much as 2 percent, according to a spokeswoman for American Express.
The average nightly room rate stands at $110 in the U.S., with an average occupancy rate of 64 percent, according to Jan Freitag, a senior vice president at Tennessee-based STR (Smith Travel Research). His firm also predicts a modest rise in hotel rates with variances for some cities.
"This year room rates have been growing by about 4 percent, and the occupancy in the U.S. is growing 1.5 percent or so," he told CNBC. "Next year we see the occupancy growing by 1.3 percent and room rates 4.5 to 5 percent. That's the average for the nation."
Prices for luxury hotels, which will rise faster because of lack of new supply, will likely increase 5.5 percent, Freitag said.
Hotel construction accelerates
The hotel pipeline is heavy with rooms in the limited-service sector—meaning no ballrooms or conference meeting space—a market with growing demand.
"There's been a consumer shift to 'Just give me a room, free Wi-Fi and breakfast,' " Freitag said.
(Read more: FAA to allow tablets, e-readers during all phases of flight)
As of September, there were 82,000 rooms under construction nationally, about 30 percent more than a year ago but still sharply off the high of 210,000 in mid-2007, Freitag said.
"There are 12,000 rooms under construction in the metro New York area," he added. "That will obviously have an impact in occupancy and maybe pricing."
But it's a different story on the other coast.
"San Francisco, year to date, has seen a 9 percent room rate increase" and only one or two new hotels are in the works, so price hikes probably will continue there, he said.
—By CNBC's Amy Langfield. Follow her on Twitter at @AmyLangfield.