If you're a tech-savvy traveler, you've probably used your smartphone to locate an airport gate, restroom or restaurant. Now, entering the busy holiday season, some airports and airlines are hoping to use your smartphone to find you.
To do so, they're deploying small Bluetooth-powered beacons that recognize passing devices and deliver (presumably) appropriate information.
Whether travelers want to receive those messages or not will likely determine whether they view such systems as enhancing their travel experiences or invading their privacy.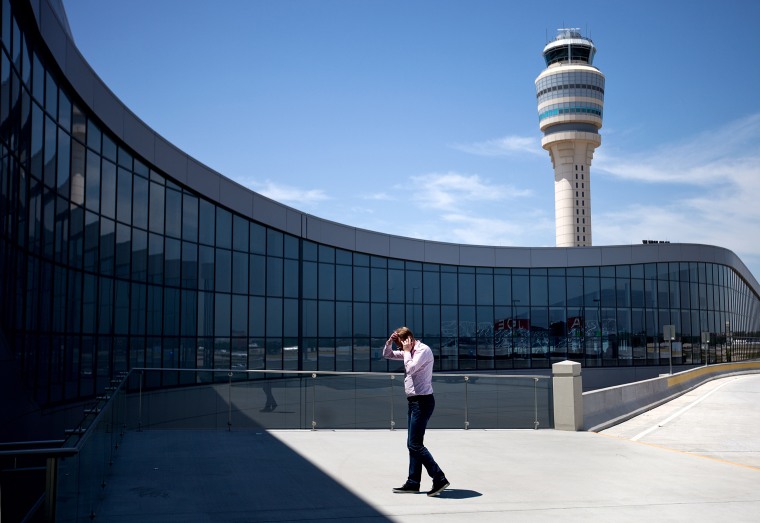 "The most immediate use for beacons is for wayfinding," said Ron Reed, director of airport business intelligence for SITA, a provider of IT services to the travel industry. "They can be used to surface a blue dot on a map to help passengers navigate to different points of interest, whether it be their gate, a restaurant or the nearest bathroom."
At Newark Liberty International Airport, for example, United Airlines has integrated beacons with its mobile app to create dynamic maps that show how long it will take to get to various airport locations.
"The person who has a one-hour connection can have greater confidence that they can stop in the bathroom or pick up a burger and still make their flight," said United spokesman Rahsaan Johnson. Conversely, "they may get frustrated if they get to their gate too early and the burger place they wanted to try is two concourses over."
Best Geolocation Apps Put World at Travelers' Fingertips
Highlighting such ancillary services — and potentially delivering targeted messages to nearby travelers — helps explain the industry's interest in rolling out such systems. According to SITA, 60 percent of airports plan to invest in a major or pilot Bluetooth program by 2017, alongside the 44 percent of airlines that expect to do so by 2018.
As of now, only a few U.S. airports, including John F. Kennedy and Cincinnati/Northern Kentucky airports, have beacon systems in operation, primarily as a means to monitor security wait times.
But Miami International Airport offers a glimpse of what more sophisticated, more comprehensive systems could look like in the future. Although they're not being used for any applications yet, the airport has deployed more than 450 beacons throughout the facility and envisions three eventual use cases: wayfinding, sending notifications (e.g., coupons for nearby businesses) and gathering operational data. (All potential applications will require users to opt-in to the program; other devices won't be tracked to preserve users privacy.)
Combining the three, the airport hopes to provide a better experience for travelers, generate more revenue through advertising and increased spending in its shops and restaurants, and cut costs by better matching operations to passenger volumes.
Tying it all together is a new airport app that's expected to launch by early next year: "The customer will be able to traverse the airport; we'll be able to monetize (the process), and we can leverage that to improve internal operations," said Maurice Jenkins, the airport's director of information systems and telecommunications.
Long Lines at JFK? Airport Now Tracks Phones to Find Out
And therein lies the rub. Most people simply don't download many apps, especially ones they're likely to use infrequently. According to SITA, although 97 percent of travelers carry a mobile device, just 24 percent have used an app for travel-related activities.
That may be about to change, albeit in a manner many travelers may not even realize. Taking a page from Apple's iBeacon system, Google, Samsung and Facebook have all recently jumped on the beacon bandwagon, opting to embed the technology directly into their operating systems and/or apps. Considering the millions of people who already use Google Maps or Facebook on their phones, beacons would seem to have a bright future, no additional downloads required.
The question that remains is how they'll be used and how people feel about being "tracked" as they travel.
According to a survey by FlightView Inc., a flight-tracking company, 53 percent of respondents said they would allow airports to track their devices for walking times, security lines, etc., but only 16 percent said they would value being sent information on airport amenities.
For the time being, most airports and airlines appear to be cognizant of that divide, focusing on providing practical information and forgoing promotional messages. In time, however, some will almost certainly experiment with deals and discounts. And while people can always opt out of receiving notifications, the prospect of getting pinged with unsolicited offers is likely to unsettle some.
"People get creeped out when they get a message that has no real relevance, that they never asked or opted in for; that's where the 'ick factor' comes in," said Glenn Tinley, president and CEO of Mexia Interactive, a provider of location-based technology. "But when you get a message that says the security wait time is 12 minutes and you have an hour before your flight, the 'ick factor' turns into something that's informative and relevant."