While environmental scientists are raising increasing concerns about the adverse effects of climate change, the same warming temperatures are also heating up tourism in surprising ways.
Case in point: the fabled Northwest Passage, where retreating ice cover is turning a route that's traditionally been a dream of expedition-style adventurers into a 21st-century luxury-cruise destination. On Aug. 16, 2016, the 1,070-passenger Crystal Serenity will embark on a 32-day cruise from Anchorage to New York, making it the largest and most luxurious ship to ever make the trip.
"As we all know, typically expedition-style ships do this," said Edie Rodriguez, president of Crystal Cruises. "We're in a position to give people a different way to experience such a unique itinerary."
That experience will combine enrichment seminars, guided shore excursions and visits to three communities in the Canadian Arctic with fine dining, spa services and slot machines, not to mention a putting green and driving range. All-inclusive fares start at $19,775 per person. (The cruise is currently fully booked but Rodriguez expects space to open up as previously booked passengers' plans change.)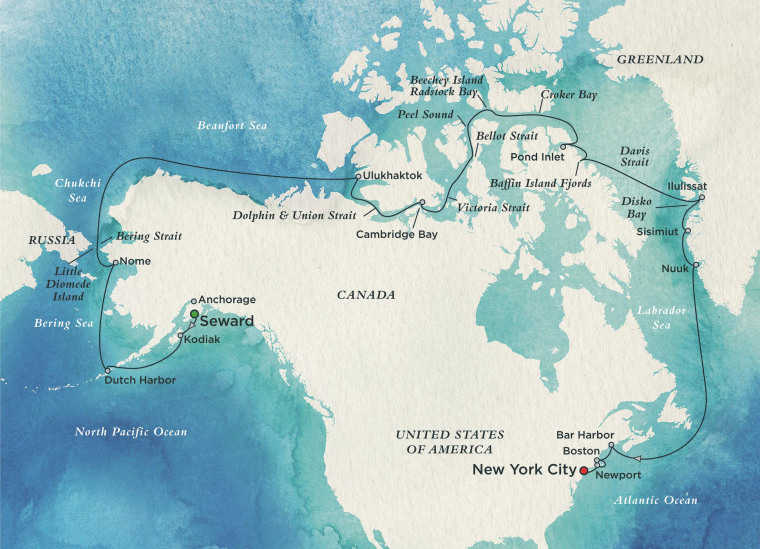 As such, the cruise represents the latest stage in the ongoing saga of sailing the Northwest Passage. First successfully traversed by Norwegian explorer Roald Amundsen in 1903–1906, the ice-choked route remained the domain of private sailors and government vessels until 1984, when Lindblad Expeditions led the first commercial cruise through the route.
Since then, interest in the passage has only increased as the amount of route-blocking ice has retreated. In September 2012, Arctic sea ice set a new record for annual minimum extent (1.32 million square miles), 293,000 square miles below the previous record set in 2007.
"The 30-year trend is decreasing [ice]," said Don Perovich, an adjunct professor at Dartmouth and Arctic researcher at the U.S. Army Cold Regions Research and Engineering Laboratory, "and because of the retreating ice cover, there's a lot more interest in the region, including tourism."
The situation is further complicated, says Perovich, because the region is undergoing such rapid transformation.
"If you rolled the clock back 30 years and said we're thinking of taking a big cruise ship through the Arctic, the answer would be simple. No, you're not," he said. "But if you project current trends 30 years from now, it'll be, 'Go for it.' In some ways, right now is the trickiest time."
Executives at Crystal maintain that after two years of research and hundreds of thousands of dollars, they're taking appropriate precautions to ensure the trip is not just successful but also safe and environmentally friendly. In addition to using Marine Gas Oil, a low-sulphur fuel, they'll travel with ice pilots, an Arctic expedition team and an escort ship with icebreaking capabilities.
"I can assure you that we have done everything possible to ensure we do not further contribute to the problem," said Rodriguez.
Nevertheless, the cruise is almost certainly a harbinger of more activity and, hence, more controversy to come.
"These kinds of ships are already going to much higher latitudes than the Northwest Passage," said Pat Maher, an associate professor at Cape Breton University and author of "Cruise Tourism in the Polar Regions." "It's just that now the Canadian Arctic is also opening up. Crystal Serenity is the thin edge of the wedge."
In the long run, the presence of more and bigger ships in the Northwest Passage will almost certainly serve as flash points for the ongoing debate over the proper responses to climate change. Critics will liken such trips to "environmental disaster tourism" — see the Arctic before it's gone — while promoters say increased exposure is the key to building support for positive changes.
"The 30-year trend is decreasing [ice], and because of the retreating ice cover, there's a lot more interest in the region, including tourism."
"In one sense, having people see the Arctic and develop an appreciation for it can be a positive as we try to preserve these places," said Perovich, who estimates he's spent two to three years of his life on or around the ice.
"I just hope it's done safely for both people and the environment."