With current temperatures hovering above 120 degrees, rangers in Death Valley National Park have some advice for would-be visitors: Drink plenty of water, avoid excessive outdoor activity and, please, stop trying to fry eggs on the pavement. It doesn't work, it makes a mess and the staff has better things to do than clean up after you.
In fact, the proliferation of broken shells, discarded cartons and accumulated goo has reached such a point that the park recently took to its Facebook page to implore people to stop — or at least use a pan or tin foil and dispose of the results when they're done.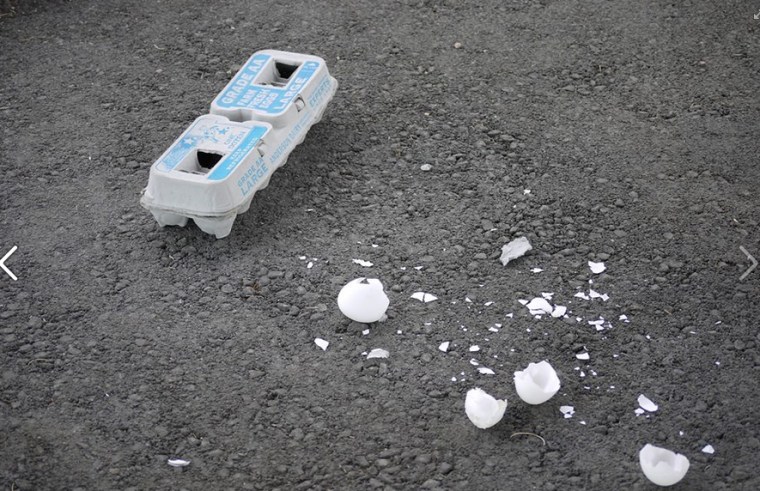 "The Death Valley National Park maintenance crew has been busy cleaning up eggs cracked directly on the sidewalk, including egg cartons and shells strewn across the parking lot," reads the post from July 2nd. "This is your national park, please put trash in the garbage or recycle bins provided and don't crack eggs on the sidewalks, or the Salt Playa at Badwater."
"It's just one more thing to do with a short staff and hot temperatures," said park spokesperson Cheryl Chipman. "It's really not appreciated."
Prior to the the recent rash of sidewalk egg-frying a park employee posted a video of her own experiment on YouTube when temperatures soared in late June. The clip has racked up over 81,000 views.
The anonymous employee used a pan, but some visitors are cracking their eggs directly on the blacktop or rocks and not cleaning up their shells and cartons after the fun is done.

"The video set off a surge of (egg-frying), especially since we were nearing our record temperature," said Chipman. "I don't think we've seen the garbage strewn about that we did this time, which was a little disappointing."
Visiting the park this past weekend, Roxanne Melchiori of Narragansett, R.I., was at the Zabriskie Point overlook when she noticed a terrible smell.
"We looked down and saw this disgusting thing," she said. "It was an egg lying there in the asphalt. It wasn't frying; it was just this dribbly mess."
Other fans of the park took to Facebook to express their dismay:
"Some people need to have their heads fried, or maybe they allready (sic) have, anyway people, use your heads," wrote LaMoine Hill.
Or, as Greg Carstens put it, "And Smokey The Bear says 'Only you can stop from being an idiot and cook eggs in a frying pan.'"
While the debate over whether you can — or should — fry an egg on the sidewalk promises to remain messy, Chipman suggests there's a better way to get a handle on the extreme heat for which the area is famous.
On Wednesday, the park will hold an event to commemorate the hottest recorded temperature in the world, which was set when the thermometer at Furnace Creek hit 134 degrees on July 10, 1913.
The centennial celebration will include talks by meteorologists and park rangers who will discuss why Death Valley gets so hot, how the park last year wrested its title back from El Azizia, Libya, and other issues of interest to "extreme weather enthusiasts."
Visitors will also be able to participate in a popular Death Valley tradition by accompanying rangers to the Furnace Creek weather station to read the temperature, a ritual that has occurred daily since 1911.
"It'll be a nice day for weather enthusiasts to learn about the place," said Chipman. "The temperature has dropped a little from a week or so ago and should be in the low 120's."
"Eggs," she added, "will not be fried."
Rob Lovitt is a longtime travel writer who still believes the journey is as important as the destination. Follow him on Twitter.