Delta is offering $200 in compensation to passengers grounded by its worldwide computer failure — but travel experts said many should reject the offer because they are entitled to more than three times that amount.
The airline canceled 250 more flights Tuesday on top of the 1,000 it scrapped during Monday's system-wide chaos.
The Atlanta-based carrier said a $200 voucher was available to anyone whose flight was canceled or who was delayed by more than 3 hours.
However, strict European Union regulations mean that anyone delayed getting across the Atlantic to the United States from one of Delta's dozen or more EU destinations is entitled to claim a cash payment of 600 euros ($670) per passenger.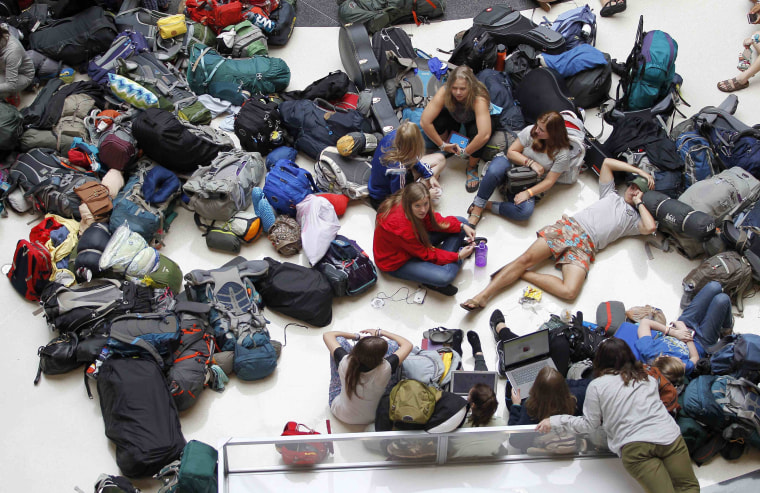 Thousands were stranded Monday trying to reach the U.S. from cities including London, Paris, Dublin, Madrid and Amsterdam.
European regulation EC261 means passengers can claim 300 euros ($335) if their arrival at the final destination was delayed by between three and four hours. They can seek double that amount if the delay was longer than four hours or their flight was canceled — and can also submit receipts for the cost of a hotel and meals if the airline didn't provide those.
Customers can claim directly to Delta, but the complexity of the rules means some law firms offer to pursue claims for a fixed fee or a proportion of the payout if successful.
"I would always advise going for cash compensation rather than a voucher that comes with small print like an expiry date," said Kevin Clarke, a flight delay lawyer with U.K.-based firm Bott & Co. which charges a fee of $35 plus $35 per passenger for successful claims.
Domestic U.S. passengers hoping for better compensation are likely to be short of luck. Recent federal rules limit the amount of time airlines can keep passengers on the tarmac during delays but there are no rules on refunds or payouts except for when flights are overbooked.
The European rules apply to all airlines departing EU airports but do not apply in reverse unless the carrier is EU-based. It means Delta passengers who get delayed going east across the Atlantic to Europe are out of luck.
Unsurprisingly, airlines are reluctant to publicize the rule and often deny claims, citing extenuating circumstances.
It means tens of thousands of frustrated travelers have turned to law firms to fight their EC261 claims, using the courts of the original country of departure where necessary.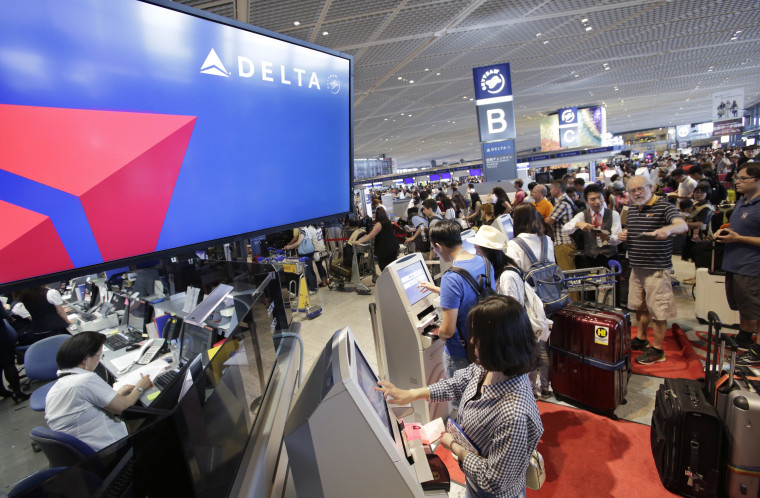 "This regulation is 10 years old but still there is a history of airlines refusing to pay out when first asked, but the rules are clear and persistence can pay off," Clarke added. "Courts have ruled that dealing with something like a technical problem with a plane is inherent to the airline's business. It needs to have something in place."
Delta said key systems and network equipment did not switch over to backup systems after a power outage at the company's Atlanta headquarters in the early hours of Monday.
However, a spokesman for Georgia Power said that the company believes a failure of Delta equipment caused the airline's power outage. He said no other customers lost power. Delta declined to comment on the power company's report.
Delta is also offering free ticket changes to any customers who were due to fly Monday or Tuesday but need to rebook or want to change their plans.