Tens of thousands of Delta passengers around the world were stranded Monday after a power outage at its Atlanta headquarters caused a global computer failure that halted all flights.
Check-in systems, airport screens and even the airline's website and smartphone apps were affected by the meltdown, which began at 2:38 a.m. ET and lasted six hours.
The airline suspended departures, with airport agents writing out boarding passes by hand. "Our systems are down everywhere," it told customers on Twitter.
Related: After the Glitch: What to Do if You're Flying Delta This Week
The outage ended at about 8:30 a.m. ET, with "limited" resumption of flights. By 1:30 p.m. ET, some 451 flights had been canceled and less than 1,700 of its 6,000 scheduled flights were in operation, the airline said.
Customers were warned that major delays and cancellations would continue.
Delta CEO Ed Bastian apologized to customers, saying in a video posted to Twitter that workers were working "around the clock" to restore operations. He also said the company had waived fees for changing flights.
Thousands have already spent the night on airport floors. The airline is allowing passengers to rebook for travel as late as Friday to avoid the chaos.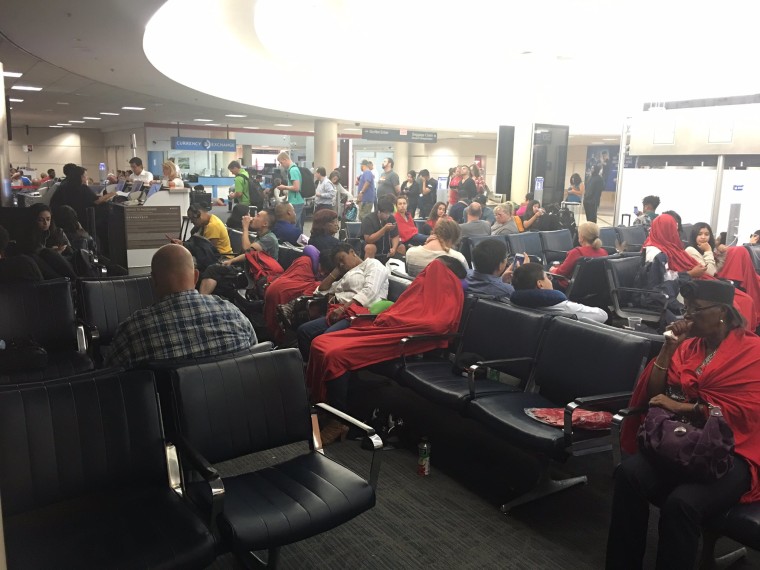 At Los Angeles and San Francisco, passengers on Sunday night's red-eye flights to JFK and Atlanta were taken off planes and led back into terminals to be given blankets and water.
In Las Vegas, some passengers slept on the floor near departure gates awaiting updates from the airline, while at Pittsburgh a long line snaked toward the ticketing counter.
Cynthia Towles, who was at Newark Airport on her way to St. Thomas in the U.S. Virgin Islands, told WNBC: "They didn't tell us anything. I didn't get an email, I didn't get anything. Nothing."
U.S.-bound passengers at Rome's Fiumicino Airport told NBC News they had waited more than an hour to check in.
There were similar delays in Tokyo and London, where staff handed out bottles of water to passengers who had been waiting hours in line.
Amanda Jackson waited more than 90 minutes at London Heathrow to check in for a flight to Seattle on her way to Alaska. She reported long lines at Delta counters, along with "a lot of very frustrated people."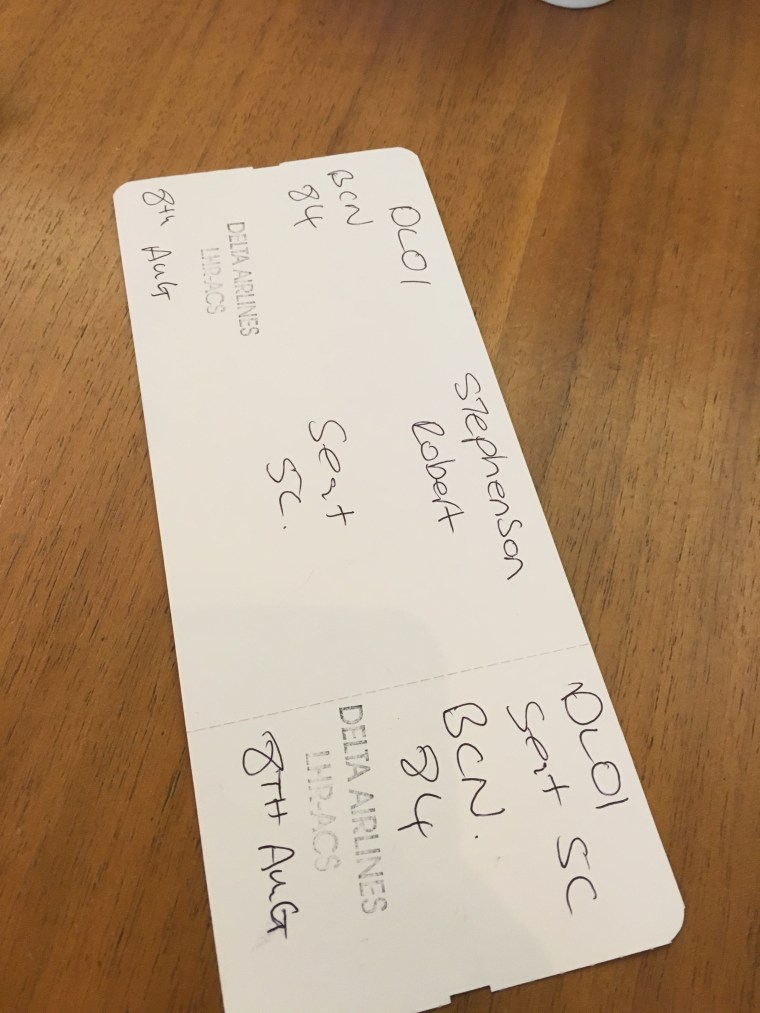 Luciano Resende, 40, had been waiting for at least two hours at Heathrow as of 4:40 a.m. ET. He was attempting to make the trip back home to San Francisco via Seattle.
He said airline employees started to manually check-in customers for their their flights but progress had been slow. "I guess it has been a long time since they used the manual process," Resende told NBC News.
At Tokyo's Narita airport, passenger Brett LaBare endured a delay of more than five hours until his flight to LAX was eventually canceled because the crew exceeded their safety-related working hours limit.
"A Delta ground stop has been lifted and limited departures are resuming following a power outage in Atlanta that impacted Delta computer systems and operations worldwide," the airline said in an 8:40 a.m. ET update. "Cancellations and delays continue."
It added: "Customers heading to the airport should expect delays and cancellations. There may also be some lag time in the display of accurate flight status at delta.com, the Fly Delta App and from Delta representatives on the phone and in airport."
Last month, Southwest Airlines canceled more than 2,000 flights over several days after an outage that it blamed on a faulty network router.