I never thought I'd be doing the Macarena at 2 a.m. at 35,000 feet, but when researchers from the University of Sydney suggested it was the best way to keep jet lag at bay, I joined in.
NBC News was the only U.S. broadcast team on board a record-breaking Qantas Airways research flight, flying nonstop from New York's JFK Airport to Sydney.
The flight had a total travel time of 19 hours and 16 minutes, and by 7:30 a.m. Sunday, we were all happy to drag ourselves out of our seats and put our feet on the ground in Australia.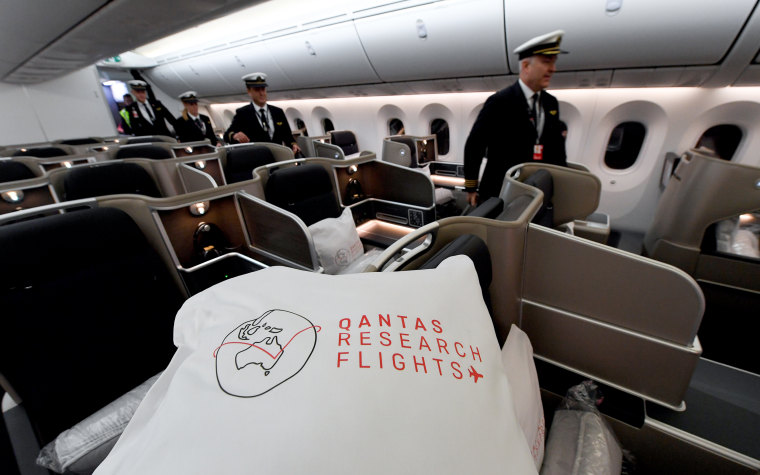 Qantas called the flight "Project Sunrise," a research flight to test the effects of a 19-20 hour flight on both passengers and pilots. Qantas wants to add the nonstop flight to its regular service, but CEO Alan Joyce said the airline must first convince Australian regulators it's safe.
"We need to extend the duty times for the pilots from 20 hours to 22 hours, maybe to 24 hours" for it to work, he said.
The airline plans to do a second JFK to Sydney test flight and a third one from London to Sydney.
On our flight, four pilots took turns sleeping in the crew quarters ⁠— two twin-sized beds located just above the forward galley.
For 20 days before, during and after the flight, each pilot is keeping a log of his/her sleeping and activity patterns. Once the flight began, they all wore an EEG scanner on their heads to measure brain activity, a light meter to measure melatonin levels, and an activity watch to record their movements. Researchers also collected urine samples throughout the trip for future analysis.
Six Qantas frequent flyers who agreed to the study are also keeping activity/sleep diaries. As the hours ticked by on the flight, the university team used an iPad to test each passenger's reaction time.
Flight 7879 left JFK at 9:30 p.m. Friday night after airport controllers put the flight to the front of the taxi line, radioing: "We want to wish you a congratulations on your inauguration history flight to Sydney."
The airline believes people will pay a premium to fly direct from New York to Sydney without a stop in Los Angeles. But it also acknowledges that it needs to help passengers avoid jet lag, especially for those traveling in coach.
To do that, the crew insisted we were on Sydney time the moment we stepped on board. Sydney is 15 hours ahead of New York, so it was lunch time. The cabin lights were kept at full brightness for nearly eight hours. No dozing off to sleep on this flight!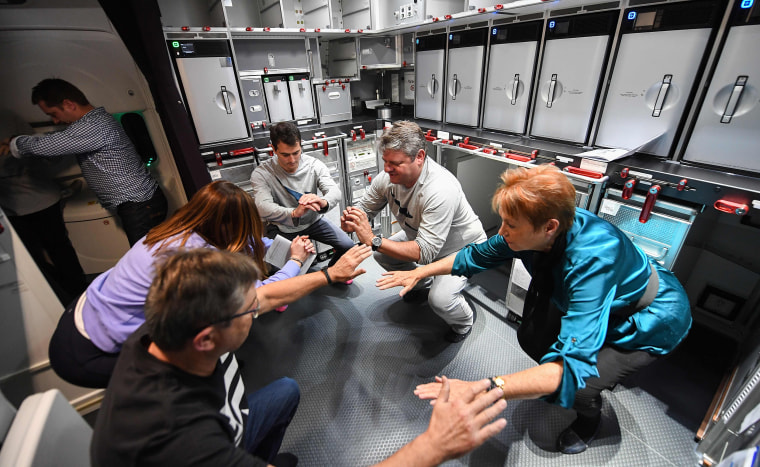 Rather than immediately offering a full, heavy meal, we were provided a lunch with spicy ingredients to keep everyone awake. A few hours into the flight, we were all stretching. A few hours later, we were doing the "Macarena."
Lead researcher Marie Carroll from the University of Sydney told me, "We are tricking our bodies. Because we are flying west, we are delaying out sleep."
Easier said than done!
Having been awake since 5:15 a.m. Friday in New York, I was fighting to stay awake. My body was begging me to close my eyes, but I took the researchers' advice and kept going.
Finally at 5:30 a.m. New York time on Saturday, the lights went out for a straight eight hours of sleep.
Waking up 16 hours into the flight with three hours to go, we were offered a full breakfast and even more exercise just in time to watch the sun rise over the South Pacific Ocean.
There were only 49 of us on board the Boeing 787, so we all had business class seats that extended into a flat bed. It was a very comfortable flight with excellent food. But 19+ hours in economy could be a different story.
If the nonstop to Sydney is greenlighted, Qantas is considering using either a Boeing 777x or an Airbus A-350-1000. Joyce said the airline would add more premium economy and business class seats, and provide more legroom for passengers traveling in economy. The airline would also remove a large number of economy seats to make room for an in-flight exercise area.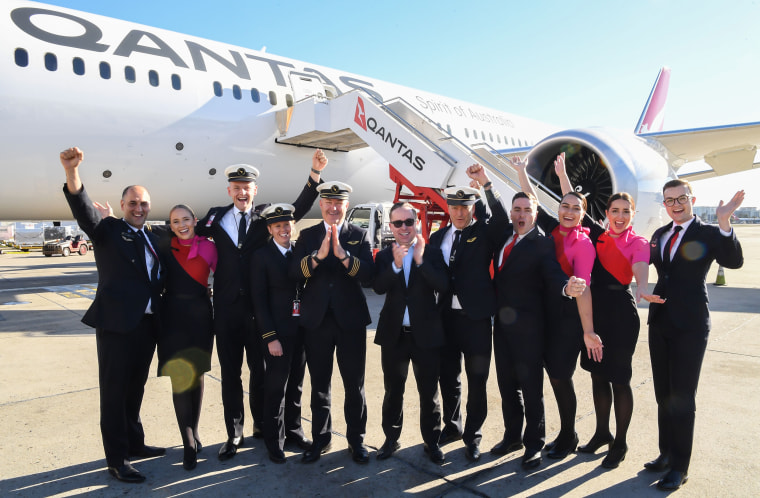 The top concern, though, centers around the two teams of pilots on board.
Flight 7879 captain Sean Golding, a 30-year long-haul captain at Qantas, said it's necessary to make sure pilots and crew "are getting enough rest, getting enough nutrition and doing the right things to maintain their health and well-being on board such a long flight."
Finally, at roughly 7:45 a.m. Sydney time on Sunday, we descended into a glorious morning breaking over Sydney's famous Opera House and Harbor, landing safely to applause from Australian dignitaries gathered on the Sydney ramp.
A record-breaking 19 hour, 16-minute flight in the books.