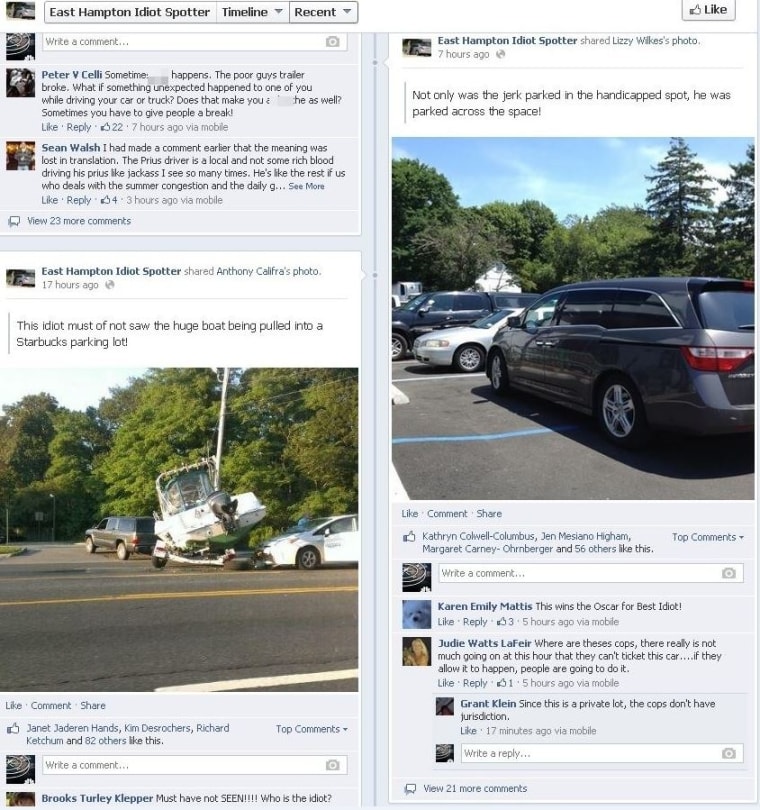 East Hampton, the upscale vacationers town in Suffolk County, Long Island known for attracting celebs like Jerry Seinfeld to its shores each summer, is notorious not only for its affluence but now--according to a popular Facebook page--its idiots.

The page East Hampton Idiot Spotter debuted on July 5, 2013. Less than a month after its creation, it has racked up over 17,000 likes and gets about 200,000 views per week. Relying on user-submitted photos, the page exposes bad behavior including illegally parked luxury cars, cocky vanity license plates, and more.
The page's creator, an East Hampton-based, 53-year-old local electrician who preferred to remain anonymous in order to safeguard his job, said, "I would have been surprised with 200 fans. How it took off, I have no clue." The demand for fresh content on the page is so high that he enlisted two administrators to manage the user-submitted photos and the vocal community of commenters.
Perhaps its popularity has to do with the activity that it showcases. There's the Mercedes-Benz illegally passing cars on the left side of a two-lane street despite a double yellow line. And there's Porsche Speedster that takes up more than one parking space. One Ferrari, illegally parked in a handicap-only space, flashes a vanity license plate that reads "FERARRRI." Another vehicle sports the license plate "HEDGEFND."
This Hamptons-shaming Facebook page is part road rage and part class war.
Indeed, in a town where oceanfront property has a $29 million price tag, there is a wide divide between the have and have-nots--and conflict arises when entitled behavior rears its well-coiffed head.
Erica Anne Claire Beirne-Fisher, a 22-year-old designer and East Hampton resident, said, "Between the people who were born there and the city people, it's two different lifestyles." In fact, locals have a word for summering Manhattanites--"cidiots," a portmanteau of the words "city" and "idiots"--which appears occasionally in the page's captions and comments.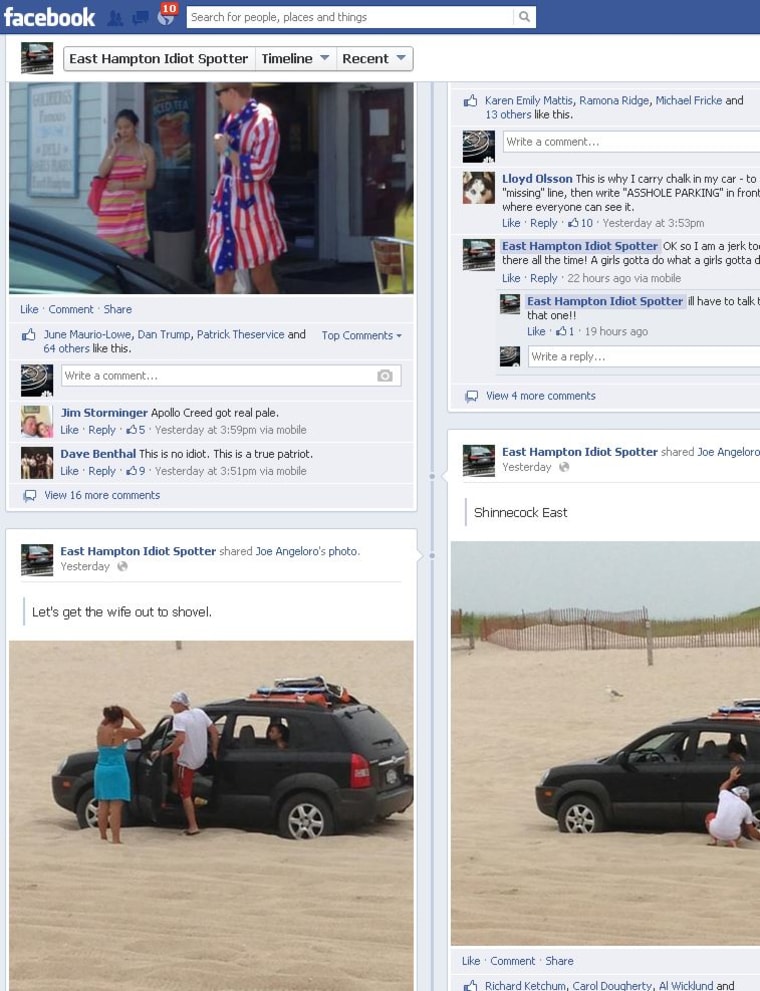 The Facebook page creator said of the summer visitors, "Every year, we get more and more. They're renting a house for a month or two, so they don't have to be nice or polite to people." Or, if they're vacationing in summer homes that they own, he said, "These are investment houses for them."
"We've got it, we're going to flaunt it!" is the attitude of some more opulent Hamptonites, according to executive editor and publisher of Hamptons.com Nicole B. Brewer. While the area's visitors have long been well-heeled, she said that there has been a recent rise in conspicuous consumption: "Now you see the Cadillac, the Aston Martin, the Rolls. I saw someone jump into a Maserati at the 7-Eleven."
So when Manhattan's elite zooms past locals' cars on the shoulder or parks its luxury cars in handicap spaces for convenience rather than necessity, tensions flare whether on Facebook or in real life. Wrote one Facebook commenter in response to a photo of a man awkwardly idled in his Ferrari at a stoplight, "Excuse me sir but your mid life crisis seems to be blocking the crosswalk." Said another of a poorly and illegally parked luxury car, "This guy's just begging to have his vehicle vandalized."
While not all East Hamptonites engage in such behavior, those who do are highly visible--and highly criticized. Of the wealthy summer visitors, Brewer said, "Apparently, one parking spot is just not enough. They need at least two!" The East Hampton Idiot Spotter founder said, "Every day, the locals almost get caught into accidents. The double yellow line means nothing to these people."
And the tension between the locals and the vacationers is only getting worse; the Facebook page creator says that this reckless behavior is no longer limited to the summer vacation season. "When I was a kid, Sunday afternoon, the roads would be filled because people had to go back to work," he said. But thanks to telecommuting, "They don't have to do that no more."
East Hampton Idiot Spotter, originally a venue for "just plain old funny things going on in the Hamptons," has evolved into a space to vent about vacationers' sense of entitlement.
So as for the page itself, what's next? The creator said, "It's being trademarked as we speak."
Follow Grace Bello @grace_land.