LONDON — A passenger on a budget airline was shot with a stun gun and removed from the flight Thursday after he became abusive following a dispute about his luggage, police said.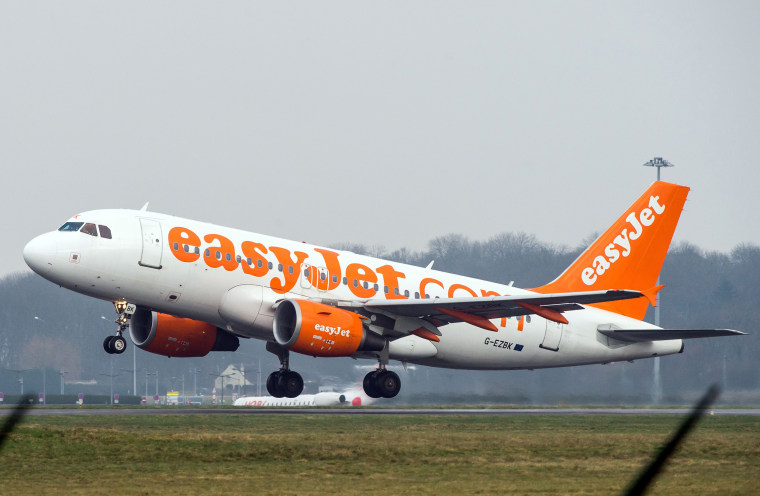 Witnesses aboard the easyJet flight said the man got into an argument with airline staff about the number of hand-baggage items he was allowed to carry.
EasyJet, a budget carrier and Britain's busiest in terms of passenger numbers, has strict rules on the size of carry-on bags, and charges for checked luggage. Passengers are allowed one carry-on item that must be checked for size before boarding.
The altercation happened as flight EZY831 was on the tarmac and about to depart London's Gatwick Airport for Belfast, Northern Ireland.
Police said they were called just after 8 a.m. local time (3 a.m. ET) after "reports of a passenger who was becoming increasingly abusive following a dispute over luggage."
Lesa Kearney, a 38-year-old from London who was aboard the Airbus A320, said the passenger argued with airline staff at the gate but was allowed to board. "He became more abusive at the back of the plane [and] refused to get off," she told NBC News.
Niall Copeland, 29, who lives in Hampshire, said police approached the irate passenger "calmly and asked him to step off the flight." The man then "started shouting and demanding why his 'man purse' had caused a problem," Copeland added. "The Taser was then pulled and he was told he would be Tasered if he did not cooperate. He had been very loud and aggressive by this point."
Sussex Police said the man was shot with a stun gun and arrested on suspicion of breaching the peace. All of the passengers and crew had to leave the aircraft to be interviewed by police as witnesses.
The flight departed Gatwick over two and a half hours late, just before 11 a.m. local time (6 a.m. ET), and landed safely in Belfast 90 minutes later.