When it comes to the environment and sustainability, cruise ships and many cruise ship operators get failing grades when it comes to controlling carbon emissions, recycling, and treating water, waste, and sewage.
But thanks to new technology and the scrutiny of passengers, government agencies, and environmental groups, the tide is beginning to turn.
Norwegian cruise operator Hurtigruten just launched the world's first hybrid electric-powered expedition ship, the 530-passenger MS Roald Amundsen. The vessel is named for the Norwegian explorer who was the first person to navigate the Northwest Passage by boat and the first person to cross Antarctica and reach the South Pole.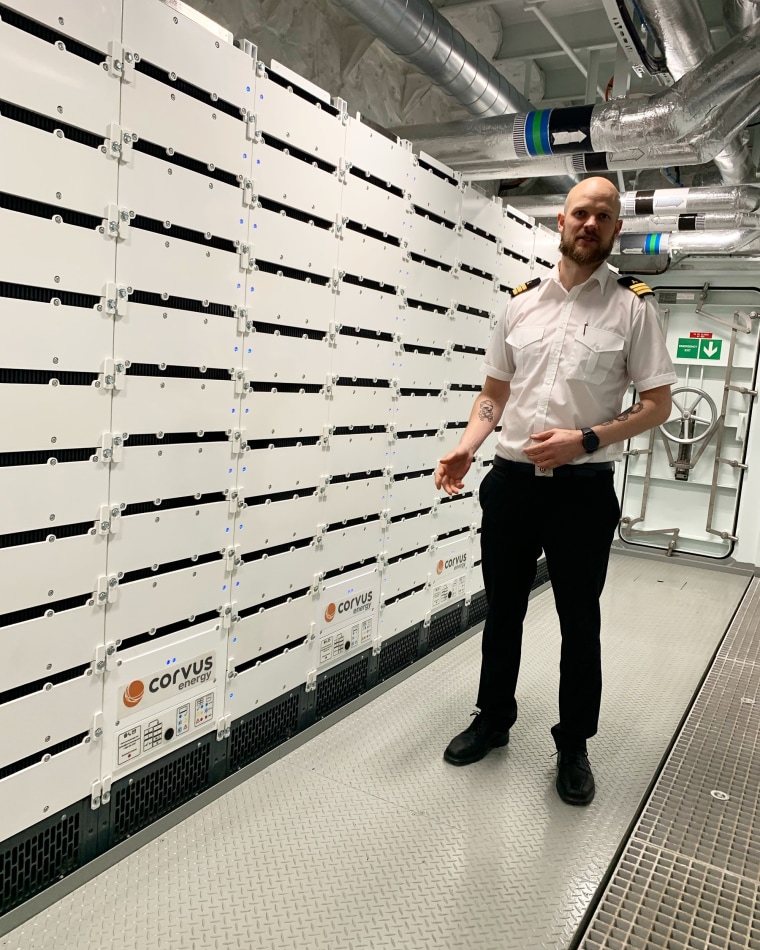 Hurtigruten's sustainability policies include a ban on single-use plastics and the goal of being totally emission-free within 20 years. The Roald Amundsen moves the company towards that goal by featuring a hybrid operating system that uses large banks of batteries to supplement the power of the main engines, which run on low sulfur marine gas oil.
"Excess, unneeded energy from the engines is stored in the batteries and when the engine needs extra energy, we draw it back from the batteries and feed it into the engines," Hurtigruten CEO Daniel Skjeldam told NBC News.
That reduces fuel usage, allows the engines to operate at their optimum levels and lowers CO2 emissions by 20 percent.
The ship also has the option to run on battery power alone for limited periods, during which time it uses no fuel and creates zero emissions.
Charging the batteries from the ship's excess energy is essential, said Skjeldam, because there are currently no power charging stations for ships to plug into in port.
The world's first hybrid-powered cruise ship set sail from Norway in July and is now in Vancouver, B.C. preparing for a season of expedition cruises in Antarctica. Hurtigruten will debut a second hybrid-powered ship, the MS Fridtjof Nansen, in 2020. A third, as-yet unnamed hybrid-powered ship will be delivered in 2021.
The company's next generation of hybrid ships, along with a half-dozen of its retrofitted existing ships, will run on a mixture of battery power, liquefied natural gas (LNG) and biogas made from organic waste, such as dead fish.
"Bio-gas is like a Kinder Egg of fuel; it is like those chocolate eggs with treats inside," said Skjeldam. "Passengers on our ships will eat fish. The waste from that fish and from the fish farming industry will go into a production plant that generates gas for our ships and creates fertilizer for the agriculture industry."
Skjeldam said that, for now, Hurtigruten's hybrid ships and its commitment to far-reaching sustainability practices is an expensive proposition.
"We expect the technology to be cheaper in the future. But we know passengers don't want to visit beautiful, pristine places on an operator that is not taking the nature they sail to seriously. Some cruise lines say they're green, but passengers can tell the difference."
The world's largest cruise company, U.S.-based cruise ship operator Carnival Corp., was in court this week to address charges that it continues to violate environmental laws by discharging plastics, food, or "gray water" into protected areas.
"Compliance, environmental protection, safety — it's the first thing," Arnold Donald told the court. "Without it, we don't have a business."
Other cruise lines say they are also taking steps to be more environmentally responsible. Norwegian Cruise Lines Partners recently announced that it is on target to reach its goal of replacing all single-use plastic bottles across its fleet by Jan. 1, 2020. Lindblad Expeditions announced its intention to become a carbon-neutral company starting this year by making investments to offset 100 percent of its emissions.
The global cruise industry is still working as a whole to meet a goal the Cruise Lines International Association announced in 2018 of reducing the rate of carbon emissions across the industry fleet by 40 percent by 2030.