If you're one of the millions of people who have spent untold hours flinging little birds at egg-stealing pigs, you may want to think twice about visiting the Kennedy Space Center outside Orlando. On Friday, the outer-space-oriented attraction will unveil a new interactive exhibit based on the seriously addictive game, Angry Birds Space.
"We're a NASA-owned and operated facility and what's important to us is encouraging young people to reach for the stars," said John Stine, the Center's director of sales, promotions and events. "It all begins with STEM — (promoting the study of) science, technology, engineering and math — and with Angry Birds Space Encounter, as we're calling it, we're able to do that."
Besides, he told NBC News, "the great thing about this game is that everybody plays it."
That's only a slight exaggeration. First launched by Finnish game developer Rovio Entertainment in March 2012, the game hit 100 million downloads three months later and became the top paid app on iTunes for the year.
At the Space Center, visitors enter an intergalactic wormhole in an effort to retrieve their kidnapped eggs from evil space pigs. Once inside, they can work on their Eggsteroid Slingshots, maneuver through a Danger Zone mirror maze and try to avoid the "lasers" in the Red Planet Lazer Challenge.
"Launching the slingshots, lining things up, figuring angles and trajectories — it incorporates math, physics, geometry," said Stine.
It also capitalizes on the idea that children are often more open to learning when the lessons come from characters they're already familiar with.
"When children recognize a character or image from their kid-culture world, they get very excited," said Lisa Guernsey, director of the Early Education Initiative at the New America Foundation, a public policy institute in Washington, D.C. "Those kinds of hands-on experiences can be wonderful learning moments."
At the same time, the new exhibit may also be an acknowledgment that science can be a tough sell in an area where princesses, boy wizards and happy rodents reign supreme.
"(The Space Center) has always emphasized the educational aspect of what they offer but in order to maintain visitation, they also have to appeal to the entertainment side," said industry consultant John Gerner, managing director of Leisure Business Advisors LLC. "Following the proven theme-park path of working with popular brands will be a good thing for them." In 2011, Star Trek: The Exhibition made an appearance at the center, and in 2010, it screened TRON: Legacy in IMAX 3D.
And if there's one word that describes the Angry Birds franchise, it would be "popular." First launched on the iPhone in 2009, the various versions of the mobile game have been downloaded more than 1.7 billion times.
In fact, executives at Rovio increasingly see the company not so much as a game developer but as an entertainment enterprise. Just last week, the company used the annual SXSW festival to launch a new video distribution network for a weekly animated series called Angry Birds Toons that will be shown on select video-on-demand channel providers, smart TVs and connected devices.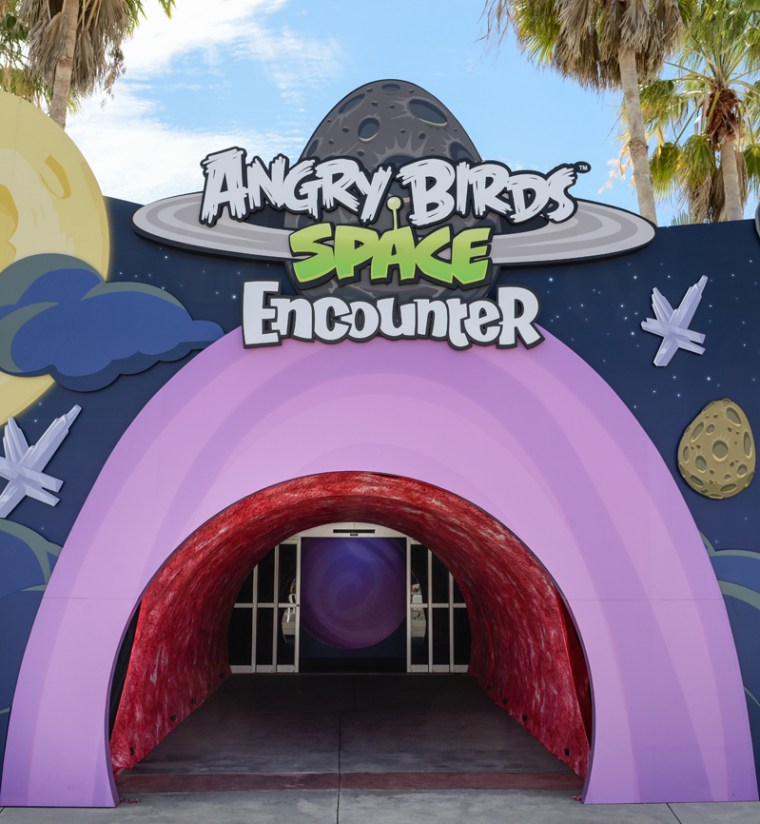 Nor is the company keeping its critters in a digital cage. Last year, the first authorized Angry Birds activity areas opened at amusement parks in Finland and the UK and earlier this month, The Wall Street Journal reported that the company was developing a prototype "family entertainment center that could be replicated around the world."
All of which suggests that Harry, Mickey and the other denizens of the world's theme parks may want to keep at least one eye on the sky.
Rob Lovitt is a longtime travel writer who still believes the journey is as important as the destination. Follow him on Twitter.