/ Source: Associated Press
TUNIS, Tunisia — Two dozen white-clad Imperial Troopers and other "Star Wars" characters marched Wednesday down a stately, tree-lined avenue in Tunis — a site where activists once fought riot police during the 2011 Arab Spring revolutions.
The empire was not striking back against the poster child for Arab democracy — just an innovative campaign to encourage tourists to return to this sunny desert-and-beach nation in North Africa.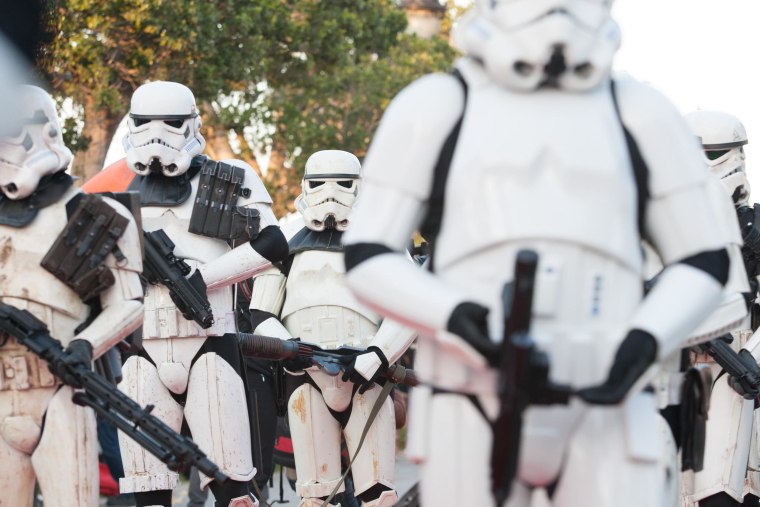 "We came here to Tunis to help save the 'Star Wars' sites in Matmata and Tozeur and convince people to return to Tunisia," said Ingo Kaiser, head of a "Star Wars" fan club in Europe, referring to the movie sets that are slowly being covered up by sand in the Tunisian desert.
After long-time President Zine El Abidine Ben Ali was overthrown in 2011, Tunisia was rocked by labor unrest, terrorist attacks and political assassinations. That devastated Tunisia's key tourism sector, which contributes 7 percent to the country's GDP and employs 400,000 people.
So the Tunisian National Office for Tourism teamed up with the country's new "Star Wars" fan club to stage the country's its first "Star Wars" encounter. Fan clubs from Europe took part in Wednesday's parade and screenings of the "Star Wars" films will take place at the desert movie sets over the next few days.
"We did this campaign to take advantage of these sets, which are unique in the world — the only sites from the movies remaining," said Zied Chargui, director of the National Office of Tunisian Tourism.
The campaign began with Tunisia's own video of Pharrell Williams' popular "Happy" song featuring Star Wars characters dancing around Tunisian tourist sites and the movie sets. The video has been viewed 1.7 million times since it was posted in March — and was tweeted by Williams himself.
The original 1977 Star Wars was filmed in Tunisia, with protagonist Luke Skywalker's home planet borrowing its name of the nearby town of Tatouine. Tourists can even stay in the Sidi Driss hotel in Matmata where Skywalker grew up.
New sets were built for the 1999 "Phantom Menace" film as well as its 2002 sequel. The seventh episode in the "Star Wars" franchise is expected next year but it is not filming in Tunisia, apparently due to concerns about stability. Some scenes are now being shot in Abu Dhabi and the cast was announced to great fanfare on Tuesday.
— The Associated Press