France's robust tourism industry will absorb a short-term blow in the wake of Friday's terrorist attacks in Paris, but the long-range impact is expected to be minimal, travel experts say.
"In the short term, tourism in Paris is probably going to suffer," Lynn Minnaert, an assistant professor of tourism at the Tisch Center for Hospitality and Tourism at New York University said of the attacks, which killed 129 people and left hundreds more wounded. "People were very shook up by this."
Stocks of French travel companies like Accor Hotels and Air France fell on Monday, the first day of trading since the attacks.
Entertainers and performers were also hitting pause on visiting the French capital, with Reuters reporting that artists including Prince, U2 and the Foo Fighters had canceled or postponed upcoming tour dates.
But there also were indications that France's tourism industry was finding its feet, as landmarks like the Eiffel Tower and Louvre Museum reopened.
Previous high-profile terrorist attacks in Europe indicate that travelers stay away from the target cities in the immediate aftermath.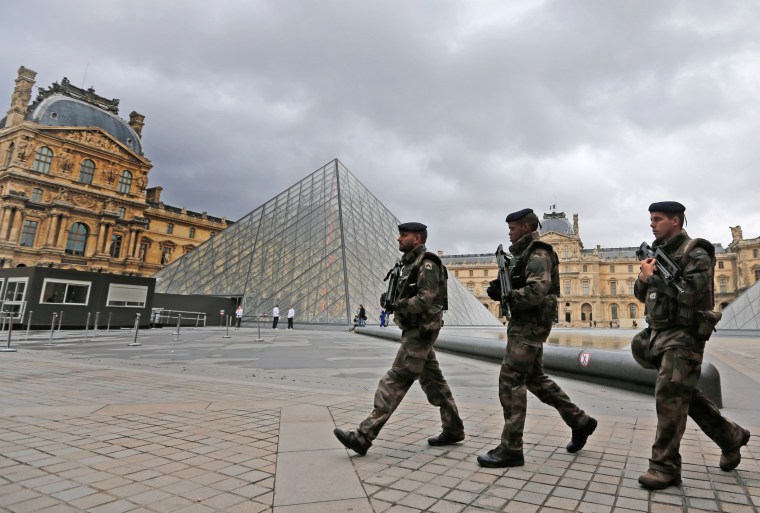 After terrorists bombed Underground stations and a double-decker bus in London in 2005, for instance, the number of visitors to the British capital — which had been rising — turned negative for the third quarter, according to the country's Office for National Statistics.
"Events like this, whether it's terrorist-related or natural disaster events, tend to have impacts in those regions, but not more than in a few months," said Morningstar senior equity analyst Dan Wasiolek. "People tend to have short-term memories, and the desire to travel and experience remain high."
NYU's Minnaert said that Paris' popularity with visitors from France as well as elsewhere would help the city's recovery.
Paris Attacks: Salah Abdeslam's Alleged Getaway Drivers Charged
"Paris also has a strong domestic tourism market," she said. "I think once (French travelers) return, (other) people will follow."
Some travelers might even be more inclined to visit the city to show solidarity, said Yeganeh Morakabati, an associate professor of management with expertise in tourism risk at Bournemouth University in the U.K.
"Europeans are likely to feel that they want to support the Parisians because they are familiar with the culture, because of its geographical proximity and because of the long standing relationship with the rest of Europe," she said via email.
Other destinations could experience a ripple effect, though. Kevin Mitchell, chairman of the Business Travel Coalition, an industry advocacy group, suggested that travel to neighboring Belgium, where reports indicated at least some of the attackers lived, might also sustain a drop in visitors in the near term.
Morakabati said the Middle Eastern resort areas popular with Europeans on holiday are more likely to see declines than European destinations, following both the Paris attacks and what Russian officials said was an Oct. 31 bomb attack on a Metrojet airplane leaving Egypt that killed all 224 people on board.
Business travel could slow down as well, experts say. "I would imagine there's going to be a short term effect over the next week or so (when) most people will probably be saying, maybe we should defer," said Greeley Koch, executive director of the Association of Corporate Travel Executives.
The calendar is working in favor of the industry since fewer conferences and meetings are booked around the holidays. "We are in that period where travel just naturally starts to slow down," Koch said.
U.S., Allies Struggle to Cut Out ISIS' Tangled Financial Roots
A survey conducted by the Business Travel Coalition found that 20 percent of 84 travel and risk managers surveyed said it is likely that their company will cancel travel to France for a period of time, although 70 percent said they'll give their employees discretion regarding upcoming trips to France.
Most will be taking stock of the situation this week, said the group's chairman, Kevin Mitchell. "It's going to be totally driven by the news," he said.
Unlike vacationers, corporate travel managers have to take liability issues into account: If an employee is injured or killed, they could face legal fallout, so they're more inclined to be cautious.
The wild card, experts say, is if any additional attacks occur in the coming days or weeks.
C.I.A. director John Brennan said Monday it was likely that ISIS, which has claimed responsibility for the Paris attacks, aspires to do more damage. "I would anticipate that this is not the only operation that ISIL has in the pipeline," he said at a Washington, D.C., event, using an alternative acronym for the terrorist group.
"If there are other attacks in Paris or even elsewhere in other European cities, this will underscore the event of the weekend and is likely to have a compound effect – people will lose the feeling of safety that is a fundamental part of the European way of life," Morakabati said.
"As it stands, we are expecting a small blip in France, but … it is very much depends on what happens next."