When a Tunisian truck driver launched an ISIS-inspired attack on July 14th in Nice on the French Riviera, he didn't just mow down 84 people, he widened a wound in the global economy.
Now, no tourist destination appears safe after the attack on the boardwalk in Nice, a glamorous and family-friendly seaside city popular with tourists from all over the world. While full of "soft targets," it broke from the recent pattern of terror attacks in Europe.
"It was a watershed moment," said luxury consultant Milton Pedraza. "You thought it was just capitals and where those guys live and congregate, now it's everywhere."
As ISIS has lost its physical territory, there have been an uptick in attacks in Western Europe for which the group has later claimed responsibility said Alex Kassirer, a senior counterterrorism analyst at the global security firm Flashpoint Intelligence and an NBC News consultant.
"This is a strategy they're honing, and one we'll see more often, with little attention paid to city of attack, as long as it's in the West," said Kassirer. "No city is immune to attacks."
The increased cadence in terror attacks targeting European tourist destinations both major and minor has dealt double-digit blows to travel, with global tourism spending down 14 percent in June, according to a recent report by UBS.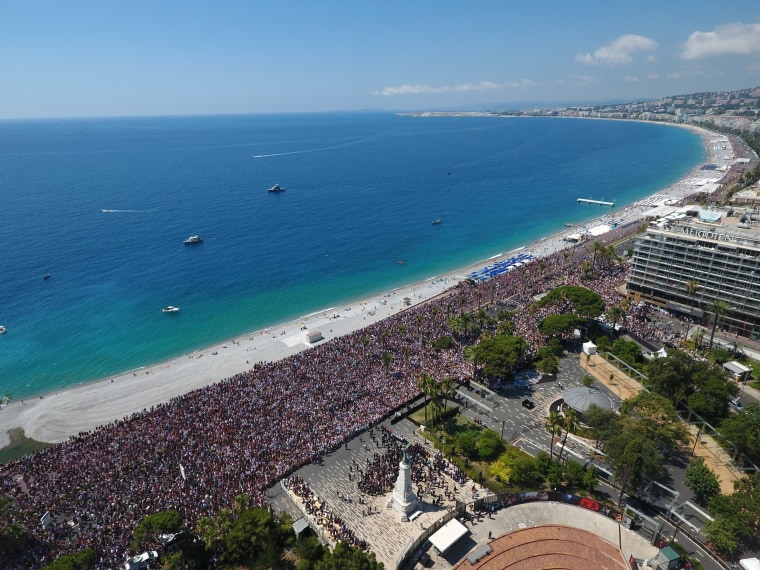 In the immediate aftermath of the Nice attack, cruise lines canceled trips and ports of call to the city. Rihanna canceled a concert scheduled for the day after the attack, and the prestigious annual Nice Jazz Festival canceled its four-day event.
Nice is the second most populous city of the Provence-Alpes-Côte d'Azur region. A government spokesman declined to comment on the attack's impact on tourism.
"Economic consequences, though important, are meaningless compared to the tragedy many families and the nation are experiencing," said spokesman Eric Lorrain. "The Regional Council is assessing the economic consequences and trying to figure out how to help the professionals that are to face losses in their activity."
But it's clear that in Nice, as seen in other targets of terror, tourism will suffer. Across the board, fearful tourists are canceling or changing travel plans to avoid attacked cities and countries.
Fearful Tourists Change Itineraries
Egypt, France, Tunisia, and Turkey have all seen drops in visitors from 11 to 20 percent following terror attacks, some of which specifically targeted tourists.
31-year-old travel entrepreneur Jared Kamrowski said that he initially stuck with his plans to visit Turkey following a terror bombing there in January 2016.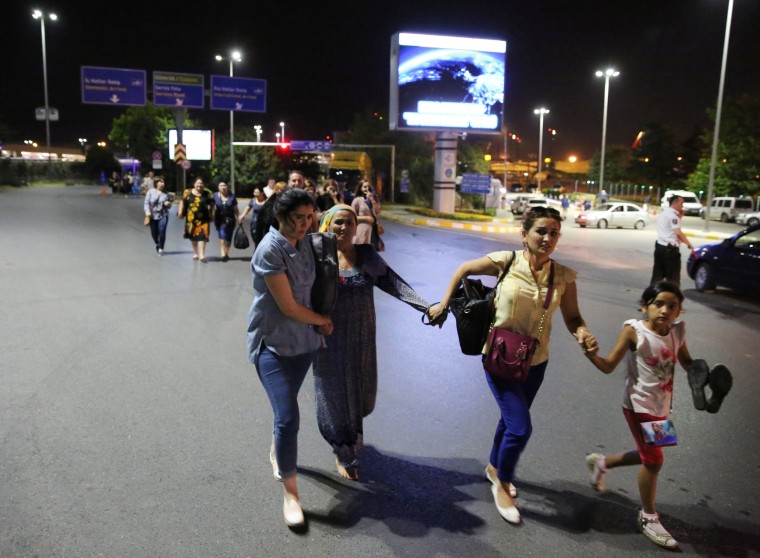 "We told ourselves we weren't going to let the terrorists win by canceling our plans," he said. But, after another bombing there in March, he did cancel his plans, opting to visit Dubai and Spain instead.
"After the first bombing....we weren't going to let the terrorists win...after the second bombing...we decided to cancel our plans"
Many travelers are avoiding mainland Western Europe entirely, switching to places seen as safe, like Scotland, or Latin America.
Esther Roskam, a 31-year-old law student from Baltimore, Maryland, was discussing with her friend whether to take a trip to Amsterdam because of terror concerns. Besides the general miasma overhanging Europe, there had been an attack on the Amsterdam to Paris high-speed train in August 2015.
"As we were debating, there was another attack," said Roskam. Instead, they opted for Cancun. She couldn't recall which attack specifically changed her mind. "Possibly France? It's incredibly depressing that I'm having trouble keeping track."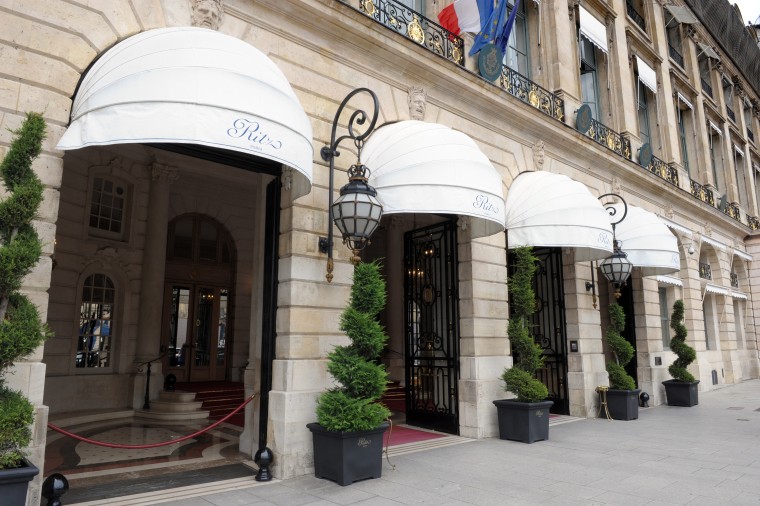 Some travelers even prefer what they say is the relative safety of Western Africa.
Valerie Bowden, a 28-year-old American who regularly backpacks and hitchhikes through Ethiopia said she was in the Istanbul airport shortly before the attack June 29 that killed 45 and injured more than 200.
Later, watching on TV screens the aftermath she avoided by only a few hours, "was eerie and scary," she said.
She finds African countries to be safer than the U.S. and Europe. In fact her biggest concern is pickpockets.
"Thanks to ISIS, terrorism across Europe takes place exactly where tourists would end up"
"While Africa isn't immune to terrorism, most violence occurs in small villages that a tourist would never visit. Thanks to ISIS, terrorism across Europe takes place exactly where tourists would end up," said Bowden.
Travel Industry Scrambles to Coax Back Customers
Sentiments like that have helped send down stock in companies that sell packaged vacations to major cities in Europe, with Thomas Cook down 47 percent and TUI down 32 percent since the beginning of the year.
The travel and lodging industries have been forced to make steep discounts in an attempt to coax back customers.
Experts note that the price wars started after a 14 percent drop in Chinese demand following stricter rules in the country on "gifting," or bribing officials with foreign-bought luxury items. But tourists frightened by terrorism have exacerbated the downturn.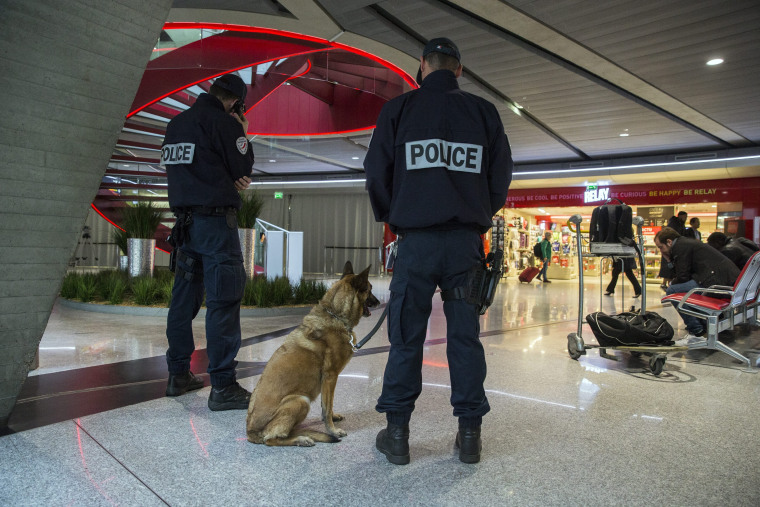 Across Europe, hotels are offering discounts of up to 20 percent. Airfare to Europe from the U.S. is near record lows for recent decades. The cost of a ticket to Paris is down 15 percent from a month ago compared to being up 10 percent last year, according to deals surveyed by PromotionCode.org.
For some travelers, like company CTO Mike Catania, who is heading to the Bordeaux region of France next month, the savings are worth the risk.
"Fear isn't a great enough motivator to deprive our families of cultural experience beyond our borders," said Catania. "And the deals were too good to pass up."
But nothing lasts forever, especially when it comes to airline ticket prices. Later this year some airfare deals will evaporate as airlines begin removing capacity after the start of their winter schedule on October 26.
History Repeats Itself, But the 70's Were Worse
The recent spate of terror is a decided spike for events in recent memory. But it pales in comparison to the thousands of terror attacks seen in the 70's, 80's and 90's, which saw an average of 10 attacks per week.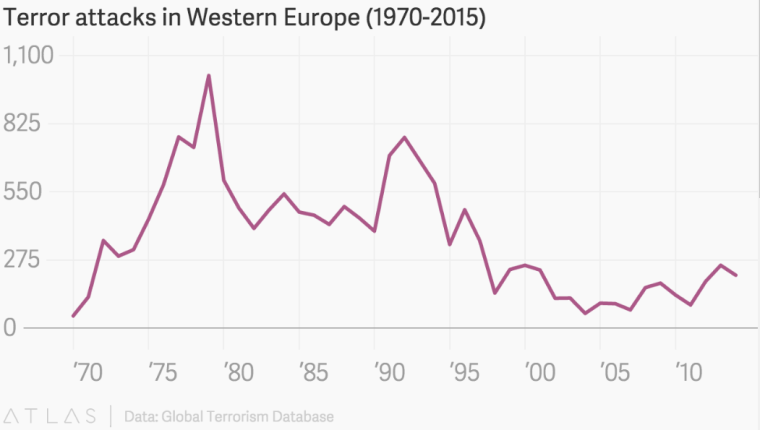 There have been over 16,000 attacks in Western Europe since 1971, according to the Global Terrorism Database. That's an average of 350 per year. The highest number of deaths came in 1988, a total of 440, largely due to the Pan Am flight 103 bombing over Lockerbie, Scotland. And 2004 saw the highest number of wounded, 1,853, after the attacks in Madrid, Spain.
So, if history is a guide, tourism will come back, said Yeganeh Morakabati, an associate professor at Bournemouth University in the U.K., who studies the relationship between tourism and terrorism.
Her data shows predictable dips in annual arrivals following attacks in years past in Egypt, the U.K., and Spain. Numbers there eventually recovered to what they were before, then surpassed them.
"Tourists have short memories and people tend to forget," said Morakabati. "As long as there is no other attack."