Novelty and inert bombs, loaded guns, daggers and all manner of "artfully concealed" items that somehow could be used as weapons are among the objects TSA officers regularly find in carry-on bags belonging to some of the more than 1.8 million passengers screened at U.S. airports each day.
"The vast majority of travelers that are bringing the stuff are not frequent fliers but people that might fly once a year at best. Either they just never understood the rules or thought the rules did not apply to those items," said aviation security expert Jeff Price of Leading Edge Strategies.
Others know exactly what they're carrying and try to conceal prohibited items inside suitcase linings, belt buckles and shoes.
"What they don't know is how amazingly easy a lot of that is to spot in the standard old-school X-ray machine, much less the newer advanced X-ray technologies," said Price. "In most cases these people aren't terrorists or people with ill intent. I think they're just people trying to slip one through the system."
Packed with ill-intention or not, these items don't fly. So where do these items end up?
According to the TSA, a lot of them are put into checked luggage or given to a nonflying family member to take home. Law enforcement officials at many airports decide what to do with the truly illegal items, but a lot of items flagged as prohibited end up as what the TSA terms "voluntary abandoned property" — and most of that ends up as excess government property that is eventually auctioned off or destroyed.
But before anything leaves the airport, the more unusual items get photographed and posted in the TSA blog's weekly roundup of airport finds. Here are some examples of the featured items found so far this year.
Flare gun
A flare gun would be useful if someone was lost at sea and needed to attract attention for a rescue. But like this colorful flare gun spotted in a carry-on bag at Chicago's Midway Airport in February, they are not allowed on planes. Besides, you don't need a flare gun to signal a flight attendant, TSA blogger Bob Burns noted in his weekly roundup. For that "there is a little button above your head."

Novelty bombs
Real explosives aren't allowed on airplanes, but neither are replicas, including these novelty bombs found in a carry-on at Phoenix Sky Harbor International Airport that the TSA determined looked "like something Wile E. Coyote would lob at the Roadrunner."

Bricks
Some travelers are light packers; others are often asked if they've filled their suitcases with bricks. The TSA recently found this brick inside a carry-on bag at New York's Syracuse Hancock International Airport. And while not named on the TSA's list of prohibited carry-on items, "brick" brings up a "Special Instructions" alert on the TSA's Can I bring my… app. "[B]ecause of how they appear on the X-ray ... we suggest that you pack this item in your checked bag, ship it to your destination or leave it at home."

Purple pepper spray
Stun guns and knives (prohibited in carry-ons) are often discovered inside containers that look more like lipstick or travel-sized hair spray. In this case, it was pepper spray inside the pretty purple lipstick case found at Sky Harbor Airport in June. While good for warding off muggers on the street, mace and self-defense sprays are prohibited in carry-on baggage.

Loaded guns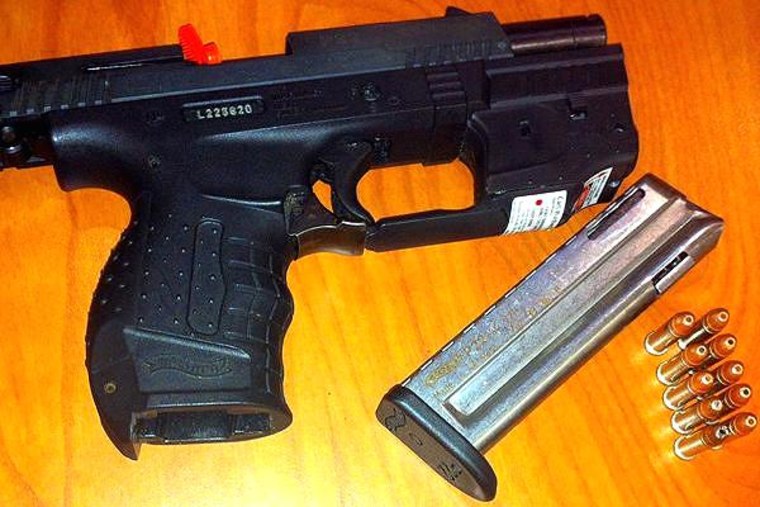 You'd think by now everyone would have gotten the message that guns are not allowed on airplanes. But guns — often loaded and with rounds chambered — show up in passenger carry-on bags all the time. The TSA's official count for 2013 was up to 1,512 firearms found at checkpoints as of the end of October. That's close to the 1,556 firearms found at checkpoints during all of 2012.

Grenades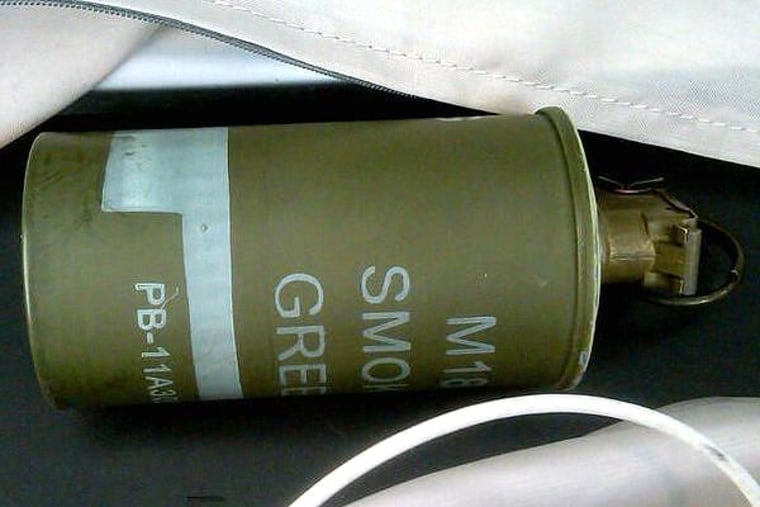 Inert hand grenades and perfume in bottles that look just like grenades seem to show up in carry-on bags quite often as souvenirs or presents. But they are all, understandably, turned away because they could easily be mistaken for the real thing. As was this live smoke grenade discovered by the TSA in March under the lining of a carry-on bag at Dulles International Airport.

Skull fragments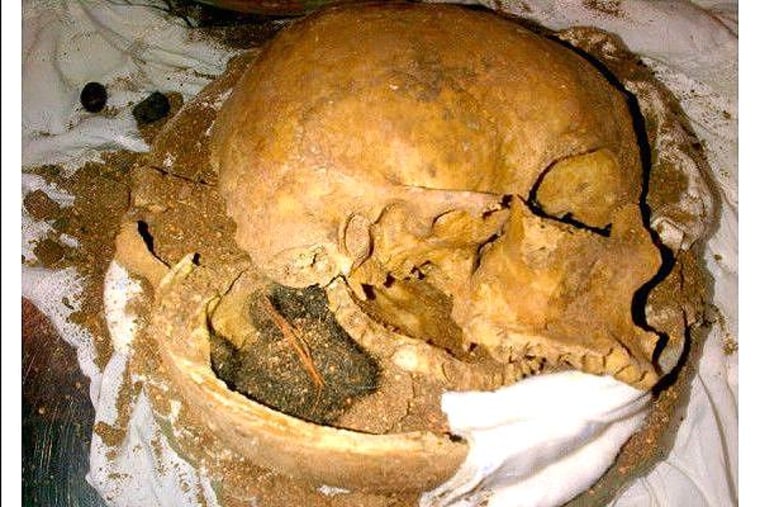 Not all unusual items found by the TSA show up in carry-on luggage. In April, TSA officers at Fort Lauderdale-Hollywood International Airport in Florida found skull fragments inside clay pots in a passenger's checked bags and, at first, assumed the worst. But, according to the TSA "the passengers had just purchased the pots ... and had no idea skull fragments were inside."

—By Harriet Baskas, Special to CNBC.com. Follow her on Twitter at @hbaskas.