Hold the spaghetti "intestines" and peeled-grape "eyeballs." When it comes to scaring people, today's haunted houses are raising the fear factor to new heights.
"For a lot of people, there's the perception that a haunted house is what they knew as a kid," said Chris Stafford, co-owner of 1331 Entertainment, which operates six haunted houses around the country. "Now, they're an awesome form of live entertainment."
Stafford, in fact, is among those trying to raise the industry's profile by petitioning the government to declare the second Friday in October National Haunted House Day. And while that effort is currently stalled as the government shutdown has shuttered the We the People website, haunted houses around the country are open for scaring. Here are eight worth a visit:
Cutting Edge
You enter this meatpacking-plant-turned-madhouse in Fort Worth, Texas, through a giant skull, pass through a toxic-waste dump, dungeons and pitch-black corridors, and exit through a mist-filled maze. Along the way, zombies, killer clowns and mutant rabbits leap out of dark corners and deafening music almost, but not quite, drowns out the screams of visitors. This year, they've added a "chupacabra village" populated with dragons, snakes and swamp creatures.

The Dent Schoolhouse
From the dead children in the playground to the serial killer janitor in the basement, The Dent Schoolhouse in Cincinnati is every schoolkid's nightmare come to life. Crazed cafeteria ladies, sadistic gym teachers, psycho school nurses — they're all on hand to underscore a storyline that everyone can relate to. "It's like they take you back to the 1950s," said recent visitor Richard Huxley of Springfield, Ohio. "You won't see Jason or Michael Myers; it's just plain creepy."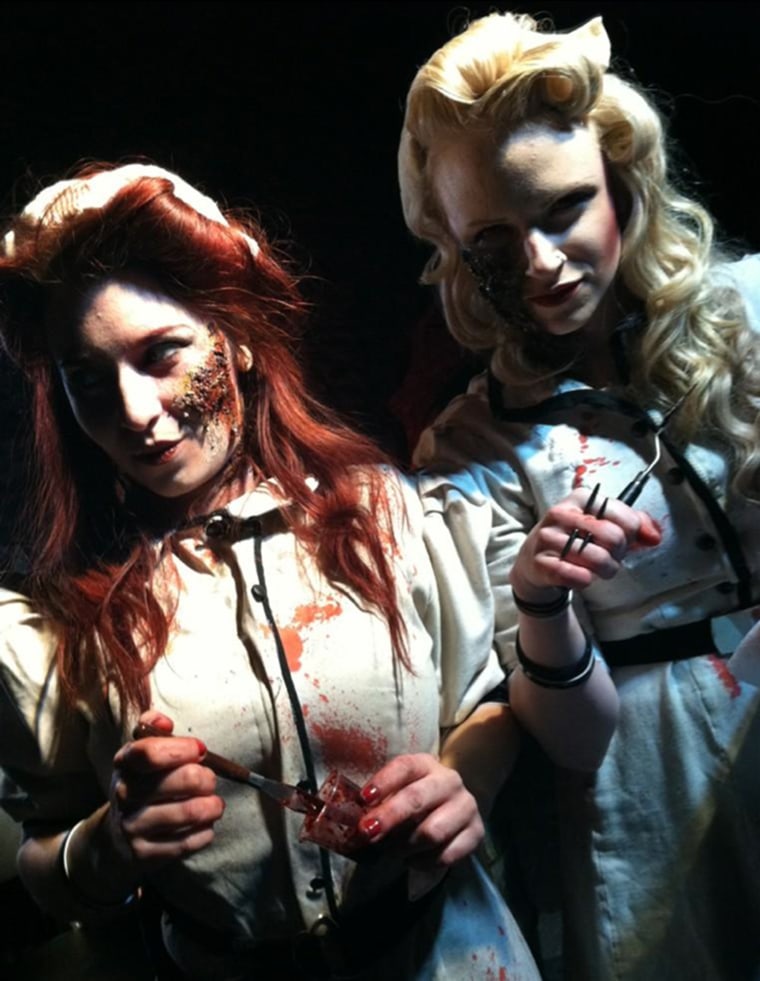 Eastern State Penitentiary
With its crumbling cellblocks and empty guard towers, Eastern State Penitentiary in Philadelphia is creepy any time of year but the 184-year-old prison ups the fear factor each fall with Terror Behind the Walls, a six-venue attraction full of ghoulish guards, insane inmates and other denizens of the dark side. New for 2013: Before entering, guests have to decide whether they want to watch the action as usual or become part of it and run the risk of grabbed, held back and separated from their friends.

EREBUS
As the story goes, this four-story attraction in Pontiac, Mich., tells the story of Dr. J. Colbert, a mad scientist who uses visitors as subjects for his time-machine experiments. The result is a historical tour that encompasses chomping dinosaurs, killer monkeys and all manner of the undead. "They put you right in the middle of it," said Brian Jackson, a self-proclaimed Halloween nerd from Springfield, Ohio. "You'll be looking at one dinosaur and the next thing you know, another pins you against the wall."

Headless Horseman
Known to its fans as H5 — short for Headless Horseman Hayrides & Haunted Houses — this 45-acre complex in Ulster Park, N.Y., offers a veritable smorgasbord of scary attractions, including a hayride, corn maze, stage show and six haunted houses. The mile-long hayride sets the stage, rolling through a series of haunted scenes before depositing guests at houses with distinct themes and self-explanatory names like The Feeding and Glutton's Slaughterhouse. Needless to say, the Headless Horseman — well, at least most of him — shows up every night.

House of Shock
Cross Halloween and a headbangers' ball and you get an idea of what House of Shock in Jefferson, La., is all about. Inside, you'll find a Satanic hellhouse of ghouls and zombies; outside, a free festival features live music, pyrotechnics and freak-show performances involving hooks, spikes and body parts. "You just have to give yourself over to it," said co-owner Ross Karpelman, "because it can be like a bad acid trip otherwise."

House of Torment
Generally speaking, shopping malls aren't particularly scary — unless, that is, you're at Highland Mall in Austin, Texas, where a former movie theater has been turned into House of Torment. Inside, three unique areas — the Blackthorne District, Cursed: Ancients Emerge, and Slaughterhouse: The Harvest — are home to armies of genetic mistakes, bloodthirsty vampires and cannibalistic savages. Outside, popular Austin food trucks await for those who haven't lost their appetite.

Shocktoberfest
Some haunted houses seek to scare the pants off visitors; Shocktoberfest, in Sinking Spring, Pa., actually welcomes people with no pants at all. The haunt's original plan to offer a completely nude option inspired by the "Naked and Afraid" TV show was nixed by local officials but visitors can still tour the site's Unknown Haunted House in their skivvies. The attraction also offers several more-traditional scares but peeling down before proceeding? For those of us who don't even like looking in the mirror, it doesn't get more frightening than that.

Rob Lovitt is a longtime travel writer who still believes the journey is as important as the destination. Follow him on Twitter.

Related content: 
It's aliiiive! Haunted-house industry scares up big money