United Airlines is scrambling to respond to intense and far-reaching scrutiny after the airline bumped an unwilling passenger, whom authorities forcibly dragged down the aisle, off the flight on Sunday evening.
The incident was recorded by several passengers onboard the internal flight and, as a result, the debacle has sparked a social media backlash that left many wondering: How could this have happened?
Airlines overbooking flights is a relatively standard practice and passengers, whether they realize this or not, agree to the policy when purchasing flight tickets. Although carriers vary in their processes, generally an airline will overbook in order to offset the perceived likelihood of no-shows.
Federal rules dictate a carrier must first check whether anyone is willing to voluntarily give up their seat before then bumping flyers involuntarily if nobody comes forward.
United CEO Oscar Munoz claimed the airline company "followed established procedures" when aviation police removed a "disruptive and belligerent" passenger from the plane. The airline, owned by United Continental Holdings, said in a statement that the flight had been overbooked.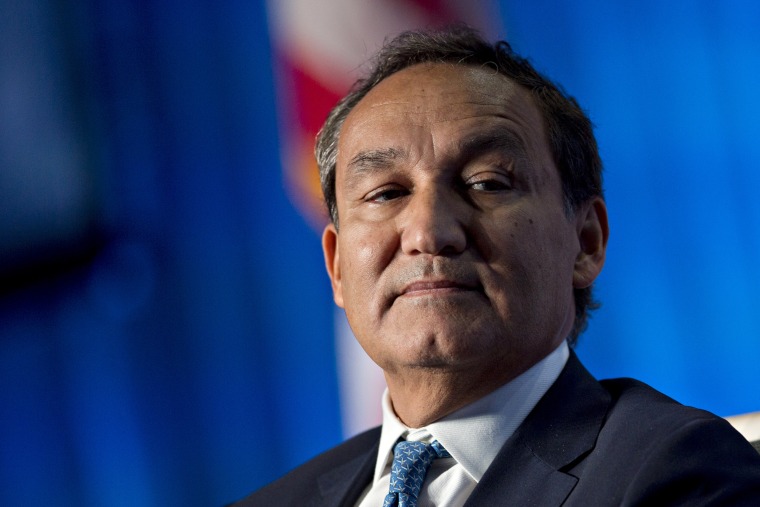 "Overbooking is a necessity for airlines due to different levels of no show passengers experienced on different routes. It's normally a highly sophisticated process based on extensive detailed statistical analysis," John Strickland, an aviation expert and director at JLS Consulting, told CNBC.
"Even when passengers are forcibly denied boarding the idea is to handle this as tactfully and sensitively as possible," Strickland added.
In the case of the United Express flight 3411 from Chicago to Louisville on Sunday, four crew members were required to board the plane in order to work from Louisville the following day.
While it is customary for airlines to negotiate the number of passengers on board a flight, analysts suggested it was unusual such protocol took place after everyone had boarded the plane.
Audra Bridges, a witness who posted the video to her Facebook page Sunday evening, said United management came on board the flight and used a computer to randomly select four passengers who would then be removed from that trip. The man in the video — one of those four randomly selected — reportedly claimed he was a doctor and needed to see his patients at the hospital in the morning, then proceeded to say he would call his lawyers.
In an internal letter sent to employees, Munoz claimed the passenger who had been involuntarily removed from the flight had "raised his voice and refused to comply."
The letter, which was obtained by CNBC, added, "(Crew members) were left with no choice but to call Chicago Aviation Security Officers to assist in removing the customer from the flight."
The U.S. Department of Transportation states that each airline must "give all passengers who are bumped involuntarily a written statement describing their rights and explaining how the carrier decides who gets on an oversold flight and who doesn't."