Here's the good news for July Fourth travelers: There is a somewhat lower chance that storms will disrupt travel heading into the holiday weekend.
But the mishaps of the past week have shown that if severe storms do emerge again, the nation's air travel system will have a hard time getting people to their destinations on time.
And this weekend, there would be a record number of summer travelers affected.
AAA is projecting roughly 51 million people will travel 50 miles or more from home in the coming days — up more than 4% from 2022 and setting a new milestone for the holiday.
Both car and air travel volumes are expected to set new highs: AAA projects 4.17 million people will fly to their destinations for Independence Day weekend, an increase of 11.2% over 2022 and 6.6% over 2019. The share of air travelers is 8.2% — the highest percentage in nearly 20 years, it said.
"We've never projected travel numbers this high for Independence Day weekend," Paula Twidale, senior vice president of AAA Travel, said in a statement. Despite fewer overall flights and higher airfares, she said, "consumers are not cutting back on travel this summer."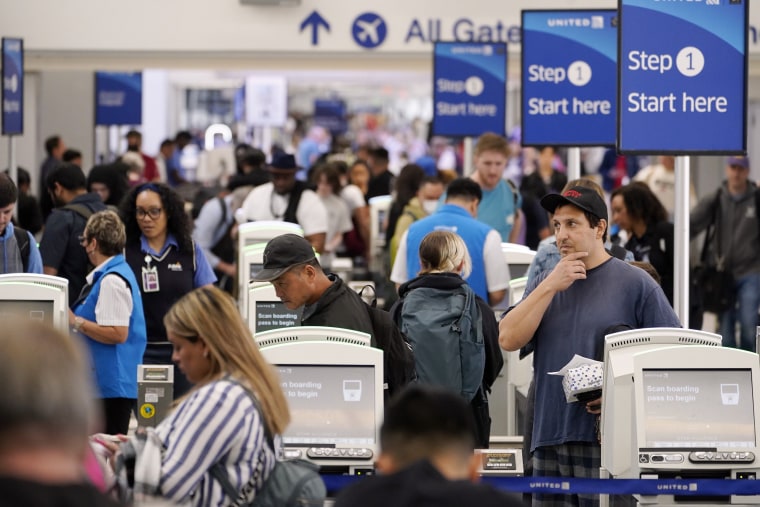 AAA's estimates are supported by data from the Transportation Security Administration showing daily passenger screening numbers now consistently eclipse 2019's pre-pandemic figures. Earlier this month, screenings hit a new post-pandemic daily high of nearly 2.8 million.
It's one of the clearest signals yet that pandemic-era restrictions are fully in the rearview mirror for travelers.
Those record volumes set the stage earlier this week for perhaps hundreds of thousands of flyers experiencing delays and cancellations caused by intense thunderstorms and a technology malfunction in Washington, D.C.
Since last weekend, approximately 30,000 U.S. flights have been delayed or canceled. The headaches continued into Thursday, when a ground stop was ordered at Nashville International Airport in Tennessee because of storms.
Social media was flooded this week with images and complaints from passengers who were stranded.
But July Fourth holiday forecasts suggest "a little less" risk of thunderstorms, NOAA meteorologist Bryan Jackson told NBC News, adding that any storms that do form, especially over the Eastern Seaboard, are likely to be "not as potent," thanks to improved airflows.
That will be of little solace to impacted travelers. Regulators and airlines say they are aware of the ongoing headaches. Transportation Secretary Pete Buttigieg posted a tweet late Wednesday acknowledging the troubles and recommending people visit FlightRights.gov to explore compensation options.
The problem with that, according to Clint Henderson, managing editor of The Points Guy travel website, is that most of those rights only apply to nonweather events or ones in the airline carrier's control.
In a release Thursday, the Transportation Department said it was investigating "several domestic airlines to ensure they are not engaging in unrealistic scheduling of flights." The agency did not respond to a request for additional information.
In a statement, the U.S. trade group Airlines for America said carriers are working around the clock to prepare for record air travel this summer. It said airlines have been hiring aggressively and reducing schedules "to reflect today's operational realities including FAA's staffing shortages."
"To reduce pressure on the National Airspace System amid air traffic controller staffing shortages, carriers are operating 10% fewer flights than in 2019 — while offering 12-14% more seats," it said.
In a statement, the FAA denied there were any shortages that impacted recent operations. But Henderson said it appeared that newly hired — and less experienced — controllers made the decision to cancel a larger number of flights last weekend than may have been warranted.
"You had inexperienced folks working there, and they cut a drastic amount of flights," he said.
Henderson believes a passenger bill of rights needs to be codified, and should include compensation for weather events.
"It's been years now, and the airlines have had a chance to turn things around," he said. "They also got consumer bailouts during the pandemic. How much wiggle room are we going to be giving airlines here?"