Parked discreetly at a gate inside JFK Airport's terminal 5 sits one of the newest additions to the JetBlue Airways fleet. An Airbus A321 that's not only right from the factory but donning a design unlike anything that JetBlue has ever offered.
That's thanks to the introduction of Mint, the New York-based carrier's first-ever attempt at a premium product. Call it JetBlue's take on business class.
"It is stylish service minus all of the stuffiness often associated with the traditional front-of-the-cabin experience," said JetBlue CEO Dave Barger in a statement when the service was first announced in September.
Now his vision for that concept is a reality. Come Sunday, the swanky new service will debut on cross-country flights between New York and Los Angeles. Later this year, flights between New York and San Francisco will also include the service.
It's the first time JetBlue, perhaps best-known for carting North Easterners to Florida and the Caribbean, has ever peddled a second tier of service on its planes. Until now, the egalitarian carrier has always offered a single cabin, equipped only with the option for more spacious seats at an additional fee.
Mint has required a completely new design — hence the new Airbus A321s — to incorporate the 16 lie-flat seats, four of which are "suites" with doors. JetBlue proudly claims it will be the only carrier to offer these suites on domestic flights.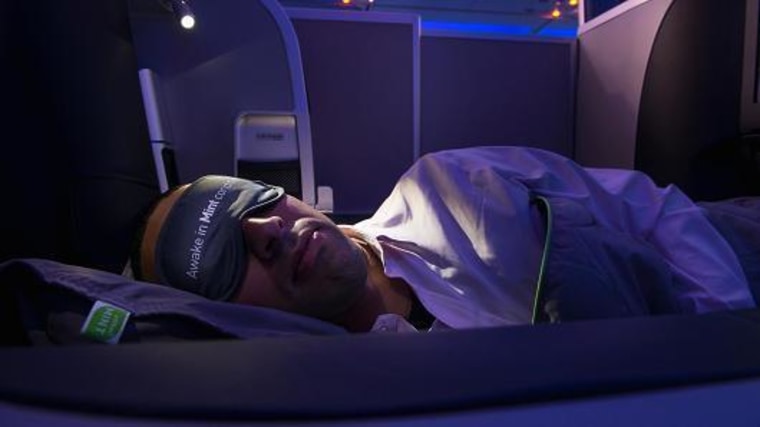 The seats themselves extend flat to comfortably fit a person as tall as 6 feet 8 inches. There are controls that adjust for cushion firmness, and a button that promises a massage (though don't expect much in the way of pressure). And the seating areas are well-designed, with storage areas for shoes and purses, drink holders, plus charging stations for electronics.
What's really interesting, though, is the free in-flight wireless service. It has been upgraded to allow video streaming, a capability not commonly supported on in-flight networks. Since JetBlue considers itself a 15-year-old Big Apple startup, it has also tapped other locally based startups as its purveyors. The tapas-style eats were inspired by Manhattan's Saxon & Parole restaurant, Blue Marble Ice Cream in Brooklyn is supplying some of the sweets, and Birchbox is compiling the his and hers travel toiletry kits. "In order to be in the premium-class game, you simply have to have a product that's great. There's only so far you can go with a nice business class product and JetBlue has assessed this," says Jay Sorensen, president of IdeaWorks Company, an airline industry consulting firm that doesn't advise JetBlue.
He adds that a "class war" has erupted between the biggest U.S. carriers flying trans-continental, thanks to the fact that the New York routes are the most competitive and business class fliers among the most profitable. So-called "transcon" corporate travelers can make up 10 percent of passengers, while pulling in 30 percent of revenues on some flights.
"We picked these markets because they are the biggest markets in the country for premium product such as the Mint experience," said Jamie Perry, director of product development at JetBlue. "But also, we feel that the prices are extremely high and the products are relatively average right now, so there was a great opportunity for JetBlue to come in and do what it does best, which is to over serve the under served." In other words, he adds, offer a better product at a lower price point.
It certainly is lower. Fares range from $599 to $999, each way — still well below bigger competitors' rates. A comparable business-class ticket on another airline could run as high as $2,000.
"In order to be in the premium-class game, you simply have to have a product that's great."
Perry says early bookings for Mint are already sold out. The three-figure fares undoubtedly help — but analysts say those lower prices could also be the biggest risk associated with the new service.
"I think that JetBlue is going to struggle to steal away the corporate traveler that's loyal from a frequent flier perspective to Delta or United," says Joseph DeNardi, an associate analyst at Stifel Nicolaus who covers airlines. "But at this price point it's going to be very good from a bookings perspective. I just question the return that they're able to generate at $599."
DeNardi thinks prices will ultimately have to rise for JetBlue to see a meaningful return on its new investment. That's because premium seats typically take up precious space — the equivalent of two to three economy class ones.
But Perry says those fears are unwarranted. Mint is part of a much bigger three-year design overhaul. The new Airbus jets don't just don a new business class, but a completely overhauled core class as well. New thinner seats have been trimmed by inches, carving out more space to pack in more passengers without sacrificing legroom. And the new planes are actually 23 feet longer than their predecessors, the Airbus A320s.
So despite Mint's demand on space, there are still nine additional seats in total on the new planes. Even more, they cost the same to fly, thanks partly to upturned wing tips that increase fuel efficiency.
All of this means JetBlue's new planes could welcome higher margins and potentially bigger profits — even if Mint fails to take off.