Over the fierce opposition of lobbyists for rechargeable batteries, international aviation regulators Monday temporarily banned cargo shipments of lithium ion batteries on passenger planes.
Rechargeable lithium ion batteries — the kind that power almost every cellphone, laptop, tablet, camera and gaming device — are susceptible to overheating, and they've been blamed for causing in-flight fires. Non-rechargeable lithium metal batteries are already banned from cargo holds for the same reasons.
Tens of thousands of the batteries are often shipped on a single plane, but the U.S. Federal Aviation Administration — which has endorsed the ban — says its tests show that just one bad battery can cause a rapid chain reaction resulting in an explosion and "catastrophic hull loss."
The phenomenon is called "thermal runaway."
While Monday's decision by the United Nations' International Civil Aviation Organization isn't binding, the United States and most other countries comply with its standards.
In addition to the FAA, the U.S. Transportation Department and the National Transportation Safety Board have backed the ban.
Related: Experts Say Shipping Lithium Ion Batteries as Cargo on Planes Is Unsafe
The ban begins April 1 and is scheduled to remain in effect until 2018, when the ICAO hopes safer ways to ship the batteries by air have been figured out. It doesn't apply to cargo-only airlines or to batteries already installed in phones, computers or other equipment, meaning individual passengers won't have to leave their batteries behind.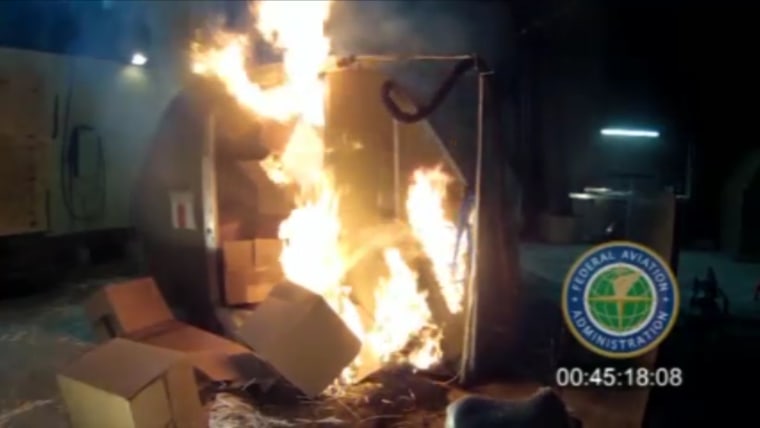 The Rechargeable Battery Association, an industry trade group, has strongly opposed moves to ban the batteries on cargo planes, calling the alarms sounded by the FAA and other agencies little more than "outrageous rhetoric."
The trade group backs a measure in the U.S. House of Representatives to toughen safety standards for shipping batteries on passenger planes, arguing that a ban "raises serious questions about the delivery of lifesaving medical device batteries needed by patients, doctors, nurses and hospitals in remote areas and shipments to U.S. armed services around the world."
Cargo airlines, which often contract with passenger airlines to transport shipments to destinations they don't fly to, have joined the battery association in opposing a ban.