Labor Day is historically one of America's busiest driving holidays, but this year it's likely to be remembered for being one of the cheapest.
With gas prices continuing to move lower, the national average for a gallon of gas this Labor Day is expected to fall to $2.44, marking the lowest price at the pump since 2004, according to an analysis from gas-pricing site GasBuddy.
By the time the last charcoals have cooled on the barbecue, Americans will have saved a collective $1.4 billion compared with last year, GasBuddy said.
That in turn could result in more consumer spending on eating out at restaurants and other extras.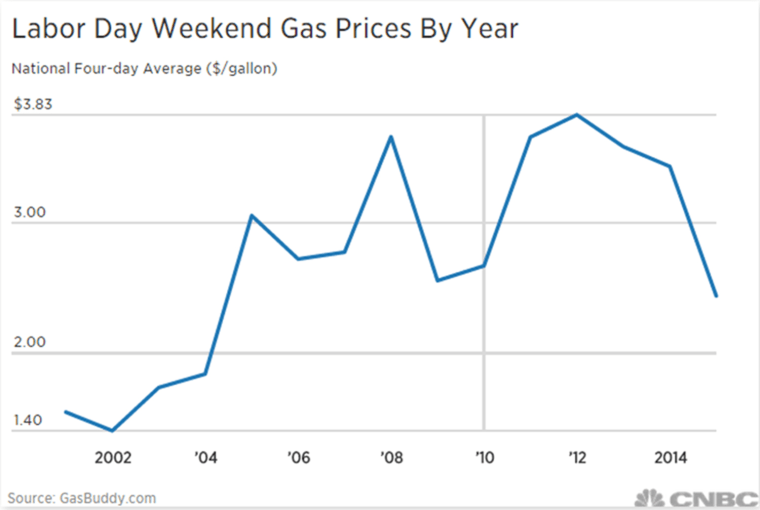 "Overall, the thing that stood out the most from our surveys was the (number) of travelers that indicated they were going to spend a bit more on their trip," GasBuddy Senior Petroleum Analyst Patrick DeHaan told CNBC.
It's not just that individual travelers may spend more, it's that moretravelers are likely to spend more.
Related: Airfares See Sharpest Monthly Decline in 20 Years
More than 35 million people plan to travel over the holiday, marking the fourth consecutive increase in Labor Day travel volume and the highest number of travelers since the recession in 2008, according to a forecast from AAA and research firm IHS.
Airline travel is expected to rise this year as well, reaching its highest share of Labor Day travelers in eight years. That much might reflect more than just the recent downtrend in airfares and prices at the pump, according to Shane Norton, IHS director of travel and tourism.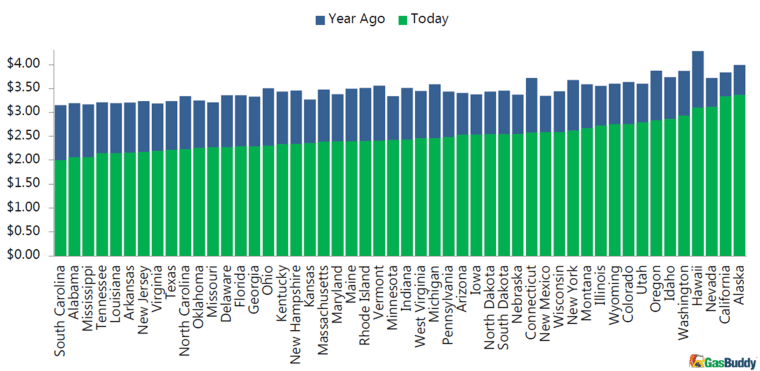 "The biggest area that gas prices factor in was not even that lower prices will spur people to take a trip over the weekend, but instead the fact that sustained lower gas prices helps increase disposable income to spend on things like travel," he said.
That windfall might be felt more in the South in states like South Carolina and Alabama where gas prices have fallen further since last year than in states like California and Nevada.