Miami hotels say that one day after the Centers for Disease Control issued a historic Zika travel advisory to their city — and the number of non-travel related infections in Miami-Dade rose to 15 — they've seen no dip in customer demand, but they're anxious about what comes next.
North of the glitz and pulse of downtown Miami, the up-and-coming Wynwood area is populated by modest bungalows, art galleries, and bursts of graffiti adorning the walls of the area's small warehouses.
And now there's a new tag: a one square mile demarcated no-go zone for pregnant women as Zika cases have jumped. Against the colorful backdrop, city crews vacuum standing water from storm drains to suck up mosquito breeding grounds and gas-masked men wielding bazooka-sized pesticide foggers roam.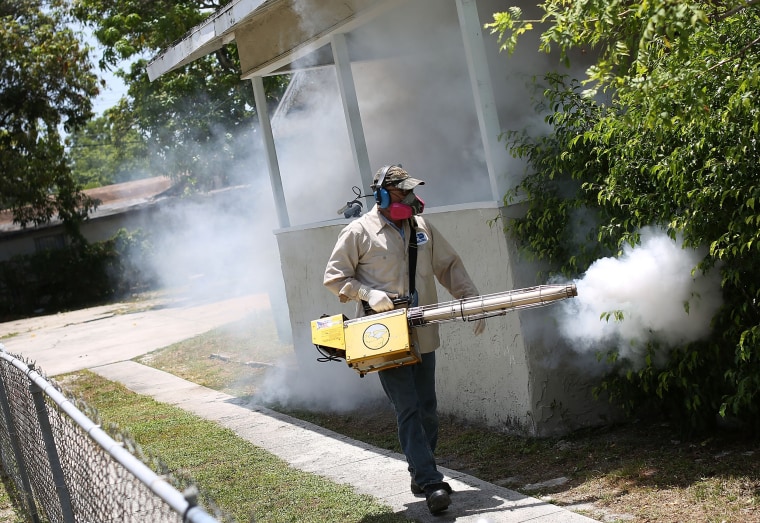 Local business owners fear how the label could threaten the neighborhood's ongoing transformation.
"Zika is a big scare. You don't want to affect the business," said Dinah Patel, manager of the Midtown Inn, a budget motel catering to local regulars and one of the few hotels in Wynwood.
But "no cancellations," as of yet she said. "Nobody is saying anything."
Within a day of the travel advisory being issued so far there's no signs in the data that there's been any dent in visitor interest. Hoteliers cited no changes to guest plans. Miami International Airport said there were no falloffs in arrivals Monday. Travel booking sites said they saw no change, or that it was too soon to tell.
In its most recent forecast, the hotel data research arm of CBRE said that past outbreaks had not resulted in significant drops in the overall U.S. hotel industry. That's thanks in part to our robust public health program. But there have been cases where in very specific locales there has been lingering damage.
During the SARS outbreak, the CDC and World Health Organization issued travel advisories to Toronto. Room demand fell off 20 to 30 percent for the next four months, and Montreal and New York also saw 5 to 9 percent declines, according to CBRE analysis.
But in the Magic City, the sun is still shining.
"Greater Miami and The Beaches is open for business," said William D. Talbert, III, president of the Greater Miami Convention & Visitors Bureau. "It is the time of year visitors enjoy the excellent events and accommodations offered throughout our destination."
In the heart of the tourist-destination downtown Miami, Eduardo Chapoval, General Manager of the Hampton Inn & Suites by Hilton said "everything is under control" and there had been no guests asking questions or changing reservations.
"I don't think guests or visitors themselves are noticing any of these behind the curtain efforts," said Chapoval of directives by the CDC and Miami-Dade County to control mosquitoes and test standing water.
He noted that previous infections, like an outbreak of dengue fever last year, hadn't damaged occupancy rates, but was worried that the drop-off in bookings in Puerto Rico could make its way north along with the mosquitoes themselves.
"I just hope that doesn't become the norm," he said.
Founder of travel booking site Airefarewatchdog, George Hobica, said his company hadn't seen any change in their bookings yet as the warning was so new and only applies to pregnancies.
"But I am sure there will be some impact as Zika spreads," he said.