WALBRZYCH, Poland – A former coal mining city is enjoying an unlikely tourism boom as authorities hunt a suspected buried Nazi-era train believed to be carrying guns and looted gold.
Restaurant owners and cab drivers have reported a surge in visitors to Walbrzych, Poland, since two amateur treasure-hunters said they had located the train. According to folklore, it was stored in a tunnel by retreating German forces in the final months of World War II.
Some believe it is loaded with gold, jewels and bank deposits stolen by Nazi commanders from nearby Wroclaw. Others believe it could contain weapons or a secret bomb.
Even while firm evidence of the train's existence remains in short supply, the area's fortunes appear to have improved.
"Loch Ness is famous for a monster never found. This is like our Loch Ness monster," local historian Mateusz Mykytyszyn, 36, told NBC News. "We have been hoping to become a tourist town since the mines closed in the 1990s and it happened over one month because of the train story."
He added: "I've spoken with restaurant owners, taxi drivers, tour operators and they have l seen a huge rise in interest. Definitely it is a different town."
Soldiers and explosives experts began a six-day operation Monday to check for mines at the site where the treasure-hunters say the train is located.
They were searching up to three feet below the surface for booby traps or unexploded ordnance that could endanger municipal workers who are due to begin excavations in search of the train.
Souvenir sellers have already moved to cash in on the city's sudden fame, producing fake gold bars and T-shirts or mugs featuring a picture of a golden train.
Among the tourists drawn to the area Tuesday by the possible treasure were British visitor Paul Winslet, 50, and his Polish partner, Emilia. They came to see the city's Książ Castle, which has its own underground tunnels that were made during the Nazi occupation.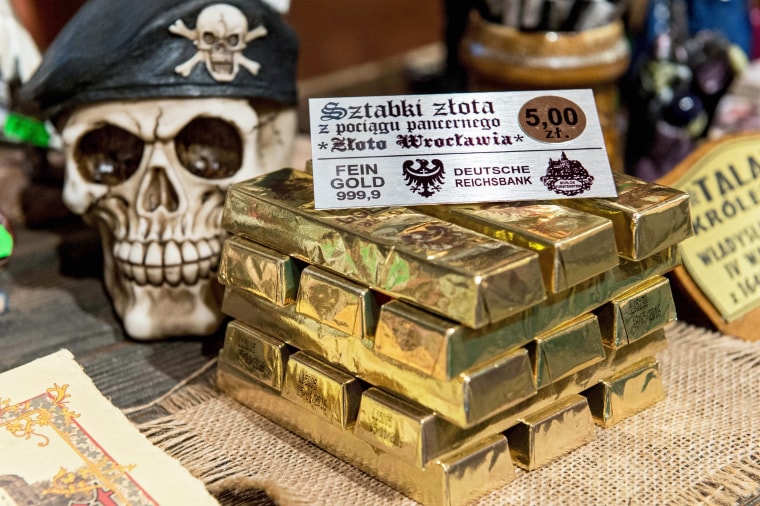 "I've seen images of the castle for years and then we saw all the news about the gold train in the British press," he said. "Emilia said it's not far from her home town so we decided to come have a look."
Emilia, 30, said of the train: "All legends eventually come to something. I believe everything will one day be found. The gold train, Atlantis, all things."
Henryk Chojnacki, a tour guide at the nearby Riese complex of Nazi-era tunnels, said the attraction was selling more tickets since news of the possible discovery was first reported in August.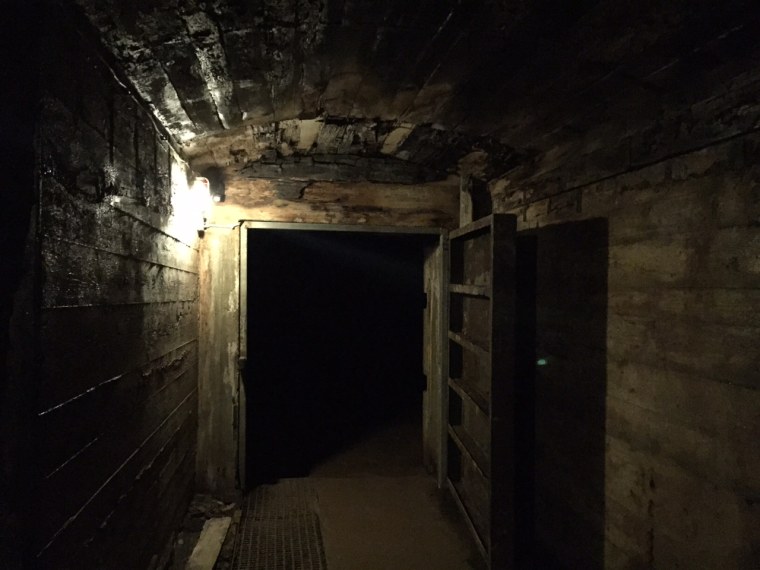 "Yes, there are more tourists here and it's difficult for the guides here because all the tourists keep asking about the gold train. It's tiring!"
Curious tourists are not the only ones excited by the Walbrzych mystery. The dark history of the area's Nazi occupation has inspired other treasure-hunters hoping to make similar discoveries of World War II artifacts.
Łukasz Kazek, a treasure-hunter from the nearby town of Walim, and Adam Hausman, that town's mayor, have used ground-penetrating radar to locate what they believe is a previously-undiscovered tunnel near an old rail station.
Even if investigators never find the gold train, Walbrzych may draw a long-lasting dividend from the search — a view held by the two original treasure-hunters, who hope to claim a 10 percent finders' reward in case their discovery is proven.
"We have already done a lot for Walbrzych," said Piotr Koper, from Poland. "It is a big advertisement for Walbrzych and the area."
His co-hunter Andres Richter, a German, said: "The train is still underground but city already has the gold!"
That view was echoed by the local historian, Mykytyszyn.
"Look at El Dorado. It is famous for gold never found, but has a lasting fame," he said. "Our beauty of mystery and history and or secrets of our past are now disclosed to the world and we are very happy. It's like a new era for Walbrzych and the area.
"Our town has 700 years of history and we were at a stop light until the train story. The interest in Walbrzych will stay now because there is so much to see here."
However, he added: "We must always remember the tunnels here were built on the blood and tears of the Holocaust victims and we should never forget that."