A computer glitch that prevented passengers from checking in for their Southwest Airlines flights and caused widespread delays around the nation on Sunday was likely caused by a failure of a legacy technology asked to do too much, travel experts said Monday.
Southwest has provided few details about the source of the problem on Sunday, which resulted in 836 delays out of 3,355 scheduled flights and created long lines at numerous U.S. airports. The problem forced the airline staff to manually issue tickets and use backup systems to check travelers into their flights.
Southwest spokesman Brad Hawkins said Monday that workers had fixed a failed software application that had caused the problems. He did not provide more details or describe the application but said there was no indication that hackers were to blame.
But experts said the problem was clearly serious.
"It was much more than a bag glitch. They were down to writing tickets and boarding passes by hand," Joe Brancatelli, who covers travel issues for biztravelife.com, told NBC News. "It seemed like a systemwide outage of their passenger service systems."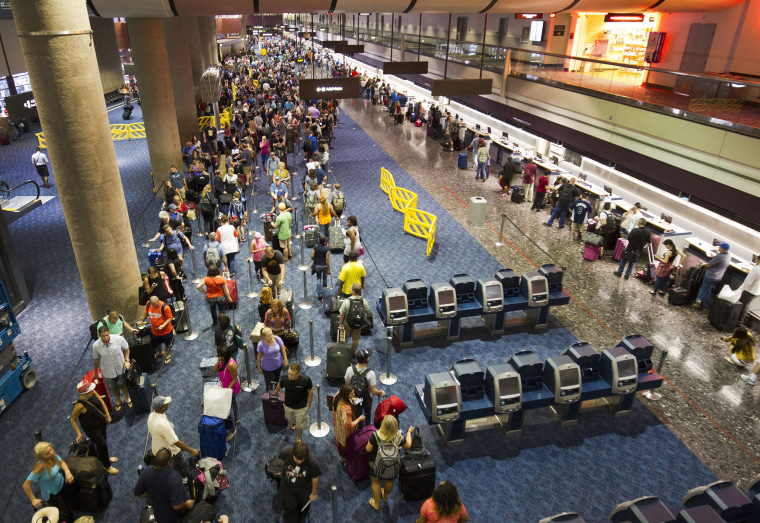 Daniel Baker, CEO of FlightAware, said such problems are becoming more common because of airline mergers and efforts to extend the life of older ticketing systems.
"The airlines are operating with legacy systems that were designed when the airlines were a lot smaller than they are now," he said. "If you look at the fleet size in the 1980s compared to today, the growth has been extraordinary. They're trying to scale these platforms for the much larger airline they've become and it's hard to keep up with the passengers' expectations."
Brancatelli said the complexity of the programming and networking that keeps passengers moving when it works correctly works against a quick fix when something goes wrong.
Southwest Says Ticket Glitch is Fixed
"The systems do so much that there are a million things that must be restored when there's an outage," he said. "The problem, at base, is that everything is essentially automated now because airlines are trying to drive down costs and once something blows, the whole system bogs down."
Sunday's outage created long lines at several airports, including major hubs like Los Angeles International, where airport workers handed out water and provided shade canopies to travelers stuck in lines outside the terminal.
Southwest issued a statement Monday letting travelers know that the system should be back up and running.
"Today we are expecting the technical systems that power our Customer Service to perform normally. Teams worked throughout the night in advance of our first departures to ensure the smoothest operation of our originating and later flights," the statement said.
This isn't the first time an airline has had an automation issue this year. American Airlines just experienced technical difficulties three weeks ago and United has already had two major outages in 2015.
Rick Seaney, a representative of farecompare.com, told NBC DFW said the rapid growth of the major airlines through consolidation has strained the computer systems.
"You have four airlines that control 80 percent of all traffic in the United States," he said. "We've seen all of their systems suffer glitches this year."
The Associated Press contributed to this report.