While millions of Americans curse the winter weather that seems like it will never end, a new breed of bike rider is discovering that floating over the snow can be whole lot of fun. Like fat skis before them, fat bikes are giving people of all ages and ability levels a new way to hit the trails.
"It's like riding in a monster truck," said Jason Gaikowski, director of brand design for Quality Bike Products, a Bloomington, Minn.-based distributor of bikes and accessories. "You're going to have a hard time wiping the grin off your face."
Fat bikes take their name from their chubby tires, which, at 3.5 to almost 5 inches across, can provide up to twice the girth of traditional mountain bike wheels. Inflated up to 10 pounds per square inch, they allow riders to cruise over snow-covered trails rather than plow through what might otherwise feel like white mud.
Such bikes first turned up in Alaska during the 1990s, hand-built units designed by riders competing in the Iditarod-inspired "Iditabike" long-distance race. (At the same time, other tinkerers in the American Southwest were designing bikes that could handle desert sand.)
"A lot of our customers opt for a fat bike because they're incredibly stable and easy to control."
"You had guys in their garages trying to create machines that were something other than what you could buy at the store at the time," said Gaikowski. "Using the equipment of the day, they started hacking and welding using whatever was available."
Today, there are dozens of commercial manufacturers and, according to Gaikowski, upwards of 20,000 bikes in the marketplace. With retail prices ranging from less than $1,000 to $5,000 or more, he estimates the industry's current value at $10 million a year.
"A lot of our customers opt for a fat bike because they're incredibly stable and easy to control," said Jason Lowetz, owner of Einstein Cycles in Traverse City, Mich., who began selling them in 2011. "We sold 12 of them our first year; this year, we've sold close to 100."
At the same time, those who aren't ready to plunk down the cash are finding more places where they can rent a bike by the hour or day. Many shops that sell fat bikes also offer rentals and advice on where to ride locally and a small but growing number of cross-country ski resorts have begun to accommodate riders.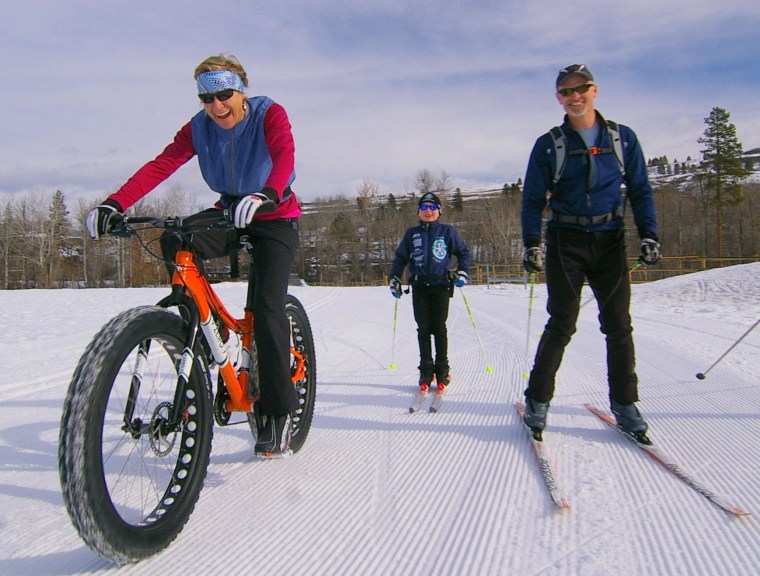 The Methow Valley in north-central Washington state, for example, has long been a world-class destination for cross-country skiing with 120-plus miles of trails in the shadow of the Cascades. Last year, the Methow Valley Sport Trails Association (MVSTA), the group that maintains the trail system, began opening select trails to riders.
"We viewed it as a way to expand our user base," said Kristen Smith, MVSTA marketing director. "The number of cross-country skiers in America is pretty small, but the number of mountain bikers is huge."
So, too, was the response: "People thought it was the coolest thing," she said. "We couldn't get enough bikes to satisfy the demand."
Similar experiences are now being offered at resorts from New England to the upper Midwest to the Rockies. Visitors to Jackson Hole, Wyo., for example, can even sign up for fat bike tours of Grand Teton National Park and the National Wildlife Refuge.
Meanwhile, as with any burgeoning recreational activity, some enthusiasts are taking a more intense approach, tackling traditional singletrack mountain-bike trails and competing in weekly race series.
On March 8, 500 of the sport's fittest enthusiasts will go head to head during the U.S. National Fat Bike Championship race, riding for 20 or 47 kilometers along the iconic (and usually cross-country-only) American Birkebeiner Trail in Telemark, Wis.
But for the curious and other less-experienced riders, cross-country resorts will likely provide the most user-friendly introduction to the sport for the foreseeable future. For one thing, fat bikes are better suited to packed trails than deep powder; for another, unlike traditional, singletrack mountain-bike trails, they tend to be wide-open and gently graded.
Still, that prospect doesn't sit well with everyone. Last year, Smith said, a contingent of tradition-minded cross-country skiers made it very clear they didn't appreciate sharing their trails with pedal-powered visitors. There were complaints to management, letters to the editor of the local paper and the sort of commentary that echoes former kerfuffles between hikers and mountain bikers and downhill skiers and snowboarders.
This year, she says, the group is hoping to forestall similar problems via an on-trail effort at outreach.
"Our goal is to go out on the bikes, stop and talk with every Nordic we meet and say, 'Hey, do want to try it?'" she said. "At first, they always say, 'No, that's okay,' but then they end up saying, 'Hell, yeah,' like they can't get out of their skis fast enough. Once they try it, they have a grin from ear to ear."