It's the dream of many a desk jockey: explore exotic locales around the world — without quitting your day job.
Bernard Vukas, a 33-year-old software developer from Croatia, has been traveling for the past three and a half years, spending extended periods in places like the island beaches of Koh Samui in Thailand and Boracay in the Philippines. But he hasn't been on vacation.With his computer in tow, he finances his travels by working.
Jennifer Barclay, a writer and editor from England, moved to the tiny Greek island of Tilos in 2011 where she now works full time. "It occurred to me that most of my job was done on email," she said. "It would make sense for me to live somewhere I could enjoy the outdoors more when I shut down my computer."
Vukas and Barclay are digital nomads, people who eschew traditional 9-to-5 office jobs in favor of a location-independent work lifestyle made possible by technology that allows them to travel anywhere in the world — as long as there is a good Internet connection.
"It's reached a critical mass as online working becomes more mainstream," said Matt Cooper, vice president of business development and international for oDesk, a marketplace for online work headquartered in Redwood City, Calif. The company's new survey, "Digital Nomads: A Revolution in Work Freedom," released last month, found that a growing number of its users, both those working and hiring online, now 39 percent — consider themselves digital nomads. Of those, nearly half (45 percent) became nomads in just the past year; 79 percent said they expect to remain so for the duration of their careers.
"It occurred to me that most of my job was done on email. It would make sense for me to live somewhere I could enjoy the outdoors more when I shut down my computer."
Jay Shapiro, founder of Infinite Monkeys, a DIY mobile app business, hired his 40-member virtual team exclusively through oDesk. "They are literally on every continent except Antarctica," Shapiro said, adding that rather than limiting potential employees to a 30-minute radius of his home base in Jersey City, he can hire the best globally. "We have developers in Spain, designers in Bulgaria, customer support agents in Egypt, Mexico, Thailand and India. The bookkeeper is in Mauritius. We even have an App builder in Uganda."
"A lot of the technology to do it" — document sharing, collaborative meeting software, services like 15Five, Google Drive and Google Hangouts — "just didn't exist five years ago," said Shapiro, who runs the company while traveling the world for lengthy periods with his wife and two children. "Today it's novel," he said. "Ten years from now, this will be normal."
Steve King, a partner at Emergent Research, an independent research and consulting firm in California, said combining work and travel is not new. "Marco Polo did this," he said. "But today, virtual work makes it much more viable." People no longer need to choose between the desire to travel and the need to work, or obtain hard to come by working visas. "Today you can have a tourist visa, but log in everyday and work," he said.The number of digital nomads will likely increase, King said, "but I do think there are a lot of downsides. Face-to-face connections still matter."
Kimberly Schwede, a 30-something graphic designer, avoids some limitations by being a part-time digital nomad: keeping a home base in San Francisco and traveling to a different place every year, as she has for the last five summers. In Mexico, she bartered her photographs for a stay at a beach hotel in Tulum. But success requires discipline; she typically works every morning and explores in the afternoon. "And you have to be really flexible," she said. Spotty WiFi unexpectedly cut short what was to be a three-week stay on Zanzibar. Schwede, who spent her first summer in San Diego, recommends starting in one's home state or country, and being resourceful with both budget and lodging. "If I can do it, anybody can do it."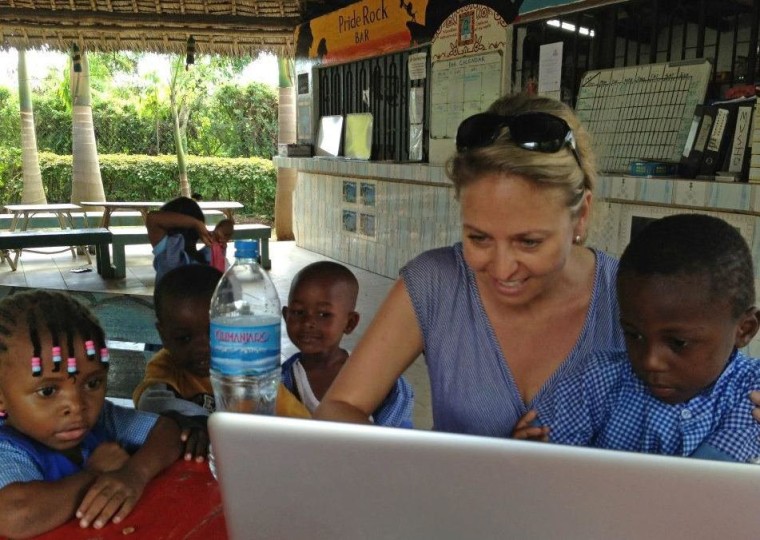 Vukas, the software developer, started his freelance career after the company he worked for in Zagreb went out of business in 2008. Two years later, he decided to pursue his dream of traveling the world.
"I think the key to success is to establish a client base first, and have new projects in the pipeline," he said in a phone conversation from Bangkok. "And it's not for lazy people" as the ability to hustle is critical. Isolation, too, can be a challenge, he said.
Barclay's new memoir, "Falling in Honey: How a Tiny Greek Island Stole My Heart," published this week, weaves in ideas to help others make the transition before quitting their day jobs: Test run a location by spending two weeks to a month before committing long term; and cut down your work week to four days to have a day ("Freelance Fridays") to explore new streams of revenue.
"It isn't for everyone," Barclay said.
But there is an upside.
"Every day I look around me in the morning at the sunlight hitting the mountains, and listen to the waves rolling in to the bay I can see from my terrace, and I am reminded how lucky I am to be doing this," she said. "I couldn't go back to the old way of life now. Every day is an adventure for me now."