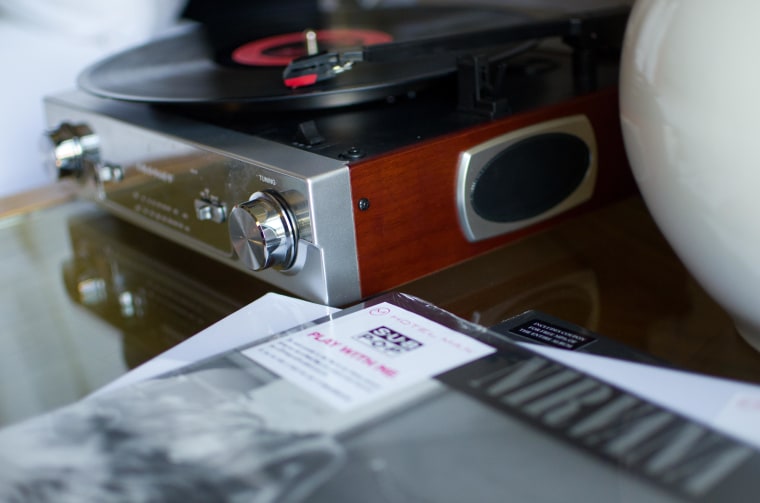 Interested in getting sung to sleep by James Mercer of The Shins or waking up to the musical stylings of Mudhoney or J "Dinosaur Jr." Mascis?
If you're staying at the Hotel Max in Seattle, you can, courtesy of a new collaboration between the downtown property and Sub Pop Records, the local record label responsible for introducing the world to bands ranging from Nirvana and Soundgarden to Fleet Foxes and Shabazz Palaces.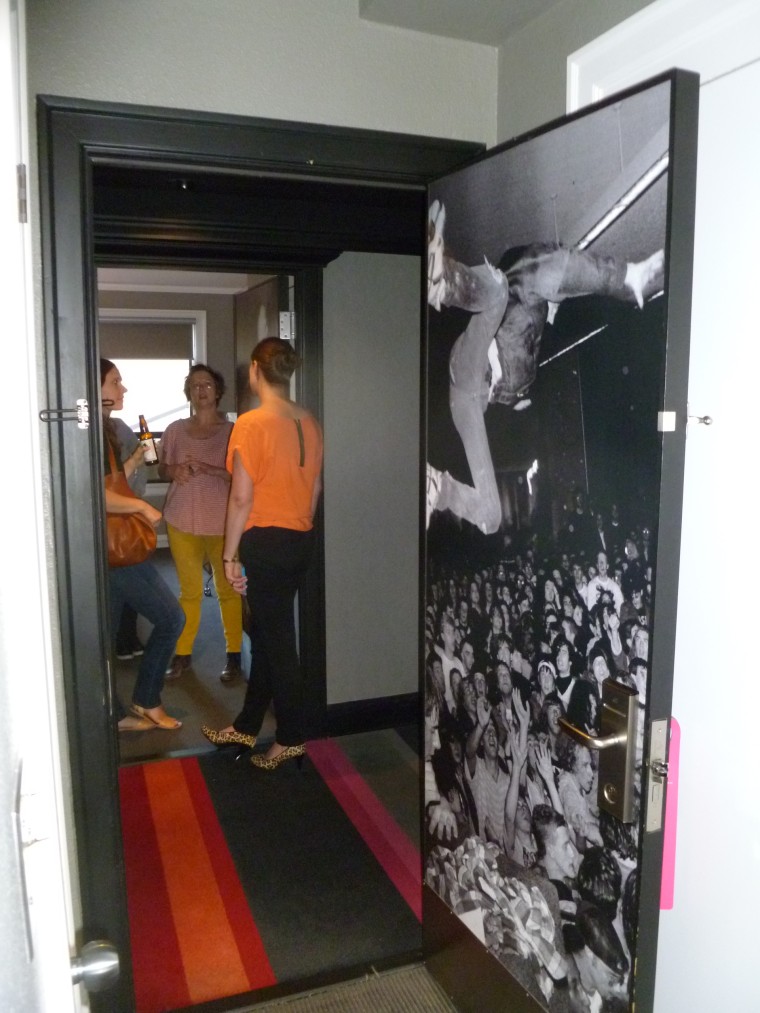 "Seattle's music scene has always been a big part of what people come to the city for," Kate Buska, the hotel's PR director, told NBC News. "It's also Sub Pop's 25th anniversary and we thought it would be great to bring that experience into the hotel."
The experience requires heading to the hotel's fifth floor, where the elevator opens onto a club-like corridor lined by 19 rooms. Each one features a door with a full-length, black and white photograph by Charles Peterson, the foremost photographer of the the grunge music scene of the late 1980s and early 1990s.
Images of Soundgarden's lead singer Chris Cornell at the mike, Nirvana's frontman Kurt Cobain falling over a drum kit and crowdsurfing fans vividly capture the era's intensity and, um, enthusiasm.
No doubt, they also make it easier to find your room when you can't remember its number.
Inside, each room is outfitted with a turntable and records by current Sub Pop artists, such as The Shins and Flight of the Conchords, and QR-enabled posters linked to the label's website. There's also dedicated channel on the TV that broadcasts videos of both new and classic Sub Pop artists.
"We're taking the story that begins in the corridor into the guestrooms," Buska told NBC News. "We wanted to represent the evolution of the label."
For Sub Pop, whose offices are a few blocks away, the project was a natural fit. Founded by Bruce Pavitt and Jonathan Poneman in 1986, the label rapidly grew to include out-of-town bands who needed lodging when playing in town.
"We have so many artists who stay at the hotel," said Megan Jasper, Sub Pop vice-president. "For them, to come and stay at a place that feels like home is extra cool."
For those more likely to be in the audience than on stage, the Sub Pop floor offers an opportunity to broaden their musical horizons.
"The awesome thing for travelers is that they can get exposed to some cool music they might never be exposed to otherwise," she said. "They certainly get a flavor of the city."
"Local music is a huge draw for how people think about Seattle," said James Keblas, director of the city's Office of Film and Music. "When you go around the world and say 'Seattle,' it's always in the top 3 things people think of."
For some, it's the opportunity to visit famous attractions, like EMP, aka, the Experience Music Project, the Frank Gehry-designed museum at Seattle Center. Current exhibits include "Hendrix Hits London" and "Nirvana: Taking Punk to the Masses."
Others range farther afield, heading for the suburb of Renton to visit Hendrix's grave site or to lay flowers on the bench in Viretta Park that's become unofficial shrine to Kurt Cobain. Those who need more guidance can even access a Seattle Music Map on the city's official website.
For that sort of traveler, heading back to a Sub Pop room at the Hotel Max and cueing up a record by an unfamiliar band begins to make sense in a neo-retro, remember-when kind of way.
"We could've put CDs in there or mp3 players loaded with music but it's more of an experience with to play a record, to hold it, look at the cover art," said Buska.
"Who knows, it could be the first record that a younger guest might ever play."

Hotel Maxx, rooms from $169
620 Stewart Street, Seattle Washington 98101
866.986.8087, hotelmaxseattle.com

Rob Lovitt is a longtime travel writer who still believes the journey is as important as the destination. Follow him on Twitter.