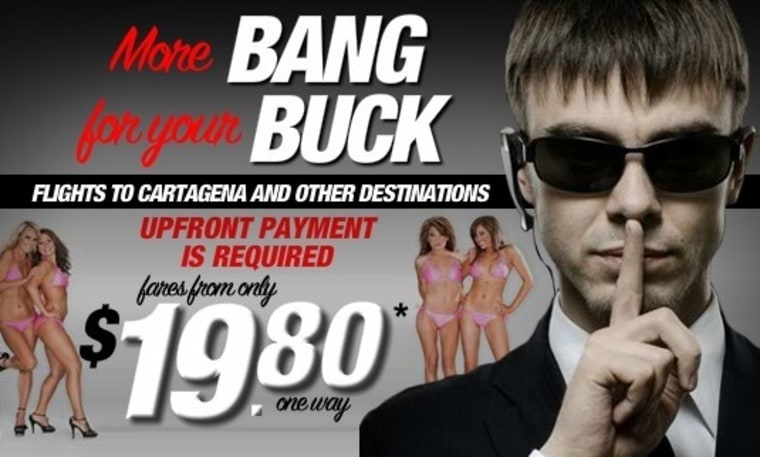 The airline known for using the foibles of Charlie Sheen, Tiger Woods and former Congressman Anthony Weiner for cheeky ad campaigns that are often as offbeat as they are off-color is at it again.
This time, Spirit Airlines is taking a cue from the recent Secret Service sex scandal by offering a "More Bang for your Buck" sale promoting flights to Cartagena, Colombia, as well as domestic destinations.
In the low-budget airline's ad, a man who looks a lot like a Secret Service agent is surrounded by bikini-clad women. The ad notes that fares start at $19.80 one-way but that "Upfront payment is required," referring, we suspect, to the dispute that took place over payment between a prostitute and a member of President Obama's Secret Service detail during the Summit of the Americas in Colombia.
Story: More Secret Service resignations expected to be announced
"The campaign is funny, but in a weird way," said Jim Copacino, creative director at the Seattle-based advertising firm Copacino+Fujikado. "It's obviously not aimed at the serious business travel market, but at younger people who might take an impulse flight and don't take themselves or the products they use that seriously."
Spirit Airlines is also having fun with the spending scandal surrounding General Services Administration (GSA), which manages federal properties. The agency is under investigation for lavish spending on a 2010 conference in Las Vegas and for staff trips to places like Hawaii and Napa, Calif., including an intern conference in Palm Springs, Calif.
Story: Ex-GSA head apologizes for $823,000 Las Vegas spending spree
Sprit's GSA (Great Savings Always) sale promises that fares, which also start at $19.80 one-way, are low enough that "Even interns can afford it."
"It's a mixed bag," said Copacino. "The first rule of advertising is to attract attention and this achieves that goal readily. But you have to ask if a tactic like this is beneficial to the brand in the long run."
While often entertaining, Spirit Airlines' ad campaigns have garnered fines for hidden fees and deceptive advertising. The airline also created a campaign to fight recent Department of Transportation rules requiring airlines to reveal all taxes and fees in advertised fares.
More from msnbc.com
Is the Spirit Airlines ad hilarious or in poor taste? Tell us on Facebook.