Potatoes, they're not just for eating anymore.
At least they're not in Barnesville, Minn., where locals and other fans of Solanum tuberosum will celebrate Potato Days this weekend, supplementing a plethora of high-carb comestibles with potato races, potato sculpting and a wrestling ring filled with 600 pounds of mashed potato mush.
In other words, when life gives you potatoes, make potato salad, potato pancakes and whatever else you can think of to give tribute to the ubiquitous tuber.

"When you think of potatoes, you usually think of Idaho," said festival director Theresa Olson, "but the Red River Valley here has always been very rich in potatoes."
The festival was born in 1938 when local boosters set out to give the community a lift during the Depression. Casting about for ideas, they settled on potatoes, inaugurating the festivities with a parade, potato picking contest and free servings of "Potet Suppe," a Norwegian potato soup.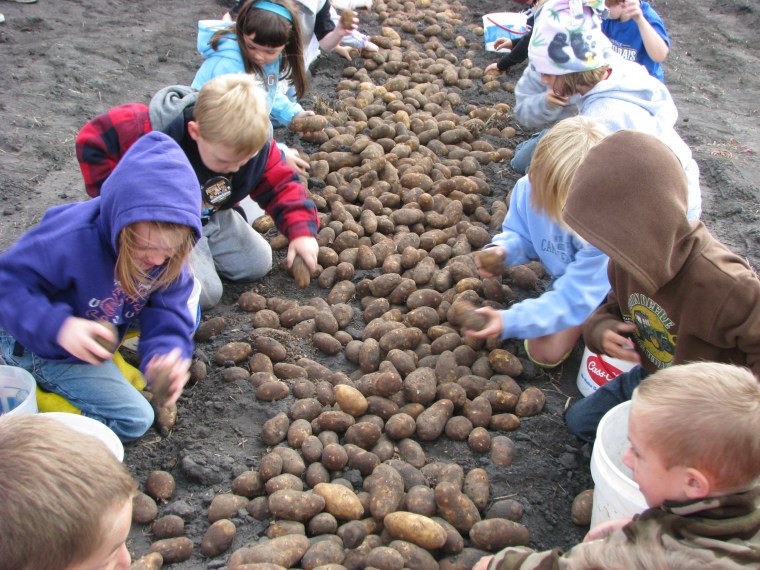 Fast-forward 75 years and Potato Days has sprouted a smorgasbord of spud-themed events that attract almost 20,000 people a year. 
For traditionalists, there will be potato picking, peeling and cooking contests; for more unconventional enthusiasts, potato-car racing — think mini-soapbox derby with wheeled tubers — and mashed-potato sculpting.

But perhaps the most highly anticipated event at the festival is the one that entails setting up a rectangular ring of hay bales, lining it with plastic sheets and filling it with 600 pounds of potato flakes, production scraps and water. Mashed potato wrestling may not be an Olympic sport but for entertainment value, it's clearly a medal-worthy event.
"It's quite a hoot," said Olson. "They get potatoes everywhere!"
It's also tougher than it sounds, says Steve Barone, a video editor from Minneapolis who competed for several years under the nom de ring of Steve O'Gratin: "It's like wrestling in wet concrete; it wears you out."
Even so, the lure of the ring can apparently be hard to resist. First entering the ring in 2006, Barone subsequently gathered a team of fellow wrestlers — Rowdy Roddy Potato Head and Yukon Golden Boy, among them — and competed for another two years.
He also declared himself Mashed Potato Champion of the Universe, fashioning a WWE-worthy belt to support his claim, and founded the Mashed Potato Wrestling Federation.
Alas, the organization is now defunct but it lives on via YouTube, where Barone's video of his inaugural match has received nearly 800,000 hits.
Meanwhile, back in Barnesville, they're busy preparing for this year's festivities. The parade route is being laid out; potato-sack outfits are being sewn, and spuds are being sliced, diced and mashed to make French fries, potato sausage, potato chip cookies and enough lefse (flatbread) to inspire its very own song (sung to the tune of "Camptown Ladies"):
Norsky ladies sing dis song .. .Uff Da! Uff Da.
Bake dat lefse all day long ... all da Uff Da day.
Bake it till it's almost brown ... Uff Da! Uff Da.
Makes you yump yust like a clown ... all da Uff Da Day.
And if you find yourself landing in a large tub of mashed potatoes, don't say you weren't warned.
Rob Lovitt is a longtime travel writer who still believes the journey is as important as the destination. Follow him on Twitter.