The Northeast's first major winter storm of 2014 canceled flights, snarled traffic, and launched a cascade of weather-related delays across the country Thursday.
Over 3,027 flights were canceled and 6,642 delayed.
Idle passengers took to social media to voice their frustrations.
"#vacationruined," tweeted Carlos Nido, a 29-year old paramedic headed to Disneyworld in Orlando, Fla., with his wife. The three-hour-plus delay they experienced in Richmond, Va., he said, "sets off a chain reaction, we will have to set back our first engagement and the rest after that."
29-year-old student Michael Starkey was en route with his wife from George Bush Intercontinental Airport in Houston, Tex., when weather held up his American Airlines flight and a new pilot had to be found. After rescheduling, "Will have an hour to run through LAX to make flight to PVG (Shanghai)," he said. "Fingers crossed!"
Others found a silver lining in the snow cloud.
"Delay of flight spontaneously turned to a trip to Atlantic City," tweeted music producer @MikBeats.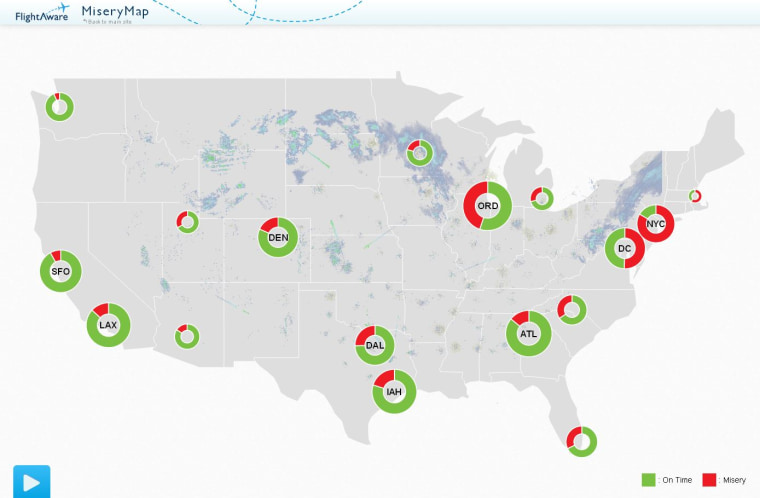 Flight delays mounted in the morning in the nation's capital, in Chicago and especially at hard-hit New York area airports, which reported delays of about an hour. JFK's runways opened after being closed earlier for snow removal. Flights circled LaGuardia, making repeated landing attempts, NYCAviation reported. And Southwest announced it was suspending operations out of Chicago Midway until "at least" noon central time.
Amtrak trains operated on a reduced service schedule between Boston and Washington. 
Traffic was backed up on the busy I-93 New England corridor in the morning as motorists picked their way through sections of highway where the Department of Transportation had lowered speeds to 45 mph. The New York State Thruway and the Long Island Expressway reopened after being closed by order of New York Governor Andrew Cuomo as a precautionary measure.
Though highways were salted, cold temperatures prevented snow from melting, and that, combined with low visibility, continued to slow drivers through the morning.

How was your travel affected by the weather? Email ben.popken@nbcuni.com, or connect on Twitter @bpopken.