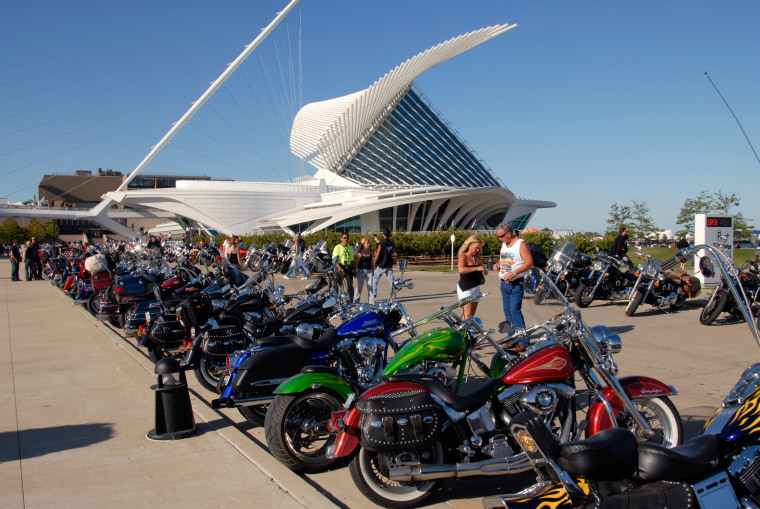 Sitting in a Cracker Barrel restaurant near Hopkinsville, Ky., Robert and Peggy Glaze are on their way to meet 100,000 friends they've never met. As the sign on the back of Peggy's Harley-Davidson Street Glide proclaims, they're "Milwaukee bound," where they'll meet up with those "friends" at the 110th Harley-Davidson Anniversary celebration (Aug. 29–Sept. 1).
"The Harley community is a unique world," said Robert, 52. "One percent are outlaws but 99 percent of us just like to ride motorcycles and have a good time."
There should be no shortage of the latter in Milwaukee. The festivities feature 60 bands, including Aerosmith, Kid Rock and ZZ Top; factory tours and special events at the Harley-Davidson Museum.
"This is actually the end of our anniversary year," said Mark-Hans Richer, senior vice president and chief marketing officer for Harley-Davidson. "It's a return to the mecca of motorcycling in Milwaukee — which is hard to say three times fast but you get the idea."
It's also a testimonial to an icon of both the open road and American engineering. Founded in Milwaukee in 1903, Harley-Davidson has had its ups and downs but is "really the sole survivor of the American motorcycle business," said Jason Fogelson, an automotive journalist who blogs for Best Western, a festival partner.
("Sole," it turns out, may soon be a relative term. Earlier this month, Polaris Industries unveiled three new models of Indian motorcycles, another iconic brand that has hit its own share of financial potholes over the last 100-plus years.)
While the anniversary festivities are clearly geared toward the V-twin crowd, non-riders are more than welcome to join in. For those with an interest in history or design, the Harley-Davidson Museum offers more than a dozen exhibits that chronicle the company's birth, its changing role through the years and its impact on fashion, culture and travel.
Signature models include "Serial Number One," the oldest known Harley in existence; Elvis Presley's 1956 KH model, and King Kong, a 13-foot-long custom bike featuring two engines, two sets of handlebars and a retro-futuristic design that Flash Gordon would die for.
The museum will also be the venue for a bike show celebrating one of the defining elements of Harley culture: customization. Featuring 160 models in 11 categories, it will showcase how bike-builders have turned basic models into mobile works of art.
It's a theme that runs throughout the Harley community as individual riders take advantage of more than 8,000 factory parts and accessories to personalize every aspect of their bikes from headlights to tailpipes.
To the uninitiated, says Richer, the prospect of tens of thousands of such bikes parked around the city raises the question of how anyone can find their own when it's time to head out.
Apparently, it's not a problem: "They know the way you know your own child in a mall full of children," he said.
And, for most, the appeal of admiring others' customized rides is really secondary to riding their own. While the festival is all about Harley history, live music and communing with like-minded people, the vast majority of attendees will be just as excited to head out of town when the festival's over.
"Motorcycles are a great way to get out on the road and immerse yourself in what's going on," said Fogelson. "You're not isolated in a capsule; you're hearing everything, smelling everything and part of the environment."
Or, as Robert Glaze puts it: "We're the ones who understand why dogs stick their heads out the window."
Rob Lovitt is a longtime travel writer who still believes the journey is as important as the destination. Follow him on Twitter.